Introduction
In the past decade, online education has shown great potential by leveraging technology for education like never before. The eLearning industry is constantly growing and yielding a lot of revenue for companies. According to Forbes, the eLearning market is expected to reach $325 billion by 2025, showing the huge potential of the ed-tech market.
eLearning platforms and Massive Open Online Courses (MOOCs) have revolutionized the ed-tech landscape in a short time with the help of technology. Online courses by eLearning platforms have become a part of learners' daily lives, followed by educational institutions that have also started to offer online degree programs. Seeing all the progress and hoping to bring new experiences to eLearning, Open edX® came into being to facilitate online education worldwide.
Open edX® is an open-source Learning Management System (LMS) and MOOC that empowers organizations worldwide to design customized and engaging online learning platforms. Open source is an exciting part of the eLearning industry and Open edX® is one of the industry's major players, making it quite the competitor.
Open edX's unique features and attributes make it very powerful and resourceful for eLearning platforms. Thanks to the availability of custom solutions and enterprise development, multisites, LTI Advantage, XBlocks, and more, the platform provides its users with the opportunity to create personalized eLearning platforms with enormous flexibility. With every new release, the platform becomes even more optimized and efficient.
With the help of its service providers, you can implement the latest release to create a tailored online learning environment. Edly is among the earliest and largest service partners of Open edX®. It has been working with edX since 2013 with an aim to build comprehensive Open edX® learning environments. Edly is one of several service providers that can help you implement and customize the Open edX platform in your organization.
Have some questions and doubts about Open edX®? You've come to the right place!
In this guide, we will take a look at the platform, its features, what makes Open edX® unique, and most importantly, how to go about implementing it. From details about the mobile application to choosing a service provider, this guide will discuss, in-depth, all things Open edX.
Let's not keep you waiting!
What is Open edX® and Why is it Used Worldwide?
What Makes Open edX® Powered Platforms Unique?
Install and Start the Open edX® Platform
Open edX® Custom Solutions
Open edX® Multisites
LTI 1.3 and LTI Advantage
The Open edX® Mobile App
Open edX® Releases
The Open edX® conference
How to Choose an Open edX® Service Provider
Edly: The Largest Service Partner for Open edX®
What is Open edX and Why is it Used Worldwide?
Open edX® was created due to the joint efforts of Harvard University and MIT for the learning platform edX. It is an open-source, learning management system (LMS) that enables organizations around the world to design customized and engaging online learning platforms. Open edX® allows companies to host MOOCs with convenient features such as virtual classes and training programs.
The Open edX® project by edX caters to higher education institutions, government organizations, and enterprises big or small. The flexibility and diversity of Open edX® have transformed online learning. Being an open-source platform, it is constantly evolving and improving its features with the aid of a robust group of technology partners.

What makes Open edX better than others?
It is the only last-generation open-source platform that has a wide range of features available for online learning. One of the primary reasons for its success is the rising popularity of learning management systems in general.
Not just that, organizations that are looking for a better alternative to their existing LMS system also find an open-source LMS a perfect alternative as it provides much more powerful features.
Additionally, institutions can leverage Open edX community XBlocks (also known as Advanced Modules) to enhance the functionality of their LMS. xBlocks are widgets, plugins, and enhancements that can be added to your course. Open edX LTI tools can be used for communicating with external software, making Open edX superior to other platforms. We'll talk more about these features in detail later.
Who is currently using Open edX LMS?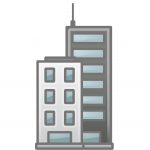 Big giants like Google, Microsoft LaaS, and McKinsey use Open edX® for their employees' training and onboarding process.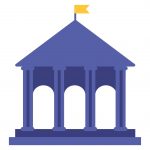 Top universities in North America, the Middle East, and China use Open edX® to provide engaging and interactive learning content to their students.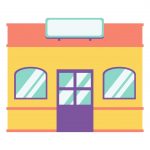 Small and Medium-scale organizations use Open-edX to meet their specific goals and objectives. They can be creative and innovative thanks to Open edX®.
What Makes Open edX Powered Platforms Unique?
The mark of a successful eLearning platform is hidden in its uniqueness and usability. Open edX is different from other open-source eLearning platforms in the following ways:
---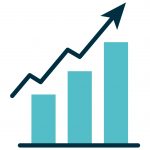 Scalability: Open edX describes itself as a free and open-source course management system used to host Massive Open Online Courses globally along with hosting smaller training modules. It is designed for self-paced learning and can also cater to several learners on the platform at a time. The ability to host and manage an increasing number of learners helps the platform grow along with their respective organizations.
---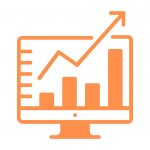 Interactive & Flexible: Unlike other eLearning platforms, Open edX can go beyond simple features in an online classroom with the help of XBlock plugins. These XBlock plugins provide an immense amount of flexibility to Open edX users. Course authors, administrators, and staff rely on them to enhance their authoring experience and make it easier for them to design a groundbreaking eLearning platform.
---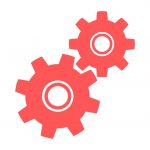 Powerful Tools and Integrations: Open edX LTI tools can be used for communicating with external software; moreover, APIs used by Open edX further improve the user experience. The Open edX community also shares useful information on advanced topics that attract higher education institutions and universities.
---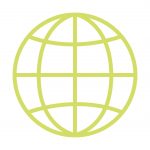 Global Recognition and Brand: With prestigious institutions like Harvard and MIT behind the platform, Open edX is recognized worldwide. It has a huge user base with big giants like Google, Microsoft, Amazon Web Services, and IBM as major participants. Top universities in North America, the Middle East, and China also use Open edX® to provide flexible and engaging learning content to their students.
---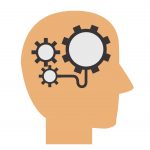 Innovative: The powerful open-source interface of Open edX enables the world's most brilliant minds to contribute to the platform; hence, innovation takes place continuously. With bi-annual releases, the platform keeps introducing new features and works on understanding what the platform lacks and incorporating it.
---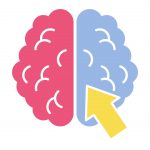 Learner-Centric: The platform encourages learning in various ways such as by leveraging polls, wikis, social forums, videos, and exercises. The wide variety of content types enables content creators to design content that increases the students' skills and competencies. Not to mention, with an intuitive user interface, the platform provides a high-quality user experience.
---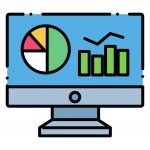 Powerful Analytics: Insights and analytics give Open edX a competitive edge over other eLearning platforms. Reports can be generated to detect areas where students encounter difficulty while going through the course. These insights, backed by data, can be used to improve the course and is useful to the course creators by providing real-time feedback.
Install and Start the Open edX Platform
Just like any other software, Open edX also has versions that are launched after a certain period of time and indicate software updates or the addition of new features. These versions are Open edX codes that are modified and improved to address any bugs or shortcomings. Each version of Open edX passes through the following two phases: Master and Release.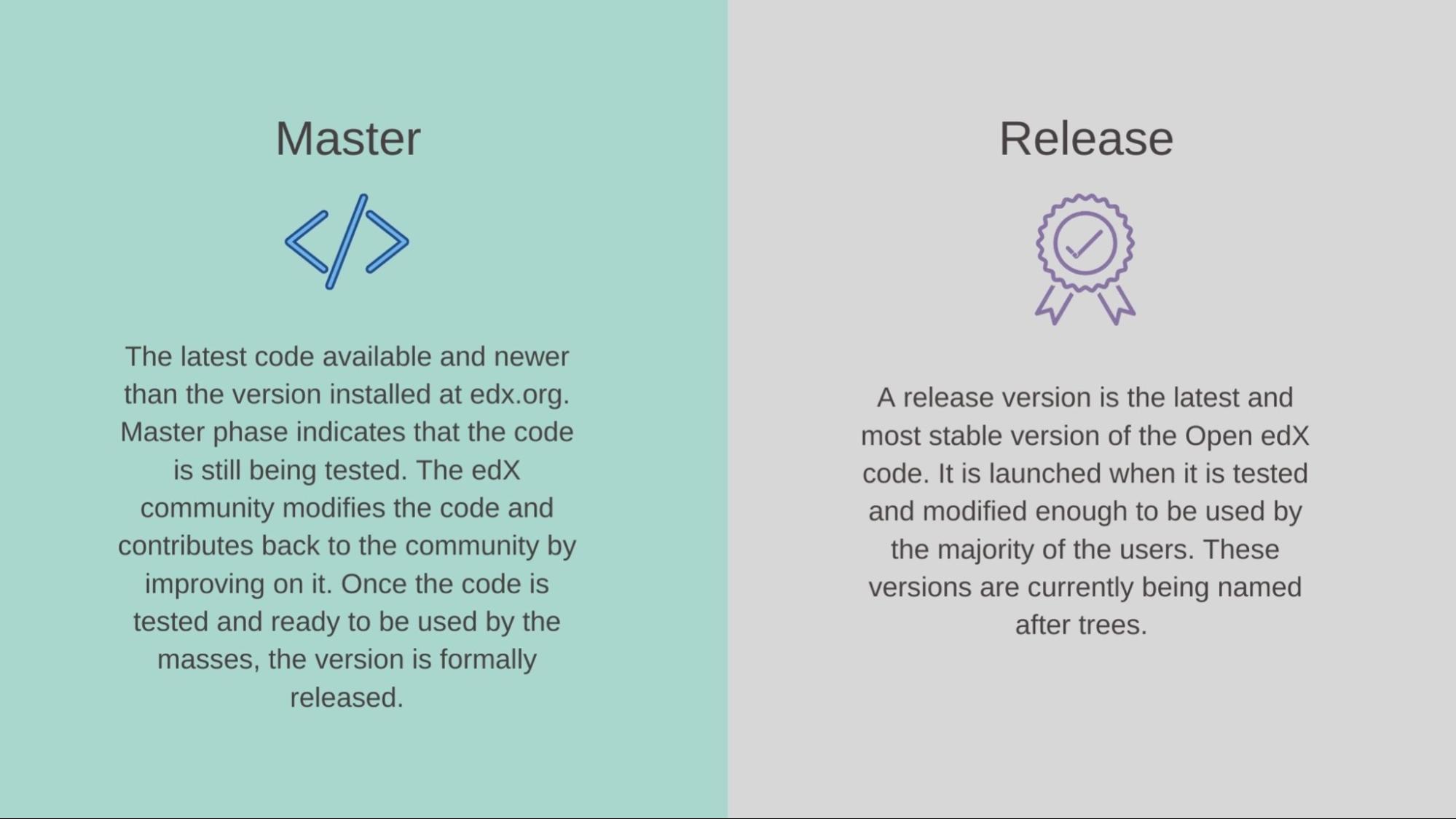 Master or Release: What should you choose?
It is useful to choose the master version of the Open edX code if you plan to modify and fix the code based on your experience with it and contribute to the community. However, if you aim to get the latest complete version with the best functionality, you should go for the Open edX latest released version.
Choosing an Open edX Installation Method
There are currently two methods to install Open edX: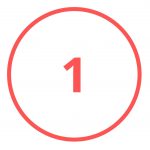 Tutor: Tutor is a relatively new method supported by the community. It is best suited in a docker-based environment for both production and development stages. This method was introduced in the Lilac and in the subsequent Maple release, it was made the official, community-supported distribution of open edX for production.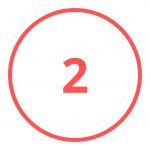 Devstack: This is a development environment based on Docker. Devstack is best suited for modifying Open edX code locally in the master version on your system. Open edX installation with the Devstack method is similar to a puzzle. It is quicker to assemble the components.
The previously available Native method has been discontinued in Maple in favor of the simpler, more rapid installation methods listed above.
Environments for Open edX Customization
Open edX service providers like Edly help their clients customize their Open edX code to tailor it according to their specific needs. Customization takes place in three environments where the code is created, modified, and tested. These three environments can typically be used for the modification of any software.
Development: The development environment is best suited if you opted for the Devstack method. In this environment, the developers collaborate and work on the code. All changes and modifications are done on a local computer.
Stage: The staging environment is based on a server and it is used to modify the code while using the tutor method. This environment is best suited for testing and quality checks. After completing the customization in this environment, the version is ready to be moved to a production environment that is accessible to end-users.
Production: The production environment is where real-time software is made available to the end-users. Only a released version of Open edX is installed in a production environment. Testing and modifications are not done in this environment as any change will impact its user experience.
Open edX Custom Solutions
The eLearning industry has witnessed major breakthroughs in the past few years. Some of the most prominent developments in the Open edX community are the emergence of tools such as LTIs and APIs that have proved to be a radical change in the way online learning can be conducted. Despite all these improvements and innovations, it is still not enough to cater to the specific needs of all businesses.
A large number of organizations are looking for unique and personalized solutions that not only set them apart but also enable them to fulfill their specific business requirements or address the gaps in the eLearning industry. These kinds of customizations are enabled by Open edX custom solutions. Open edX custom solutions (sometimes called Open edX custom development or Open edX enterprise services) allow changes to be made on top of the existing platform, which reflects the individual needs of the different organizations using the Open edX platform.
The Need for Customization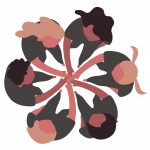 Cultural Diversity: Creating thoughtful learning experiences that take into account cultural differences and language barriers results in more impactful learning. Every culture has its own norms that are reflected in its learning approaches. A customized Open edX LMS can create different variants addressing the needs of its diverse audiences. It is also possible to develop an LMS that supports multiple languages.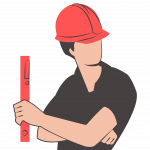 Industry-Specific Requirements: An online learning platform can have a vast user base composed of learners from the education sector, corporate, NGO, or the business community. However, a uniform user interface for such a diverse audience ranging from students to corporate employees might not allow these learners to maximize their learning. With custom solutions enabled, such platforms can build industry-specific LMS solutions and leverage custom themes with relevant integrations to tailor the learning experience.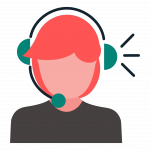 Facilitate Differently-abled People: Open edX custom solutions can make learning convenient for differently-abled people by facilitating changes to the platform based on the target audience's needs. Custom solutions can not only help in making an eLearning platform more inclusive but also enhance the ease of use for the target audience by adhering to the latest accessibility standards.
Examples of Open edX Customization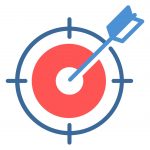 Custom Theming
Design customized themes for eLearning platforms tailored to specific organizational goals and objectives. It is possible to create multiple themes for each segment of the learner base.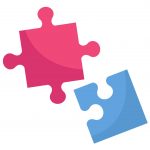 3rd Party Integrations
Users can get third-party integrations with Open edX Custom Solutions such as eCommerce integrations, Single Sign-On (SSO), and API integrations to enhance the functionality of their LMS and unlock new features based on the learners' needs.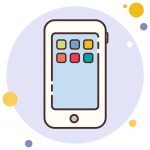 Mobile App Development
Open edX customization can enhance the accessibility of a platform and attract a certain segment of learners that prefer to learn on their smartphones rather than laptops or desktop computers.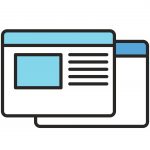 UX/UI Enhancement
While the standard version of Open edX allows personalization to some extent, custom solutions can enhance user experience even further by leveraging advanced options.
XBlocks and Plugins
One can go beyond simple online classroom interactions using XBlocks plugins. With custom solutions, it is easy to implement any XBlock from Open edX XBlocks library and integrate them into the Learning Management System to enhance its usability.
Open edX Multisites
Open edX multisites can be used in parallel to the original site while being hosted on the same instance. These multisites can be configured independently and can act as additional, unique spaces that can be branded differently from the original site.
More often than not, eLearning businesses are conflicted about whether they should go for an Open edX multisite or use their existing platform to launch a new course category. Many eLearning platforms are keen to introduce new content under the same brand name but later fail to retain learners.
This is because the lack of focus on a single course category can fail to attract learners and may cast doubts on the platform's capabilities. Let's use an example to explain this better. Would you prefer to buy an outfit at an eCommerce store that has products of all kinds including clothing, electronics, and kitchen appliances, or from a dedicated store containing trendy outfits specifically for your age group?
Of course, you would go with the latter. For both end-users and the platform, having a multisite is a much more fruitful option for similar reasons and more.

Benefits of Open edX Multisites
Branding: With Open edX multisites, users can group similar courses under one brand name and brand that multisite differently according to the company guidelines.
Customization: Users can have the freedom to customize each webpage separately. Be it the language, fonts, colors, or background, having multisites means being able to tailor each webpage differently.
Developing a variety of courses easily: A specific course might need an XBlock that is not required in any other course. In cases like these, users can host that course on a multisite.
Establishing regional presence: Multisites can be used to design content for a specific geographical location. This may include certain languages or payment methods available in specific regions.
Cost-Effective: Organizations can save a lot by opting for a multisite hosted on the same server. This can mean several seemingly-distinct sites that use shared infrastructure to reduce costs.
LTI 1.3 and LTI Advantage
Learning Tool Interoperability (LTI) is a standard that enables communication of LMSs, including the Open edX platform, with external software applications, thereby enhancing the system's functionality. Thanks to LTI, learners can enjoy a seamless learning experience by solving graded problems, accessing third-party applications, and interacting with a variety of content types.
Perhaps the most valuable benefit of LTI is the integration of hundreds of tools into the courses hosted on the Open edX-based eLearning platform. The massive library of tools can be leveraged by companies big or small. Having the flexibility to connect to third-party applications opens up the platform to endless possibilities.
A big breakthrough occurred in 2018 when IMS launched a new and improved LTI specification (LTI 1.3) focused on modernizing the LTI standard. This major update uplifted the capabilities of Open edX-powered platforms. Here's a summary of the best that LTI 1.3 brought to Open edX users: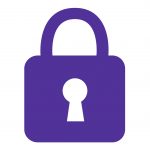 New Security Model: Many vulnerabilities were identified and addressed in the previous version of the LTI framework. LTI 1.3 was introduced as a much more secure tool as it adopted the industry-standard protocol IETF OAuth 2.0 for authentication services and JSON Web Tokens (JWT) for secure message signing. It also included the Open ID Connect workflow paradigm.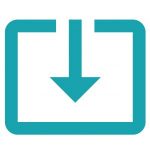 Single Sign-On Option: With the LTI 1.3, it has become possible for a tool to register once globally with a platform allowing implementers to adopt the tool without requiring additional communication with the provided tool.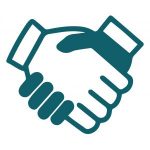 Better Compatability: LTI 1.3 provides a simpler path for all Open edX platform implementers. Hence, it is more compatible with LTI 1.1 services and messages.
What is the LTI Advantage?
There was another major development in early 2020 when edX along with one of its partners decided to implement LTI 1.3 in the LTI customer support in a blended development project. LTI Advantage was implemented as a product of this development.
LTI Advantage is a set of three LTI services based on the core LTI 1.3 specifications that enhance its capabilities and enables deeper integration between LMS and LTI tools. It is a set of extensions that make it easier for course authors and admin to create, manage, and offer courses with a seamless user experience and world-class security. It fulfills two main goals for LMS providers:
Enable deeper and seamless integration between tools and platforms, thereby avoiding the need for custom integrations
Provide a secure channel to transmit student and enrollment information
Features of both LTI 1.3 and LTI Advantage are available on Lilac and newer versions of the Open edX platform. LTI Advantage includes the following three services: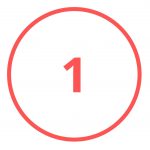 Assignment and Grade Services: LTI-AGS allows LTI tools to send learners' grades back to the LMS platform. Through this service, grades and other course insights can be synced seamlessly with the platform's grade book from multiple sources. It helps generate reports, and manage grades directly, thereby reducing the chances of error and saving time.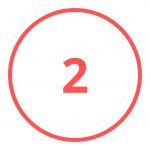 Deep Linking: LTI-DL improves the natural workflow between a learning object repository or content tool with the LMS. It allows the admin to select and configure the content displayed to learners through Open edX Studio. The need for custom parameters for setting up content is eliminated, making the Open edX experience more convenient.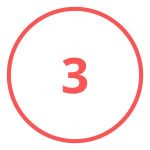 Names and Roles Provisioning Services: LTI-NRPS is another helpful service that securely retrieves learner enrollment information and their details. This information can help identify learners who are contributing more. An LTI tool using this service would have access to the students' personal information and generate database reports based on that.
The Open edX Mobile App
The fastest, most convenient way to access information today is via mobile devices. According to a survey, the number of mobile devices operating around the world is expected to reach 18.22 billion by 2025. The fact that most people carry at least one mobile device with them at all times makes a strong case for mobile learning. Keeping this in mind, edX released a mobile version of its platform which learners can access on the go.
With both iOS and Android native app experiences available, the Open edX mobile application aims to make learning accessible to most devices around the world, anytime and anywhere. With the mobile application, users can: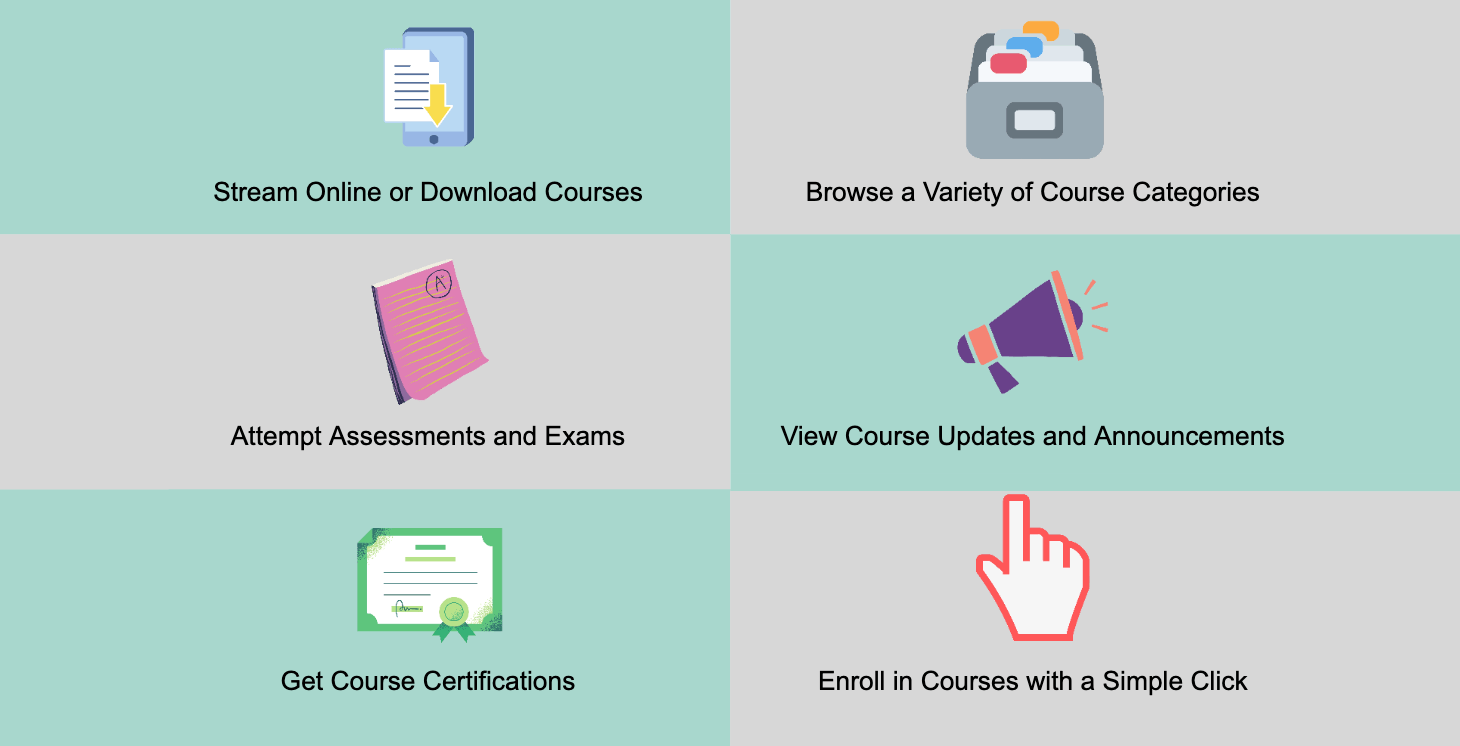 With every new Open edX release, more improvements are made to the application to make for a seamless user experience. Previously, many XBlocks were unsupported on the mobile app, which meant that learners had to access them through a browser. However, with the latest release, 96% of the xBlocks in the Open edX catalog are now supported on the application.
Open edX service providers can offer customized as well as out-of-the-box mobile solutions powered by Open edX. For example, Edly Go, the Open edX mobile solution by Edly, offers its users a UX-friendly interface tailored according to the users' needs.
Open edX Releases
Every six months, edX releases a new version of the Open edX platform. This is to ensure that edX can address any bug fixing and library updates to provide a better user experience, based on insights gleaned from the previous release. With every release, the community experiences a new and improved version of the platform and in this way, the platform keeps self-improving.
The newest version of Open edX, called Nutmeg, was released by the build-test-release working group in June 2022 rendering the previous version, Maple, unsupported. This is done to ensure that the entire Open edX community has access to a uniform version of the platform. In this way, the entire community can stay on the same page when it comes to discussing features, improvements, or sharing platform-related knowledge.
As with every version, Nutmeg comes with new updates, discontinues redundant features, and retains what's important. Here's the latest with Nutmeg: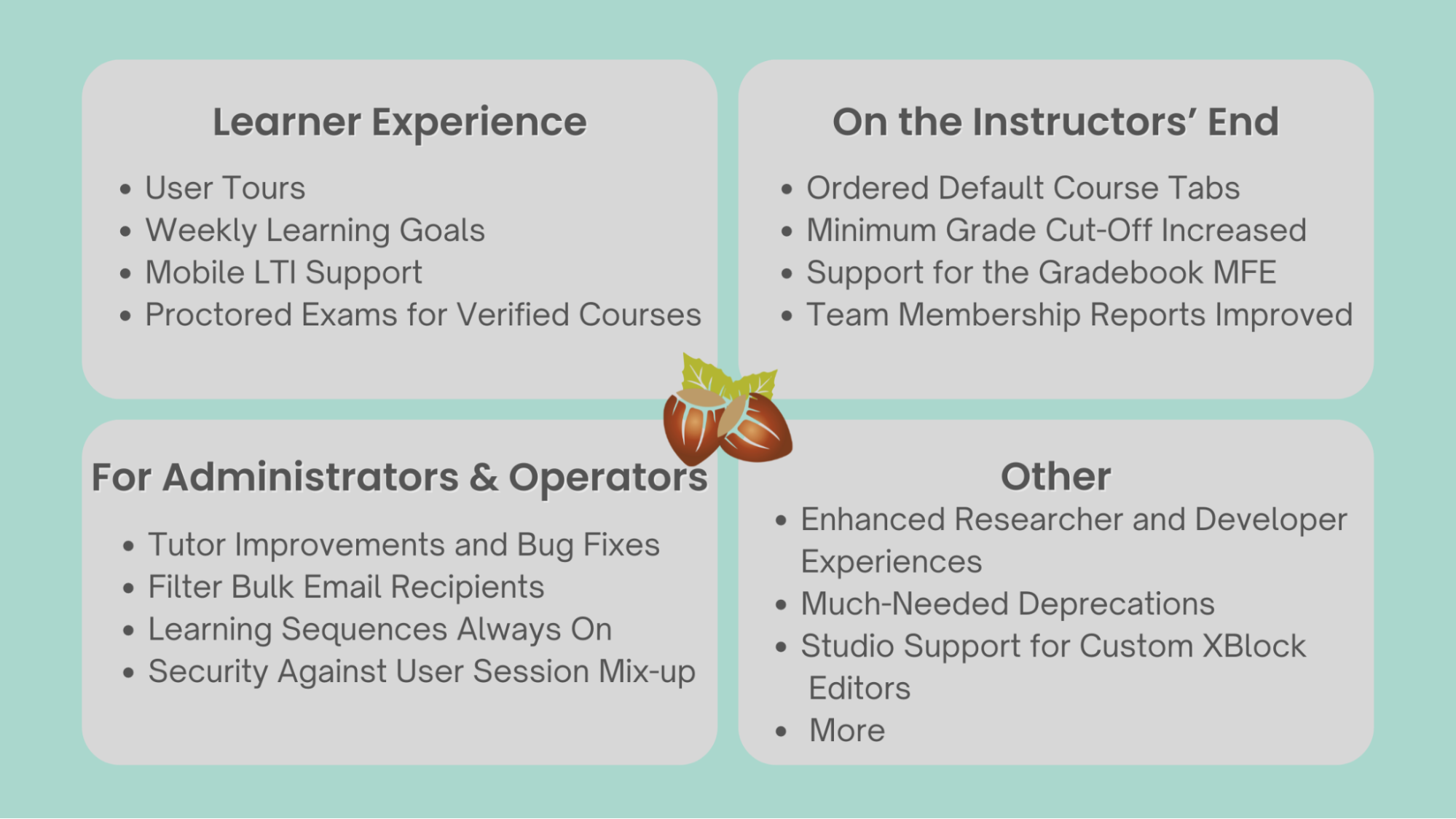 The Open edX conference
The Open edX conference is an opportunity for the entire ed-tech community to get together and share ideas about the industry. Renowned business leaders and online learning experts from top institutions around the world attend the annual conference, exchange their knowledge, and discuss the latest technologies and innovations in eLearning.
In 2022, the Nova School of Business & Economics and Fundação para a Ciência e a Tecnologia (FCT) hosted the annual Open edX conference in Lisbon, featuring some of the most distinguished speakers from various sectors of eLearning such as K12, higher education, corporate, NGO and more.
In the conference, participants would explore the corporate eLearning future and how open source technology can be leveraged to up-skill, re-skill, and deliver lifelong learning to learners globally
EdTech enthusiasts and the entire Open edX community look forward to this exciting event as they would be able to study the ways in which learning is approached in different parts of the world, especially in the current global context.
The discussion would center around current topics of interest in eLearning such as: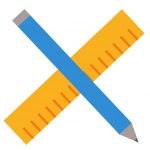 How course design may impact online proctoring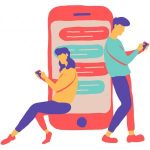 The intersection of AI and eLearning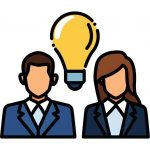 How course design may impact online proctoring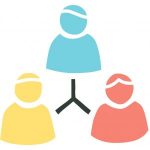 Creating next-generation corporate training
tools
How to Choose an Open edX Service Provider
Choosing the best service provider to start your eLearning journey is a crucial step. There is a long list of official service providers who provide a wide range of services and necessary features so that you can build and manage the best digital learning experience for your learners.
Perhaps the best way to go about choosing a service provider is to look inwards. What are the features that you want your Learning Management System to incorporate? Are there any specific customizations you need? Does your organization need the platform to integrate with other important software? The clearer picture you have of your own requirements, the more informed your decision is.
The next step would be to identify the service provider that matches most of your needs, or is willing to tailor their platform to address them. Let's have a look at some of the desirable features you may want in your LMS: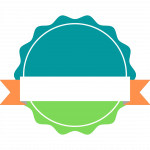 Branding and Customization: Open edX service providers should provide a complete personalized theme fulfilling the requirements of the client. With customization, it has become easier to develop a platform that is flexible enough to cater to the needs of your brand.
---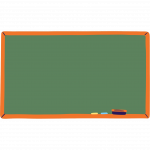 Exquisite Learning Experience: The overall experience on your eLearning platform is what sets you apart from your competitors. Each service provider of Open edX has its own structure, methods, and standards for designing an LMS. A more user-friendly interface would help the learners better understand the content created by the authors.
---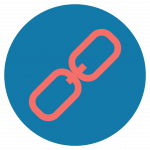 Integrations with Third-Party Applications: A big factor that sets LMS platforms apart is the compatibility to integrate with third-party applications using tools such as LTIs. With tools like LTIs, you can integrate interactive multimedia, simulations, and various assessment tools so make sure you choose a service provider who can fulfill all of your integration needs.
---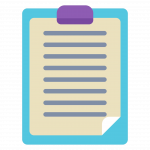 Powerful Analytics: Analytics can prove to be a game-changer for your eLearning platform, giving you a considerable edge over your competitors. Most service providers leverage reporting data to monitor the progress of each learner. Detailed analytics enabled on the platform can be very helpful in detecting problems faced by each learner and generating progress reports of enrolled learners.
---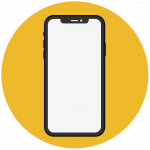 Mobile Application: If your platform is limited to just a website, that means you are already at a disadvantage compared to platforms that have a mobile application along with a fully functioning website. Many providers of Open edX provide full support in developing both android and iOS applications for your platforms.
---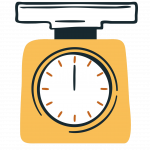 Scalability: One of the most important features of an LMS is its ability to manage and enroll a growing number of learners. A platform that grows alongside the organization is the most economical investment you can make.
Edly: The Largest Service Partner for Open edX
Edly is among the earliest and largest service providers of Open edX. It has been working with edX since 2013 with an aim to build comprehensive Open edX learning environments. Over 40 million users depend on the platforms that Edly has built over the years. edX, MIT, the Wikimedia Foundation, Stanford University, UCSD, and Philanthropy University are among the proud clients and partners of Edly.
From eCommerce integration to XBlock development and implementation, Edly provides a whole host of services and customizations to its clients. With 24/7 learner support, detailed analytics, third-party integration support, and more vendors can access a tailored platform that perfectly addresses their specific needs.
With a detailed insight into all aspects of the Open edX platform, we hope that you are now able to take the next step of your eLearning journey. To this end, Edly is here to help. Feel free to get in touch and discuss your LMS needs with us!