As we hit the mid-year mark, Open edX comes through with its new release, Nutmeg, like clockwork. The new release came out on June 9th, 2022, and like its predecessor, Maple, is released by the build-test-release working group. This 14th community release spans changes from October 2021 through April 2022 and brings exciting new features, improvements, and bug fixes to Open edX users around the world.
Nutmeg introduces innovative new features and eLearning experiences, like weekly course goals, coupled with reminder emails and course tours for new learners. Several changes have also been made to Tutor (the docker-based distribution method for Open edX), the overall mobile experience, and a number of Micro Front-Ends (MFEs). Users, whether they are learners, instructors, or administrators, can benefit from these new features as they take the next step in their Open edX journey.
As with all previous versions, this release was the fruit of the entire Open edX community's labor. Let's look at what you can expect from the newest and latest Open edX release!
Learner Experience
The most notable addition in the Open edX Nutmeg has been the introduction of user tours. New and existing users of any particular course can browse walk-through videos that give users a better idea of how to properly navigate the platform and get a feel of the course. 
Additionally, the new weekly learning goals feature has replaced the older course goals. Learners can set up their goals for the week as per their preferences and choose how frequently they need to be reminded about their goals. These reminders would be sent as emails. Students can set up different learning goals for different courses.
Other improvements include adding a default 'dates' tab on all courses, adding support for in-app notifications, and bug fixes for Facebook link shares. Mobile apps can also support LTIs by opening them in the browser. As far as the exam experience is concerned, learners can now attempt proctored exams only if they're enrolled in a verified course track, which was previously not required. These improvements bring security and stability updates to the ever-growing list of Open edX integrations and features.
On the Instructors' End
Regarding the instructors' Open edX experience, default course tabs are now displayed in the same order for all courses. Instructors and course authors may vary the order of the custom tabs they create but the default tabs will be presented in the same order, giving a more uniform look to the platform.
Instructors can also alter grading policies and set the minimum grade cut-off to 99, which previously could be no higher than 97. There is also added support for the Gradebook MFE (micro frontend), including custom theming. On top of that, the new release adds greater clarity to the downloadable team membership reports, meaning that the external key no longer overrides the username, since they appear in distinct columns in Nutmeg.
Want to build a groundbreaking eLearning platform?
Get in touch with us and learn how we can help you achieve your goals and objectives.
For Administrators & Operators
You may recall that Tutor had been made the only supported installation and distribution method in Maple. In the new Nutmeg release, several improvements and bug fixes have been made to Tutor. Important highlights include a new CLI for mounting repositories while ongoing development and an overhaul of the Tutor Plugin API. Other features such as hiding a course from the LMS search when visibility is turned off, enabling persistent grades, and more can be found on the Tutor changelog.
Another added feature allows administrators to filter recipients of bulk emails based on the last recorded login of each learner. The bulk email tool can also be disabled for any course. Additionally, Learning Sequences, an internal performance improvement, had been opt-in for the past few releases, but it is always on in Nutmeg. There is also added security against vulnerabilities in case one user accidentally gets another user's session.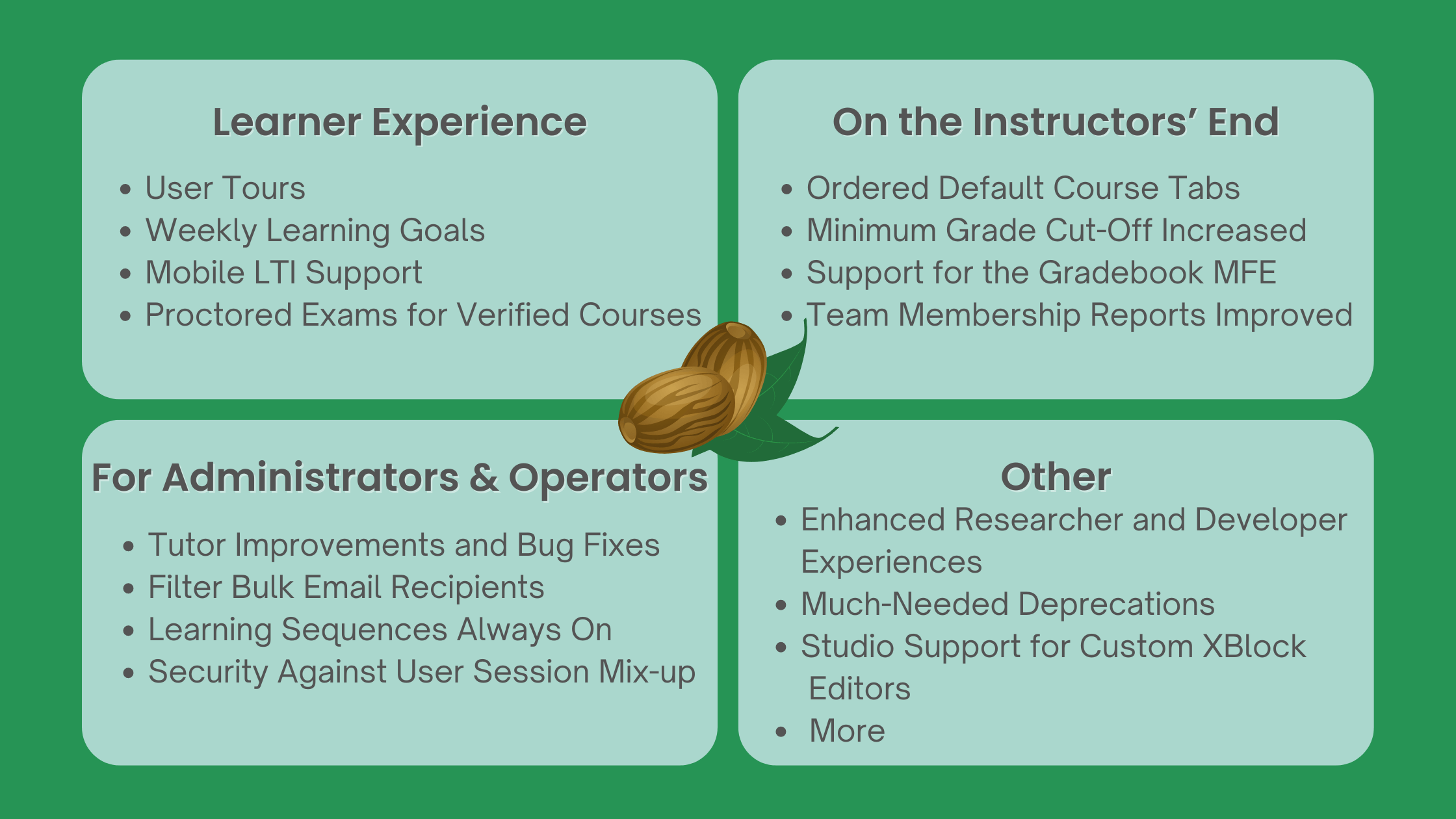 That's Not All!
The new release also enhances researcher and developer experiences and has several much-needed deprecations. There's added support in Studio for custom XBlock editors, extensibility via Open edX Filters and Events, and an API for updating learners' email opt-in settings. 
Notable deprecations include the edX-certificates repository, Bok-choy test suites, and the 'Old Mongo' course access. For a more in-depth look into the specifics, Open edX has made the Nutmeg release notes available for you to peruse.
Learn More About Open edX with Edly
As we discussed, Nutmeg brings out the best of Open edX to the community. With the goal of making online learning seamless and convenient, Open edX continues to work on improving the user experience. And the work doesn't stop here. Open edX's next release, Olive, is already slated for release in December 2022. 
If you're looking for more details about the Open edX platform, we're here to help! As one of the earliest and largest technology and service partners for Open edX, Edly's expertise can transform your online learning experience. From getting started, to custom solutions, and LTI, Edly is your go-to expert for all things Open edX! For more information on our services, contact us for a free demo!