When it comes to choosing an LMS, we're really spoilt for choice. With over a thousand LMS vendors in the market, picking one that fulfills your needs shouldn't be much of a problem, right?
Some might argue that having so many options can make choosing the right Learning Management System really challenging. We can't help but agree. There's a lot to consider when choosing an eLearning platform: the type of organization you are, the number of users, the variety of content, and most importantly, the budget. 
Taking all these factors into consideration while making a decision can be an overwhelming experience. Fortunately, we're here to help. In this article, we will help you understand the merits of choosing Open edX as a Canvas alternative, making the task of choosing the right LMS much easier. Let's get started!
A Brief Look at Open edX
Open edX is an open-source Learning Management System used by organizations around the world to deliver customized and engaging learning experiences. Several industries such as higher education institutions, corporations, and non-profits, all leverage the platform to deliver virtual classes and online training programs.
Being an open-source platform, Open edX is continuously changing and evolving to incorporate a wide variety of features and custom solutions. With the aid of a robust group of technology partners, the platform has gained tremendous popularity and is widely used by a diverse audience.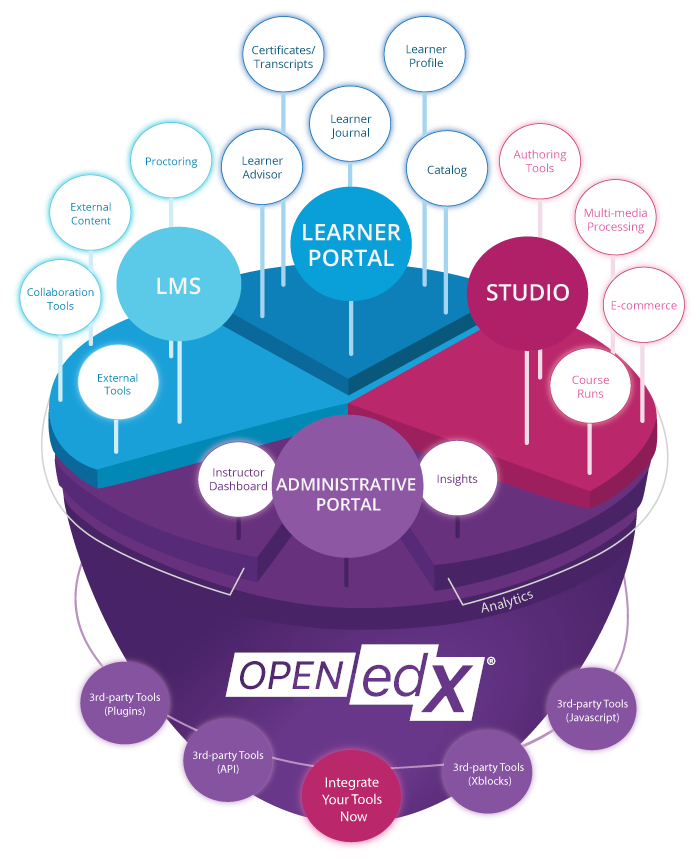 What is Canvas?
Canvas is a web-based LMS created in 2008 that allows users to access online learning opportunities across a variety of institutions. Like Open edX, Canvas is popular among industries like K12, higher education, and corporations. The platform boasts features like customizable course creation, mobile app support, and digital badges. 
In North America, Canvas accounts for 35% of the eLearning market share, making it one of the most popular eLearning platforms. 
Open edX as a Canvas Alternative: Factors That Matter
Features
Open edX and Canvas share key features that all well-equipped LMS platforms must possess. These include powerful analytics, a built-in course authoring suite, a comprehensive course discovery site, and discussion forums for all courses. These features are necessary for a seamless online learning experience for all participants. 
On top of that, each platform provides certifications, asynchronous learning options, mobile app support, and the latest online security tools. Both Open edX and Canvas also support SCROM 1.2 and 2004.
Canvas LMS scores some additional points for creating dedicated platforms for online assessments and reporting data named Mastery and Elevate respectively. On the other hand, Open edX can be relied upon to deliver the latest and most up-to-date features thanks to their bi-annual community releases. For a more detailed look into Open edX features, take a look at this all-inclusive guide, or the platform overview below:
Customization & Integrations
The Open edX and Canvas platforms are flexible and customizable in a number of different ways, allowing the LMS to cater to different industries. API and LTI tools can be used to incorporate greater flexibility and integrations into both the LMSs. 
LTI (Learning Tool Interoperability) enables a platform to communicate with external software, allowing the integration of a variety of educational tools like Turnitin, Zoom, and Microsoft OneNote. APIs enable LTI tools an even greater level of access and also allow other software used by an institution to communicate with the LMS. 
Open edX also leverages XBlocks to customize the learning experience to a greater degree, making it a great Canvas alternative. 
XBlocks represent small components put hierarchically together to create courses. Each XBlock offers the integration of unique features into the course and allows courses to be built with a great amount of flexibility. Whether you choose an XBlock from the Open edX XBlocks library or design a custom component, the result is a tailored and engaging learning experience.
Want to build a groundbreaking eLearning platform?
Get in touch with us and learn how we can help you achieve your goals and objectives.
Community Support
The Canvas community features standard support options like live events, community blogs, and FAQs, as well as an annual InstructureCon. Users can explore product-related discussions, or get help from users around the world. Canvas LMS users can also host or attend live events such as webinars.
Open edX community support is far more advanced. Apart from support options like those above, members of the community can also contribute to the Open edX codebase to create and share their own XBlocks. Users can also submit an Open edX Enhancement Proposal (OEP) which details any major technology decision made by the Open edX community.
Additionally, there are dedicated discussion forums on the platform for educators, developers, and DevOps, on top of the usual channels. Live discussions can also take place on the community Slack workspace.
Pricing
Canvas LMS is free for teachers. Educational institutions can get individualized pricing plans, especially if they opt for the enterprise version, by getting in touch with the platform. On the other hand, Open edX is completely free and available for anyone to use, regardless of organization type, making it an excellent Canvas alternative. 
Prospective customers can also get in touch with Open edX service providers to get a more customized eLearning experience. This can include customized interactions and content types, 3rd party integrations, specialized hosting, and even platform redesign and branding.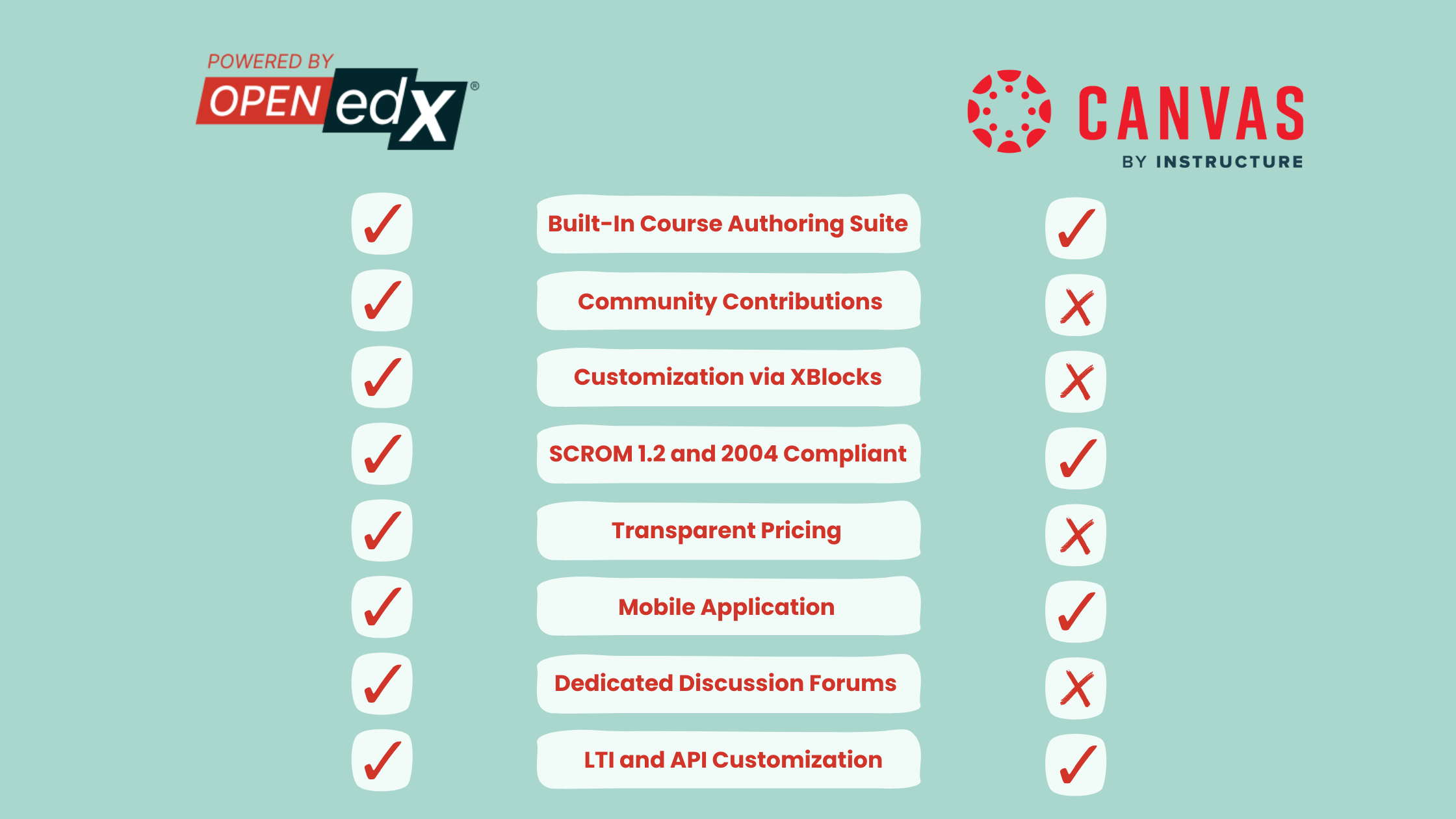 Final Word
From educational institutions to corporations, Learning Management Systems are essential for learning and development in every industry. While every organization may look for different LMS features based on their needs, the basics are fairly universal. If you're considering a Canvas alternative, Open edX is a good option. 
Edly is one of the oldest and most well-established Open edX service providers. Since 2013, Edly has provided several organizations with Open edX custom solutions and managed hosting services along with its SaaS LMS. Get in touch with us for more information or try our platform for free!