eLearning is one of the fastest-growing businesses in the world, especially after the outbreak of COVID-19. If you plan to start your eLearning business, you must be fully aware of the types of eLearning business models you can choose and establish a business on.
COVID-19 created a huge opportunity for the ed-tech industry as 1.37 billion learners were impacted by national school closure in March 2020. Albert Einstein once said, "In the midst of every crisis lies great opportunity." Similarly, this crisis presented an opportunity in the form of e-learning businesses. With the massive demand for e-learning and online education across the globe, it is high time for you to start an eLearning business, and to be successful; you need to adopt an eLearning business model.
What is an eLearning Business Model?
An eLearning business model is a framework that would guide your business to generate monetary returns. It provides a roadmap to your business plans and helps you envision the long-term value of your business. Different types of eLearning business models are being used by businesses but we have gathered the most successful and proven business models for you.
Want to build a groundbreaking eLearning platform?
Get in touch with us and learn how we can help you achieve your goals and objectives.
3 Types of eLearning Business Models
There are 3 most common and successful eLearning business models that you can follow. For your ease, we have attached an infographic below displaying the 3 eLearning models.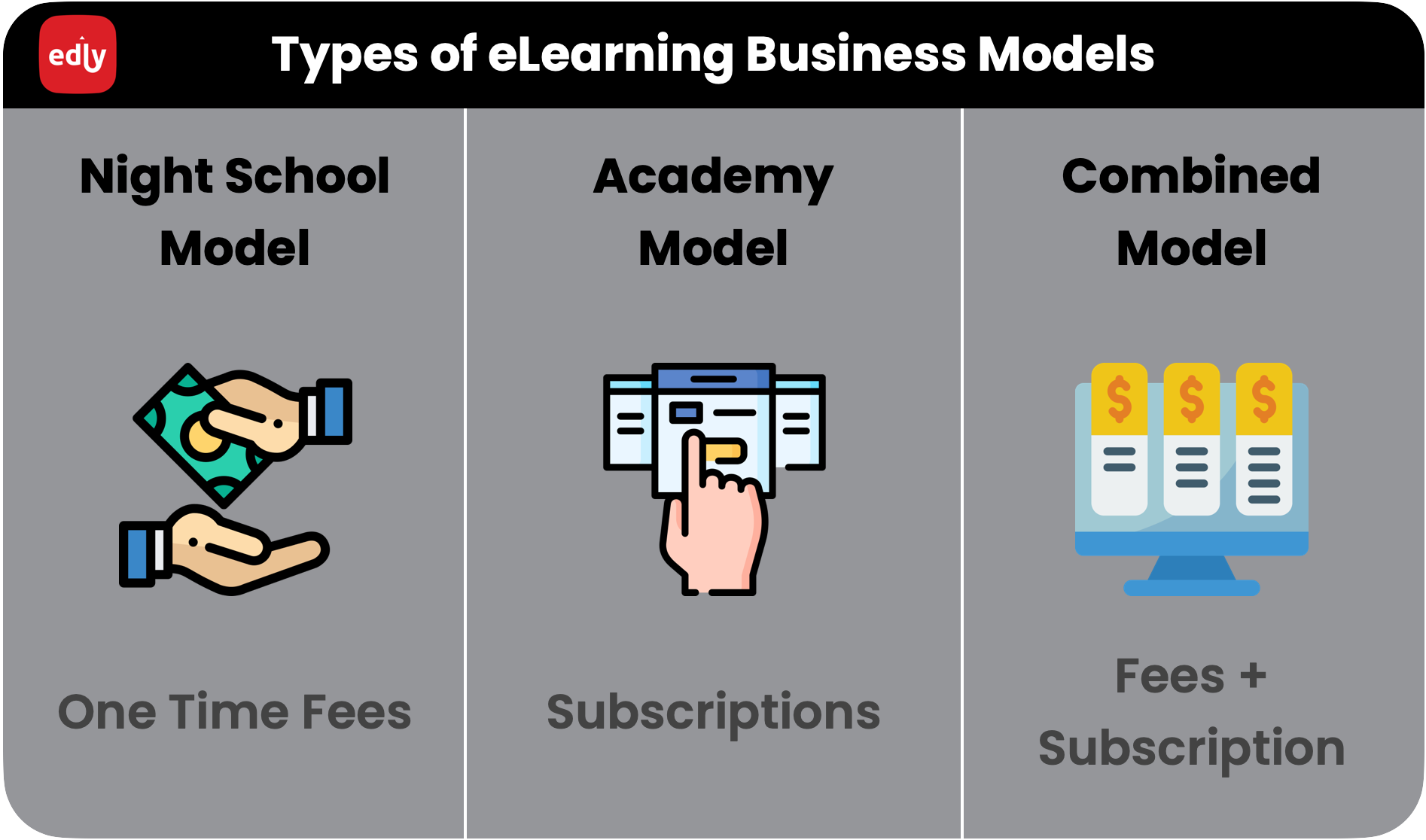 1. Night School Model
The term night school model came up from the concept of skill-based classes. It is a classical business model where a learner pays a one-time fee to access the course content. Courses under this business model follow a fixed framework that includes learning modules, assessments, quizzes, or examinations to test the learner. So, for example, if you are interested in learning Tableau, then you can follow the below steps:
Search the course on an eLearning platform such as Udemy or Coursera

Enroll by paying a nominal fee

Access the course content

Pass the quiz and complete the course
The night school model is most suitable for learners seeking a specific skill or learning a particular subject or a language. Most eLearning businesses adopt this model as it is a suitable alternative to physical classroom learning. This eLearning business model can be helpful for new businesses who are looking to generate cash flow by the subscriptions and sale of courses. Moreover, It is also a suitable model for businesses with high-priced courses.
However, this model has some downsides as well. The learner would only pay the course fees once and might not reinvest in your eLearning business again. In addition, if you want to focus on multiple topics, you will have to make separate courses for each of them since learners seek specific courses; hence, it is time-consuming.
There are some pros and cons of the night school model that are displayed in the table below:

2. Academy Model
The academy model is subscription-based, where the eLearning platform operates as a virtual school. An academy eLearning business model encourages students to learn and develop multiple skills and provides an extensive library of courses, videos, and other learning materials. The academy model also provides numerous features for the learners, such as live question-and-answer sessions, support groups, and one-to-one sessions with the instructors.
This model creates a long-term relationship between the platform and the learners. It is suitable for creators, fitness enthusiasts, sports fanatics, and professionals in their respective fields. The academy model covers broad topics and then covers each area in detail, attracting learners looking to learn multiple skills.
For example, you want to learn about graphic designing in an eLearning platform. The academy model would provide information about different tools and software such as Photoshop, Indesign, Illustrator, and other Adobe software.
One of the plus points of this model is the constant inflow of subscription fees from the subscribed learners. Moreover, you can earn more in the future with the increase in the number of subscribers without additional effort to create more content. The pros and cons of this model are listed in the table below:

3. Combined Model
A combined model is the integration of the "Night School Model" and "Academy Model." This model offers both subscription-based offers as well as stand-alone courses with one-time fees. This model is suitable for those students who are willing to pay extra for additional course material or courses that can help them improve their academics and skills. 

How to choose the most suitable eLearning Business Model?
You have clearly understood all three eLearning business models; now, you can find the best fit between your business and the eLearning business models. Based on your core competencies, you can assess all three options and then opt for the most suitable one.
Edly is providing free eLearning business consultancy and platform demo that you can try out before making a final decision.