Over the past two decades, mobile technology has transformed the world in a way that is both unpredictable and fascinating. Today, every single action we take ties into our mobile devices in such a way that it is inconceivable to imagine life without them. According to a survey by BankMyCell, 80% of the world's population uses smartphones. In fact, it is more probable that a person solely uses a phone instead of accessing a desktop. 
This points to the importance of developing mobile learning solutions as a supplement, or even an alternative, to their desktop counterparts. The fact that people have nearly constant access to their phones can be leveraged to provide learning opportunities to them on the go. Mobile learning has been proven to improve productivity by 43%. In fact, leaders report a 55% improvement in their businesses after adopting mobile learning in the workplace. 
These statistics offer promising insight into the usefulness of developing mobile learning solutions. Keeping these emerging trends in mind, Edly by Arbisoft has been instrumental in helping Open edX develop its mobile application to provide learning opportunities to users from the comfort of their own smartphones. Over the course of several releases, the Open edX mobile app experience has improved to incorporate several features that help make learning more effective. Let's take a look! 
Want to build a groundbreaking eLearning platform?
Get in touch with us and learn how we can help you achieve your goals and objectives.
Stream or Download Videos
Learners can access their course content on the Open edX mobile app, including video lectures. Not only are the videos available to stream online but users can also download videos and view them offline. This aids students in a way that desktop learning cannot: a truly mobile solution to learning that is independent of internet access. As a result, learners can be encouraged to learn while on the go.
Apart from lecture videos, students can also view YouTube videos directly from the app, thereby avoiding the inconvenience of getting redirected to the browser. Another huge upgrade to the video experience has been the recent availability of Chromecast support on both Android and iOS. Students can now cast videos on supported devices like smart TVs and similar displays, which enhances the learning experience.
Newer Open edX releases also offer better video controls to users. With more playback speed options, intuitive rewind and forward controls, as well as language support, Open edX has all the bases covered when it comes to mobile learning.
Browse the Course Catalog
Students can peruse the discovery tab in the mobile app to browse a wide selection of study materials. The application neatly sections courses, programs, and degrees into different groups, allowing prospective students more clarity and organization. The courses tab displays standalone courses offered by a variety of organizations such as universities and corporations. 
The programs tab, on the other hand, displays a group of courses meant to be taken in succession, that offer learners a more detailed and in-depth mobile learning experience. Lastly, the degrees tab shows degree programs offered by universities around the world, which can help students master the subject of their choice and further their educational pursuits remotely.
Users also have the option to browse courses by subject, be it business management, humanities, communication, or other. Search filters can also help students narrow down programs of their choice. These filters can search by partner, program type, difficulty level, language, and availability. While browsing, users can also save courses for later, so that they can narrow down the courses of their choice or compare courses in detail. 
All these features work together to create a seamless mobile learning experience that allows students to explore their options as well as satisfy their curiosity and interests.
Enroll in Courses
Once the learners have browsed the discovery section to their fill, they would need to enroll in the courses of their choice. The Open edX mobile app caters to that. Learners don't need to strictly have desktop access, which is especially helpful in case of timed enrollments with limited student capacity. 
Institutions can set up enrollments in a variety of ways, by a specific date, on a rolling basis, by invitation, or by others. The process of enrollment itself is fairly simple. A one-step process of clicking the 'Enroll now" button is all that is needed and the user is then directed to the course overview page. 
Participate in Discussion Forums
Encouraging social learning in online learning platforms is crucial in order to prevent learners from feeling isolated from their peers. Not just that, learning as a group allows students to exchange ideas, be creative, and retain information much more effectively. This is why eLearning platforms place a special emphasis on discussion boards and their features. 
The Open edX mobile app has a dedicated discussion tab within each course where students can post any questions or comments that the rest of the students enrolled in the same course can view. When creating a new post, students can choose to ask a question or participate in a discussion. Additionally, posts are grouped by topic so that learners can access the right kind of material without going through all the posts. Certain threads can be marked as important and learners can receive emails about them whenever there's any new activity.
As with any discussion forum, students can reply in comments or upvote an important thread. Instructors or administrators can pin certain instructional posts to the top for easy access and increased visibility. An added functionality is the ability to refine posts based on recent activity. Besides each post, users can see the number of unread comments on it. 
The fact that the discussion forum is available on the mobile app enables users to access it quickly and easily, posting questions or replying in comments whenever they find the time. In an increasingly digital age, fast and interactive social networking apps are perhaps the best aid to mobile learning.
Attempt Quizzes and Assessments
The convenience of attempting assessments from the app takes the Open edX mobile learning experience one step further. While not all assessment types are mobile-friendly, with newer releases of the Open edX app, more and more problems can be attempted from smartphones. Supported problem types can range from multiple choice or drag to drop questions, and more. The application can also take in complicated math, numerical or text inputs. 
Recently, the Open Response Assessments (ORA) have been made available in the Open edX app. About 30% of edX courses include ORAs and their availability on the app is a significant convenience for students. Users can type in responses, supplement them with uploads, and save their progress so that they can revisit their responses before submission. On top of that, peer assessment of the ORAs can also be done in-app.
Access Course Details 
Learners are able to access the details of all their courses much like they would in the desktop version. In the courses tab, when a particular course is selected, users are directed to a dashboard containing the general information, as well as the course syllabus, outline, and grading scheme. The course rating and feedback are also available here.
Each course also contains separate sections for videos, discussion, calendar, and resources. The videos section displays all the lectures in each module, with options to download or stream with varying video quality. As discussed above, the discussion forum is accessed through the discussion tab. Assessment schedules and module timelines appear in the calendar tab. Lastly, the resources section contains all of the useful handouts distributed over the course, as well as any important announcements.
Sync to Your Calendar
To add convenience to the mobile learning experience, the Open edX app allows students to sync their course calendar with the default calendar app on their smartphones. This ensures that users get timely notifications whenever a particular component is due. It can also let students plan their study schedules accordingly. Features like these put the mobile eLearning experience a step above the desktop alternative.
Edly Go: Our Open edX Mobile Learning Solution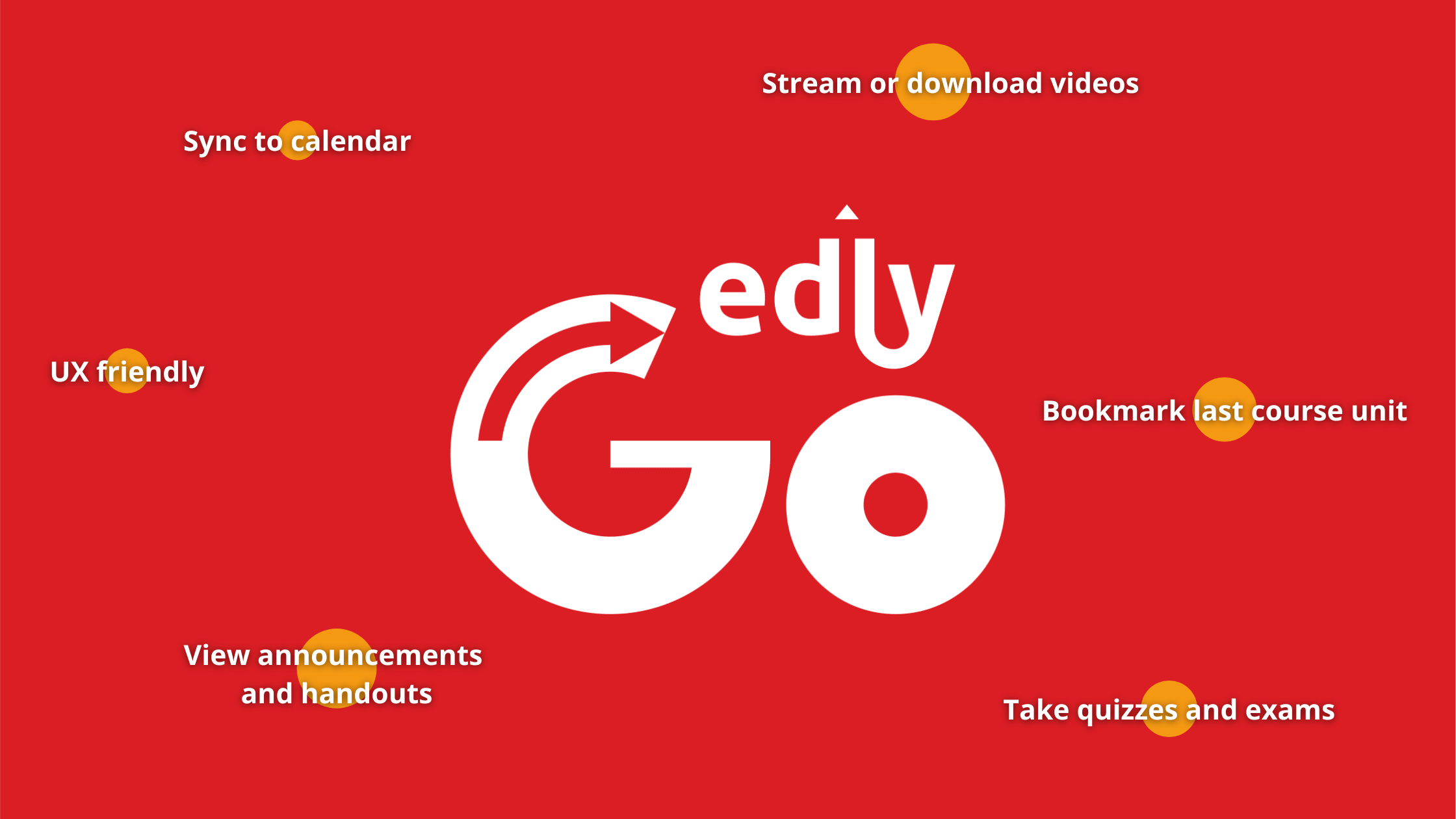 Powered by Open edX and leveraging Edly's extensive experience in the Open edX mobile app development space, Edly Go allows users to experience the convenience of mobile learning on the go. As a responsive and UX-friendly solution, learners can access or download course lectures, engage in assessments, view course announcements, and sync their calendars all in one powerful application.
As the largest Open edX service partner, Edly provides its clients with thoughtful and tailored mobile learning solutions on top of all the Open edX features. Many organizations feel the need to tweak open-source LMS platforms, including their mobile versions, to address specific needs. To this end, Edly provides customization solutions that enable organizations to pick and choose according to their preferences. 
Get in Touch!
The Open edX mobile application truly anticipates and provides all the tools one might need for their mobile learning experience. From video lectures to the course catalog to enrollment, most of the desktop features on the Open edX platform are available on the app. With recent updates to their application, 96% of the components in their XBlocks catalog are now mobile-friendly. 
To take the mobile learning experience one step further, Edly offers its users with the Edly Go app, which provides all the Open edX application features we've talked about and much more! You can even customize your app experience to incorporate desirable features in a way that suits your specific needs. Learn more about our product features, including the Edly Go app, by getting in touch with us and requesting a free demo!