With the undeniable rise in the popularity of Learning Management Systems, there is also a rising interest in LMS pricing models. As organizations around the world shift gears to make eLearning possible on a scale larger than ever before, the hunt for economical online learning solutions is to be expected. 
According to a Brandon Hall study, a staggering 48% of organizations are unsatisfied with their current LMS platform and about 47% of the respondents are looking to revise their current online learning strategy.
In order to come up with the best online learning strategy, organizations must consider the various kinds of LMS pricing models out there in order to get the most bang for their buck. The best pricing decisions are done when organizations evaluate the merits of each model based on their own profile, from their size to the number of employees to compliance needs, and much more. 
Before we begin to explore the LMS pricing models, let's have a look at the kind of costs that are associated with choosing an online learning platform:
LMS Pricing at a Glance
One-Time Costs
An unavoidable expense when getting a brand new LMS platform is the one-time cost of setup. Setup fees are charged upfront and are usually a one-time occurrence. The charges are necessary to implement the Learning Management System and get started with the basics. On top of that, many vendors provide basic services like product training, white labeling or custom branding options, and a few elementary integrations as part of that initial setup.
LMS pricing for these one-time costs averages around USD 5000 for SaaS setups. Some vendors may reach figures around USD 25,000 if the LMS is client-hosted. Edly's one-time setup fee for SaaS LMS is USD 2000 which covers the setup of the LMS, Studio as well as the Edly Learner Discovery Experience. In addition to the training and white labeling mentioned above, other features like SCORM integration, basic training, and branding customization are also included as part of Edly's one-time cost for Open edX deployments.
But not every LMS out there requires a one-time setup fee. Some organizations are able to recoup the cost of deploying an LMS through a higher recurring cost or through different annual costs. It's therefore critical to examine recurring costs and even hidden costs before selecting your LMS platform.
Recurring Costs
Most LMS pricing models are determined by the recurring costs they incur. In many cases, these costs are due on a monthly basis. There are several different types of monthly pricing plans. Some of these models focus on the total number of learners that are registered on an LMS, while others only charge for the number of active, registered users actually using the platform in a given time period. 
The most popular type in that latter category is Monthly Active Users. Recurring costs based on Monthly Active Users means that you only pay for the users who logged into your platform in a given month and not the total number of users on your platform in a given time period. As a result, the monthly recurring cost could either be a fixed amount or it could vary depending on the popularity of the LMS.
Other organizations may not base their recurring costs on the usage or number of users but on the recurring costs that they incur. These costs can include the costs for servers, maintenance, patching, or anything else incurred by your LMS provider. This model of passing their fees onto the customer is not abnormal and can also provide insight into cost modeling. 
For self-hosted LMS platforms, recurring costs could be due after a slightly longer period of time. For example, periodic licenses may need to be purchased on a yearly basis. We will get into more detail about pricing models later on in this article. 
Hidden Costs
Most LMS pricing models include one-time and recurring expenses but understandably leave customers with some hidden costs that do not emerge until after they have bought and started using the LMS. Most of these hidden costs include detailed customizations that organizations might feel the need to include later or integrations with other company software such as CRMs or ERPs. 
Ideally, you'll want to bring these requirements up during your initial conversations so that you're not stuck with an unexpected bill down the road. Other costs could include maintenance, organization, or feature development that require technical support. For companies that do not have an in-house IT department, these costs could add up over time.
Perhaps greater than the monetary cost, hidden costs are more exacting on another precious resource: company time. If an organization is spending huge chunks of time on fixing basic issues in the platform, the choice of LMS is unfortunately a poor one. It is possible to predict the hidden costs that an organization may face based on the upfront and recurring costs. 
For example, open-source LMS that are mostly available for free may require a lot of time and effort to customize and tailor according to company requirements. On the other hand, much of this is taken care of by LMS vendors that have slightly higher fees. Similarly, a very cost-friendly LMS might not have the capacity to grow beyond a few hundred users. What happens to their pricing model once you outgrow your user limit?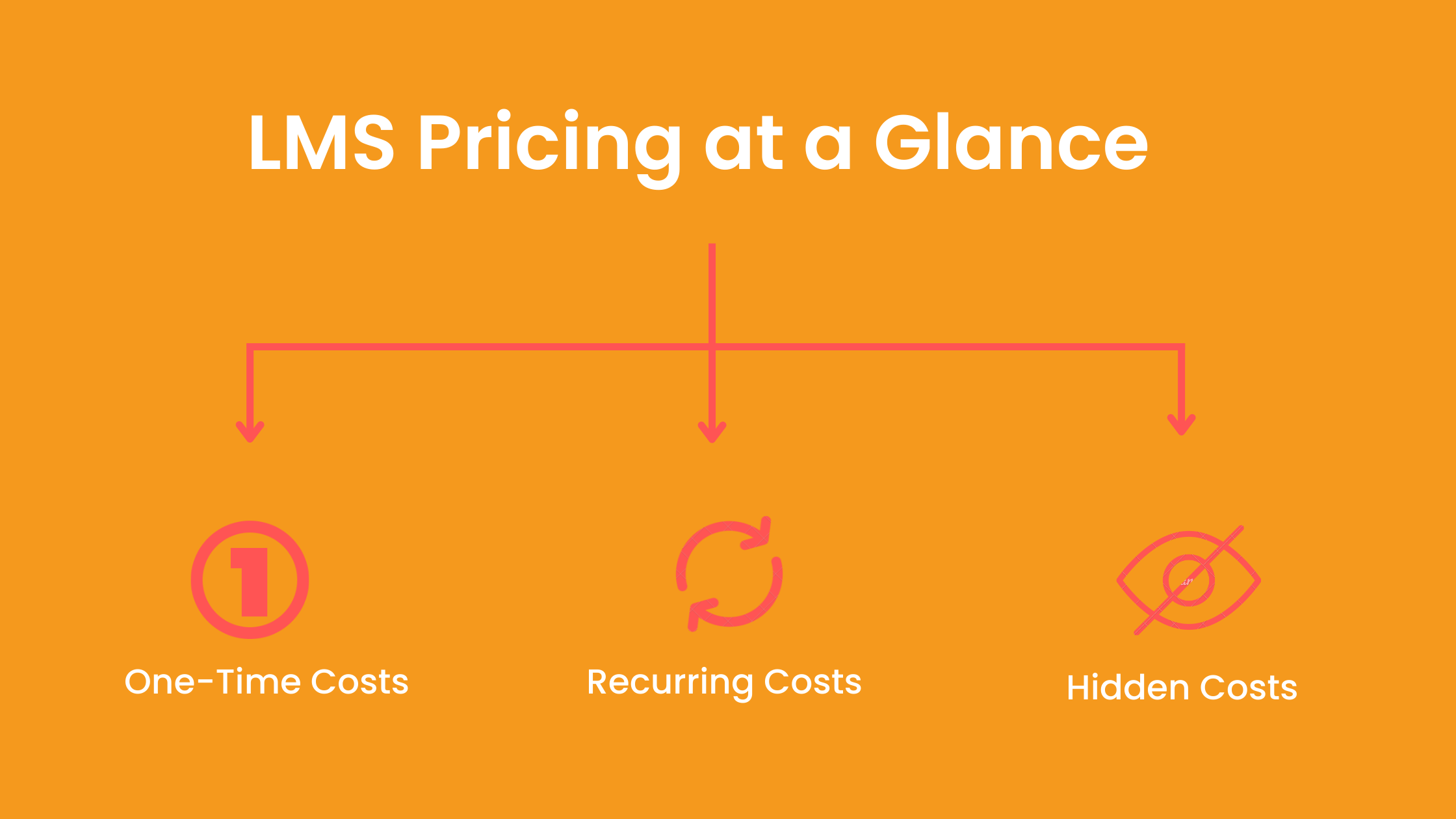 LMS Pricing Models
Perpetual License Fee
A perpetual licensing fee entails buying a Learning Management System for a fixed period of time. During the length of the license, the organization is free to use the LMS as much as it needs. This LMS pricing strategy is relatively less popular and is typically preferred by big corporations that can make such a large investment in their online learning platform. In most cases, these large organizations are concerned about data security, which prompts them to go for a perpetual licensing model. 
Perpetual licenses are also helpful for organizations that can more easily predict the size and usage of the platform and opt-in to the pricing for that user base accordingly. Sometimes perpetual licenses may have additional perks for contract renewals and/or additional fees for early contract terminations. 
Monthly Users
Some organizations choose to opt for a pricing method that takes into account the number of users that are registered on the platform. In this model, the company gets charged a fixed, consistent amount per billing cycle for each user that has access to the LMS. This is a more desirable option for those companies who would like to have predictable billing rates. Companies that only need to train specific personnel each month, for example, would go for an LMS pricing model such as this. As mentioned earlier, you want to ensure you know what your costs will look like when you begin to outgrow that number.
Monthly Active Users
Unlike the monthly user model where there is room for overpayment, one of the most economical LMS pricing options only takes into account the usage of the platform. In a monthly active users pricing model, organizations may have many registered users on the LMS but they would only get charged for the proportion of users who are actively using it. Despite the unpredictable usage and billing, this pricing option cuts unnecessary costs and is a great fit for small corporations and start-ups that are ready to grow. 
It also ensures that you're not paying extra when your platform isn't in high demand. Within this model, some organizations will charge a set per-user amount while others will use a tier-based system to ensure pricing is as scalable as possible.
Open Source
Open-source platforms like Open edX and Moodle can be used for free since their code is available to everyone. While the code itself is free, it is still impossible to avoid costs entirely. Many organizations end up paying service providers to help set up, manage, customize and train their employees so that the LMS is usable. The look and feel of the platform might also be rudimentary so organizations may feel the need to add a touch of personalization to it. That kind of customization has costs too!
This kind of model is ideal for corporations that already have a competent in-house IT department that can make the necessary changes to an open-source LMS platform.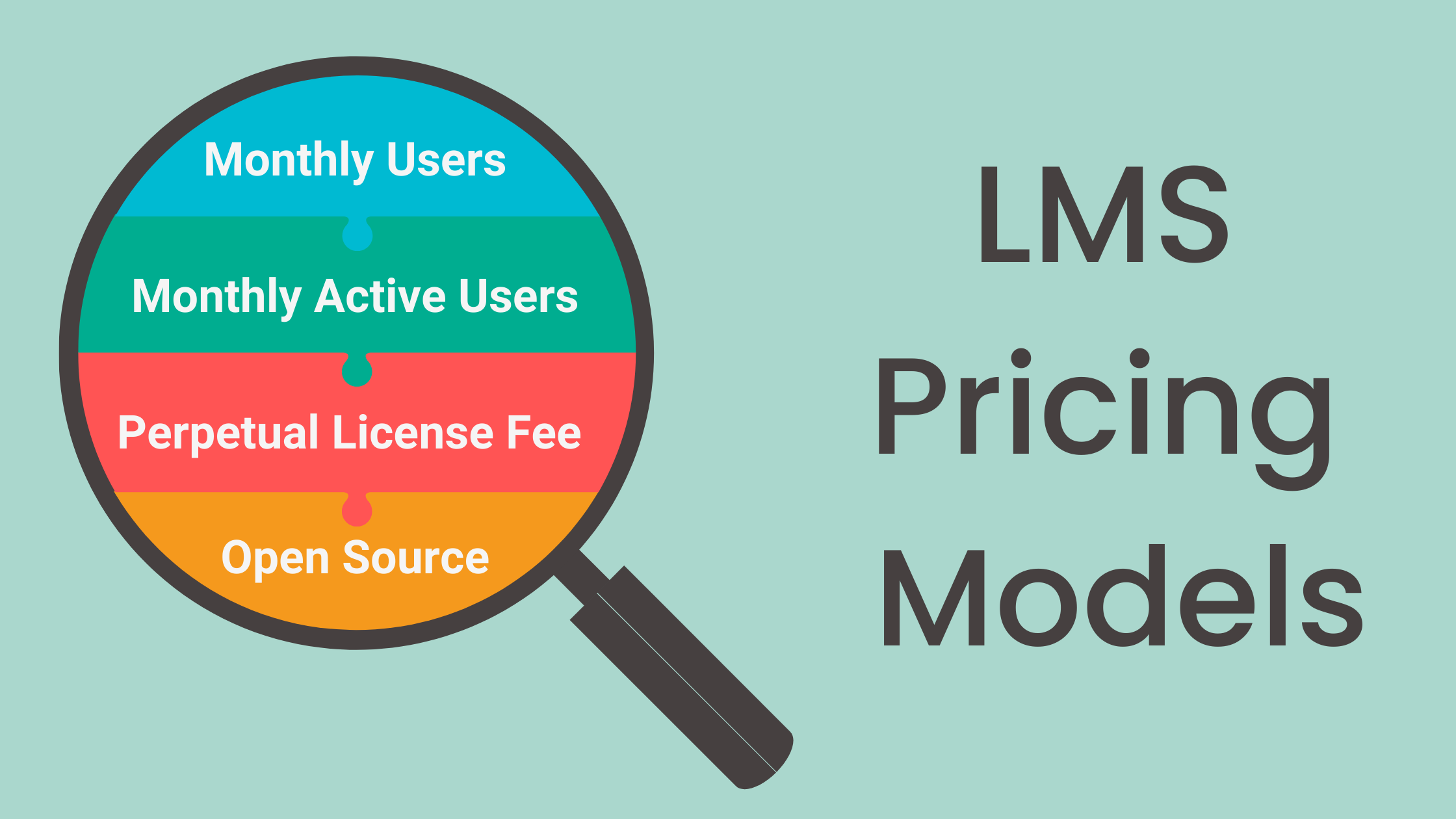 LMS Pricing: Factors to Consider 
In addition to comparing LMS pricing options, prospective buyers must also take into account the features of each of the platforms. A more informed decision is made when organizations evaluate the price of the LMS against the features it has to offer. Here are some important features that make Learning Management Systems worth the expenses:
Scalability
Company growth may be hard to predict at the time of purchasing an LMS. It is possible that an organization may scale up, downsize its operations or merge with another corporation. These changes should not disrupt the training and development of your employees, customers, or other end users. Changing LMS platforms can be a huge waste of resources since the business would need to spend time on data migration and training on new software. Choosing an LMS that is scalable ensures that the initial investment, as well as employee time and effort, is not wasted. Scalability should give you the peace of mind that your platform is ready to grow with you.
Mobile Solution
It is important to ensure that your LMS of choice is also available as a mobile application before investing in it. Not only is a mobile LMS more accessible and popular than ever but it is also conducive to learning. Employees can train more conveniently by simply logging onto their mobile applications whenever they make time. This means that they don't have to be at the office to take their training and that they can even take courses while on the move. The resulting increased usability of the platform would confirm that your LMS pricing decisions were well informed. But remember: some LMSs may charge a separate fee for their mobile app. 
Third-Party Integrations
The integration of the LMS with other company software must be seamless and well-supported. A good LMS pricing decision involves factoring in how well the platform can be integrated into other software and whether the vendor offers integration support and guidance. Based on these factors, you can make a cost-benefit analysis of your LMS of choice. 
Questions to think about include: what are the development costs for these integrations? Will my LMS charge extra for API usage? Do I need to be on a separate payment plan or product offering with my third-party software to ensure that it can be integrated with my LMS?
Course Authoring Platforms
Perhaps one of the most overlooked considerations in your LMS selection is the course authoring platform. Many LMSs do not have a built-in course authoring tool. This means that in addition to your LMS and all of the considerations and pricing with that platform, you have to make those considerations all over again for your course authoring platform. A course authoring tool like Articulate 360, for example, can start at $499 for an individual or $1299 per user for a team. 
When selecting your LMS, you may want to consider the pricing of a course authoring tool. Or better yet: consider an LMS like Edly's that contains a built-in course authoring tool.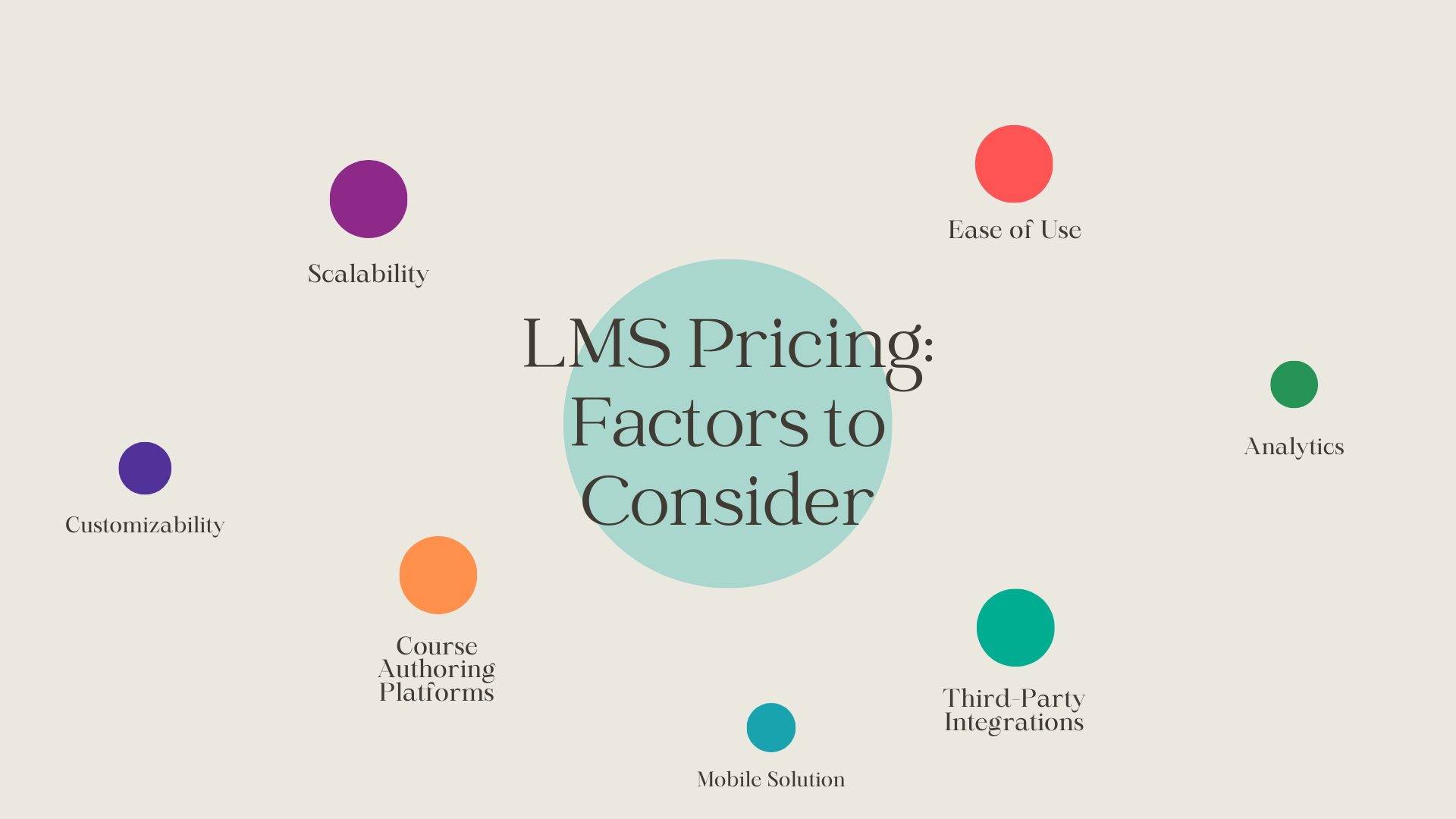 Customizability
Much like integrations, customizations must also be factored into the LMS pricing decision. From basic customizations that change the look and feel of the LMS to reflect the company theme and logo, to more complicated custom solutions involving XBlocks and plugins, your LMS of choice must have it all. 
Once again, these costs can be unpredictable or have a variety of dependencies so it's better to scope these out ahead of time. Even when you can do the development in-house, some LMSs charge a premium fee for consulting their engineering staff with any queries or bugs that you encounter during your integration. 
Analytics
An LMS is only as good as its analytics. Reporting data is important for organizations to keep track of student or employee performance and to determine how well certain courses are performing. Often, these analytics tools provide very useful insights to organizations on how to better manage their platform or how to improve existing courses so that they are better received. The importance of efficient reporting tools cannot be oversold when considering LMS pricing. 
Before selecting your LMS provider, you might want to consider: does it come with built-in reporting? Do the built-in reports meet my organization's needs? If not, what's the capability of extracting the data and reporting that we do need? Building a custom reporting dashboard or even an integration with your preferred third-party reporting tool (like Tableau or Power BI) can be useful but also expensive–is it worth the cost?
Ease of Use
One factor that organizations tend to overlook is the user experience of the LMS. A good Learning Management System must have an intuitive user interface that is not only easy to use but also engaging. If learners are accessing a space that is dull and bare-bones, they would not be very motivated to learn. On top of that, the platform must be easy to navigate and users should be able to get around the platform without too much training. 
Good user design is a crucial factor to be considered when making an LMS pricing decision; a bad user experience could result in course abandonment. If you're spending money on selecting an LMS and developing your course content, you'll want to ensure that it can retain your learners.
Edly's Pricing Model
Edly adopts a philosophy of simplicity and predictability when it comes to LMS pricing. Using a monthly active users model, the monthly product license is calculated, which reflects the actual use of the platform as opposed to charging all registered users, active or inactive. The monthly active users count resets every billing cycle. In this way, customers avoid excess charges, making the finances easy and transparent. See the chart below for details about our recurring fees.

Apart from the monthly fee, a one-time setup fee of USD 2000 covers everything you would need to get started on your platform. This includes the deployment of your Open edX-powered LMS, your course authoring tool, and the Edly admin panel. The deployment would include the LMS itself, a studio for course authoring, and a learner discovery page where learners can browse the course catalog and enroll in courses. The Edly panel gives a system overview to the admin, including analytics. 
Additionally, Edly offers 5 hours of detailed training that ensures that clients are made aware of the functionality, analytics reports, and best practices for using the product. The platform also comes with SCORM integration and basic branding options to give you the white-labeled options you need for your LMS.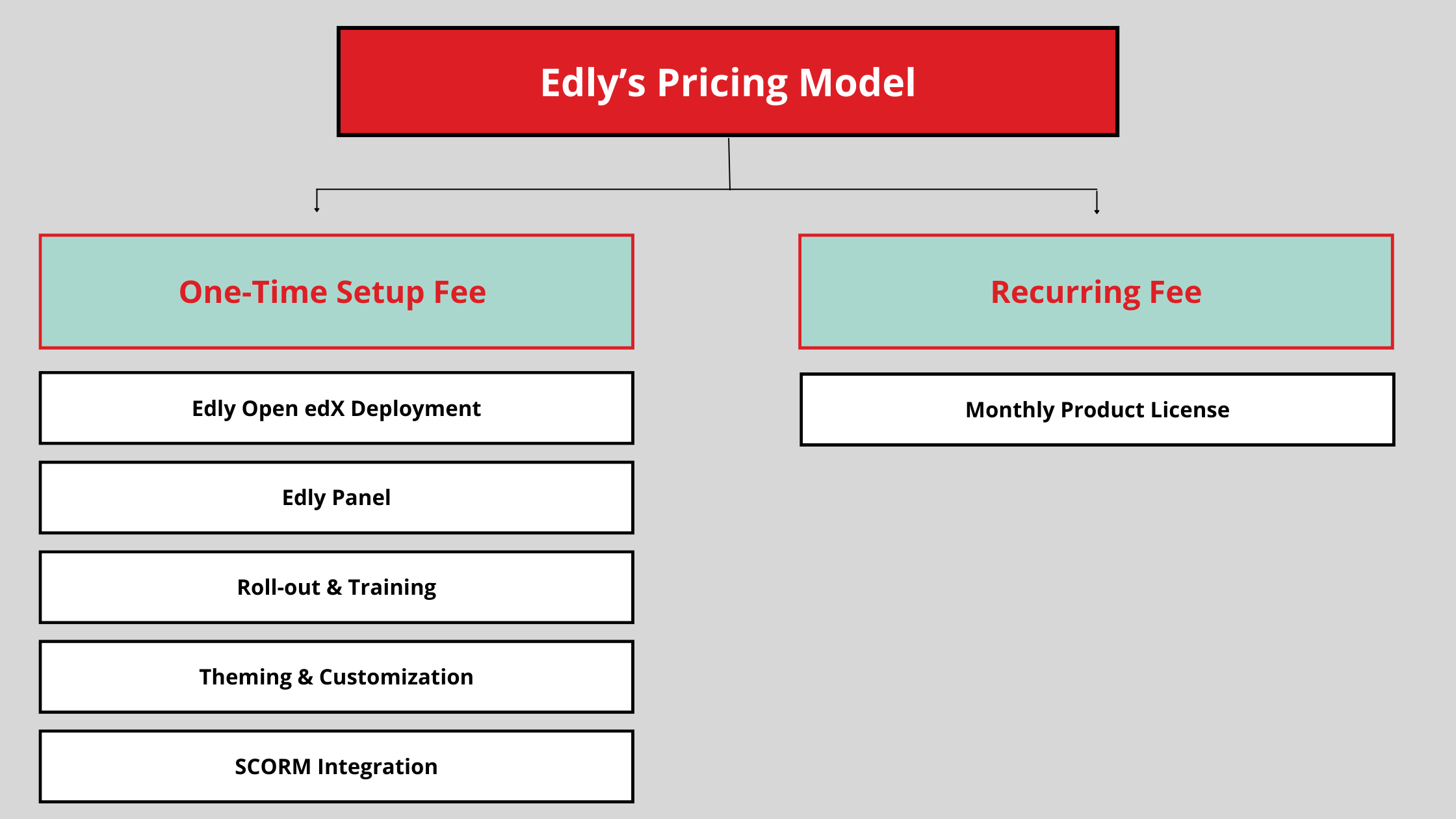 Let's Talk!
We've talked about the hidden and fixed costs incurred when organizations opt for Learning Management Systems. Additionally, we viewed the different ways in which recurring monthly costs may manifest, whether they are based on the number of learners in total or only the number of active users. To add to that, the merits of subscriptions and free-to-use open-source platforms have also been discussed. With the help of this article, you should be able to objectively weigh all your options and make the most informed LMS pricing decision. 
Edly's LMS pricing option promises to charge its users in a simple and transparent manner. With the monthly active users model, organizations end up paying based on the usage of their LMS platform. In order to learn more about Edly's LMS pricing option, feel free to contact us and request a free demo!