Whether it is about running a successful marketing campaign, polishing communication skills, or building an eLearning platform, more and more people have started to turn to the internet and online learning platforms to learn and acquire new skills. To keep up with the pace of the increasing number of learners, educators are showing an increasing inclination towards cloud-based SaaS LMS platforms due to their modern features, functionality, and scalable pricing.
The global LMS market is expected to grow to $38.1 billion by 2027. This puts further emphasis on the need to establish eLearning platforms that can cater to the influx of online learners without crashing or lagging. 
Companies with a futuristic vision have already started moving to a cloud-based SaaS LMS, and why should they not? The cloud has proven to be powerful and convenient for everyone, and software as a solution (SaaS) has played a pivotal role in powering modern learning solutions.
What is a SaaS LMS?
Software as a service LMS is an invention that has made the formerly used version, hosted LMS, obsolete. SaaS LMS is a cloud-based system hosted online and accessible to everyone on the internet, which means no one has to download it on a single device to use it.
Cloud-based SaaS LMS typically operates on a subscription model with multiple pricing plans. These plans help you scale your business as each of them provides you with a different range of features that you can access. The best part of a SaaS LMS is that you do not have to install specific hardware to access the LMS. All you need to do is login into the portal to access and manage the LMS. It is super convenient, isn't it?
Want to build a groundbreaking eLearning platform?
Get in touch with us and learn how we can help you achieve your goals and objectives.
Top 10 Things You Must Know about a Cloud-Based SaaS LMS
There is more to cloud-based SaaS LMS than the convenience it offers. We have listed down ten amazing things that you must know about a cloud-based SaaS LMS: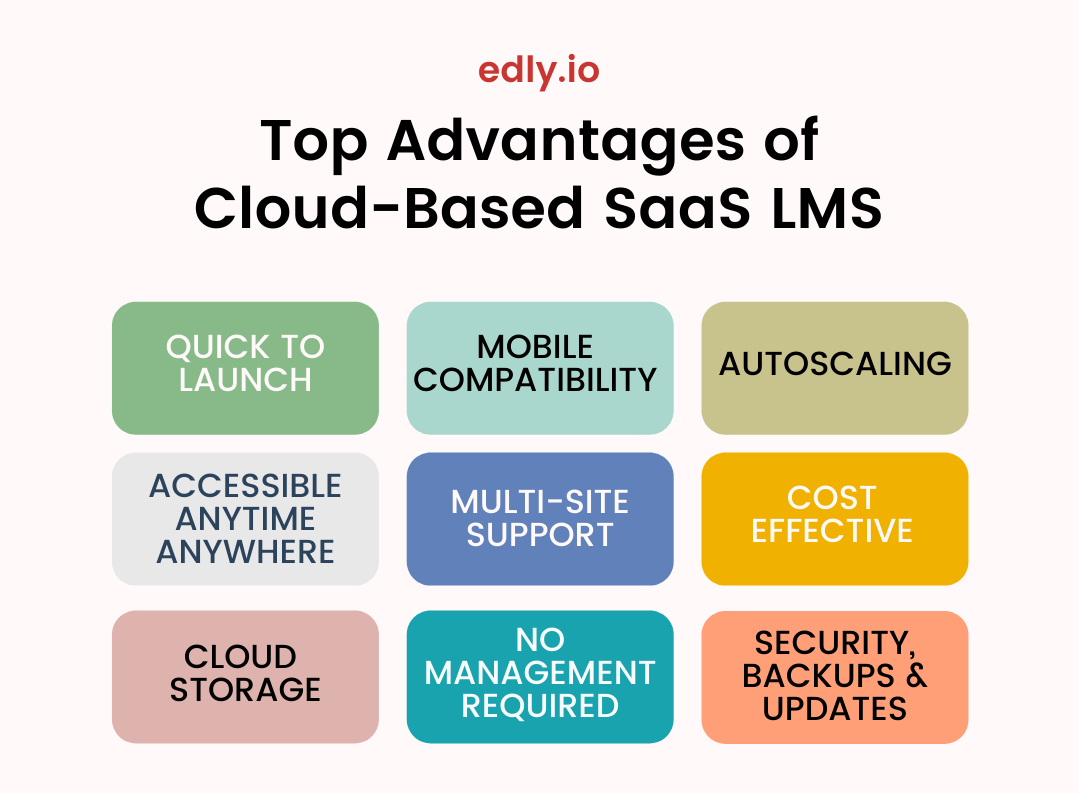 1. Quick to Launch
Gone are the days when LMS platforms used to take weeks to launch and get deployed. Now with a cloud-based LMS, deployment has become easy on not just one but multiple devices simultaneously. With a standard set of features and rollout procedure, installation time is significantly reduced. It is a simple and fast process and the best part is that you can start adding courses and managing your portal from day one.
At Edly, our expert IT team takes charge of the operations and is available 24/7 to help you set up your LMS. They are available to answer your questions, and in no time, your LMS is ready to welcome learners onto your eLearning platform.
2. Mobile Compatibility
With mobile users forming 54.8% of the total web traffic, it is hard to ignore their importance. The mobile compatibility of an LMS is one of the most important features that an eLearning platform must have to be successful. A SaaS LMS powered by Edly ensures that a learner receives the same learning experience on mobile as well, enabling learners to learn on any device with ease. This can be achieved through responsive design and a separate mobile app. 
3. Autoscaling
One of the critical features of a SaaS LMS is its scalability. You don't have to worry about the functionality and compatibility of your LMS while expanding your eLearning platform. Edly's SaaS LMS automatically upgrades and downgrades your server capacity per the increase or decrease in active learners on your eLearning platform. Moreover, if you feel you are paying for some unused features, you can request a change in your plan, ultimately decreasing the charges. 
A good LMS provider, like Edly, can leverage autoscaling to help put you on a Monthly Active User payment model letting you avoid paying for the maximum demands of your platform and instead of letting you pay for the actual usage.
4. Accessible Anytime Anywhere
One of the limitations that hosted LMS used to have was accessibility. A hosted LMS may only be available to users on the same network or it may not be accessible from certain devices, regions, or networks. While some of these may be desirable features for your LMS, they should not be limitations of your LMS created by lackluster hosting. 
Accessibility problems are also solved by the cloud-based SaaS LMS, as now you can access the LMS from anywhere and anytime. All you need is a stable internet connection and a smart device. Some SaaS LMS gives the option to learn offline, and when the internet connection is restored, the data is updated automatically.
5. Multi-Site Support
When you onboard to a SaaS LMS like Edly's you are able to leverage support for multi-sites (sometimes referred to as microsites). A multi-site can function as a standalone portal or version of the LMS. This means one organization can have different installations of the LMS for their different stakeholders, sub-organizations, business units, etc. This feature allows course staff to manage the database of multiple learners simultaneously. Furthermore, the multi-site architecture makes it easier to update the data all at once, making it available to eligible learners. You can leverage multi-sites to deliver multiple instances of your LMS without breaking the bank. 
6. Cost-Effective
Cloud-based SaaS LMS is a much more economical option. You don't have to worry about a list of things such as maintenance, backups, system updates, infrastructural improvements, fixing bugs, etc. You are only required to pay your monthly subscription fee in which all of these services are provided. 
7. Cloud Storage
All of your data on your SaaS LMS is stored securely on the cloud instead of your device. Data storage is often a big deal for many users as it consumes a lot of space in the device but thanks to cloud storage that worry is also taken care of. Scalable cloud storage can offer peace of mind; you won't run into major limitations on the volume of users, the volume of courses, or total storage space in your LMS, as this can easily be scaled for you. 
8. No Management Required
Going with a SaaS LMS, half of your stress is already relieved as you are not required to manage the LMS on your own. All system installations, software updates, and management of LMS are taken care of by your service provider. Typically these terms are outlined in a Service Level Agreement for transparency and accountability. So sit back and relax and let your LMS service provider take care of your platform! 
9. Security & Backups
Another reason for the popularity of the cloud-based LMS is its enhanced security. Your data is secured, encrypted, and backed up by the LMS provider. Edly recommends its clients enforce SSLs on their LMS to take security a step further to ensure everything is completely secure. Beyond that, you will know the cadence and capability of your LMS provider's data imaging, backup, and restoration process. In the case of a critical outage or failure, mechanisms are in place to help you get your LMS back up again in no time.
10. Auto Upgrades & Updates
With Edly's SaaS LMS, you don't have to worry about system upgrades and updates. Maintenance is taken care of by us and covered in your monthly license. New features are integrated and applied instantly after the update, allowing you to focus on building new and exciting courses for your learners. This means you're getting the latest features, integrations, and security patches at no extra cost. 
A Final Word of Advice
We hope this article has helped you understand how a cloud-based SaaS LMS has changed the way eLearning platforms operate. The exciting features, cost-effectiveness, and convenience make it much superior to a hosted LMS. Propel your company ahead of your competitors by getting a SaaS-based LMS today.
Edly is among the earliest and most experienced official service providers of Open edX. Over 40 million learners depend on education platforms we've helped build. Whether you're a major player in the e-learning space or this is your first time delivering courses online, if you have more questions about SaaS LMS, book a free consultation with our experts and hear from them about our excellent solutions for your eLearning business.