Since the introduction of MOOCs around 11 years ago, attitudes around college education have shifted tremendously. Many companies now consider a skills-based hiring approach instead of having a college education as a prerequisite. Learners, too, are increasingly turning towards online micro-certifications to learn specific skills that are in demand in the job market. 
By 2029, MOOCs are expected to reach a market value of USD 64034.37 million. Higher education institutions are also getting in on the action by investing in short non-degree programs aimed to deliver specific credentials to the learners. All of this points to the immense revenue potential of micro-certifications.
Leveraging micro-credentials is an excellent way for corporations, or even educational institutions, to develop an additional revenue stream with little hassle. Let's look into this in more detail.
What are Micro-Certifications?
Micro-certifications are short courses offered via online learning platforms that are often stackable and focus on developing a specific skillset in the learners. These certifications offer a way to quickly gain expertise in a very specific and in-demand area. Learners usually leverage micro-credentials as a quick pathway toward new employment opportunities. Higher education institutions also offer these certifications as add-ons to other degree programs.
Typical micro-certifications format usually involves learners progressing through modules with learning materials, notes, and quizzes available on a Learning Management System. After passing individual modules, they may have to attempt a final assessment before they are graded. These certifications are mostly asynchronous and learners can progress through the course at their own pace.
At the end of the course, learners would have access to a certificate or a nano-degree. The certificates issued are recognized by most organizations and some colleges can even incorporate them into transcripts.

Create a Seamless Learning Environment with Edly?
Get in touch with us and learn how we can help you achieve your goals and objectives.
Benefits for Organizations
Additional Revenue Stream
Most organizations have subject matter experts and tons of educational materials already on hand. By investing a small amount of time and resources, it is possible to consolidate and repurpose these materials. Subject matter experts can use their expertise to develop micro-certifications out of this content. 
The courses can then be made available to the public. Many learners would place a significant amount of trust in the brand value of the organization offering the micro-certifications and sign up for them. The institutions offering these certifications can expect rapid returns and tap into the eLearning market with learners from around the world.
Significant ROI
As convenient as it might be to create micro-certifications, it does involve some amount of investment from organizations. However, this investment does pay off in more ways than one. Skilled employees are not only more efficient in their day-to-day tasks, but they also end up taking initiative on new tasks, thereby driving innovation. Skilled employees are also more adept at training and mentoring others. 
This directly translates into more revenue for the organization. The more productive employees are in their roles, the more work gets done. At the same time, the quality of the work is significantly better. According to a Pearson VUE report, certifications can add an estimated USD 10,000 of added value per certified employee. 
Close Skills Gaps
A quick skills gap analysis can outline the areas where an organization's employees lack expertise. Addressing these gaps can be made easier than ever by leveraging micro-certifications that focus on the very skills employees are lacking. Instead of enrolling employees in a generalized training program, this would be a much more efficient way to address the skills gap.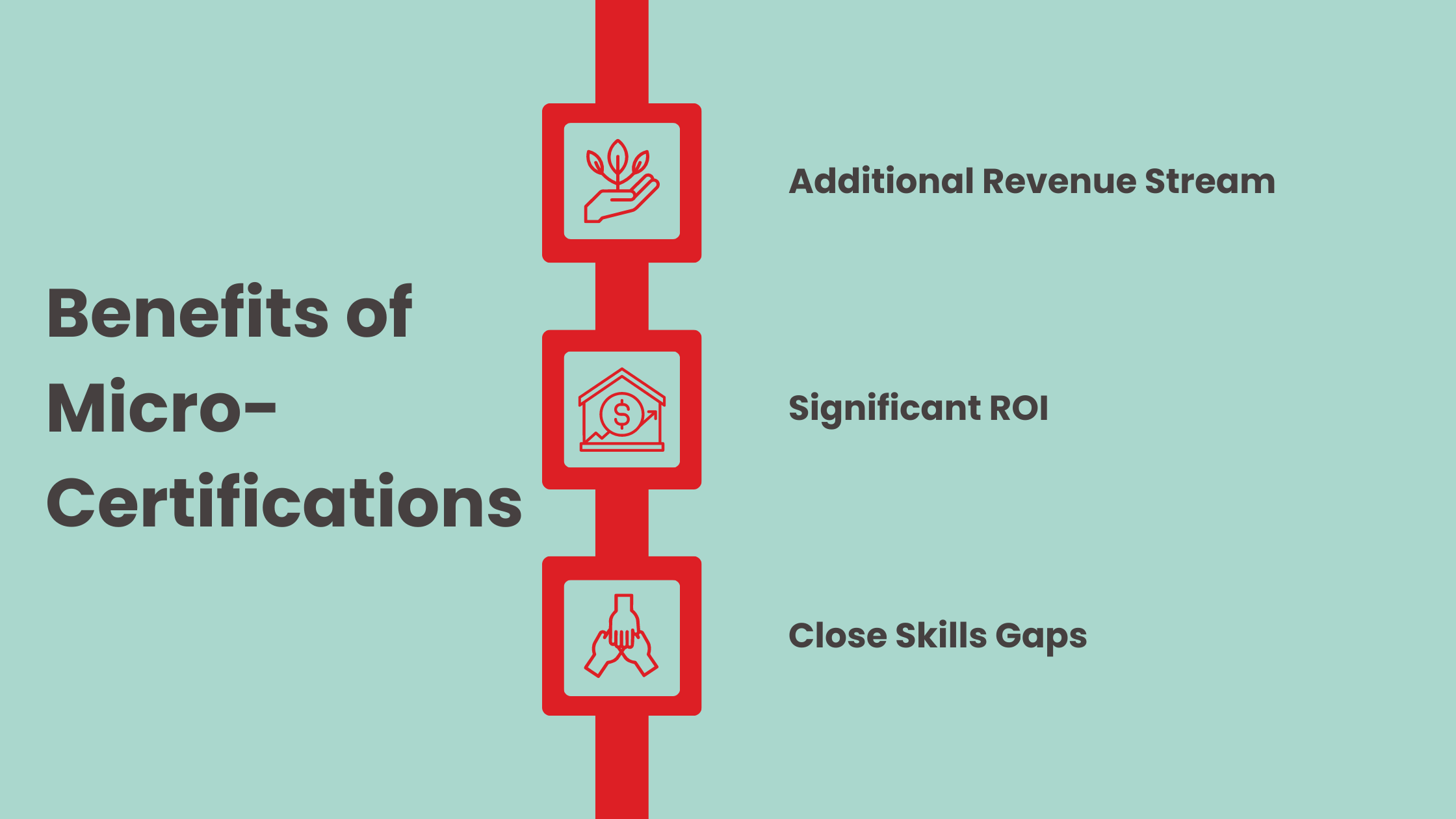 What's in it for the Learners?
Micro-certifications allow learners to quickly upskill or reskill, allowing them to transition to other roles within their organization, or perform their current role more efficiently. These credentials are usually low-cost, and some employers may even cover those costs. At the same time, the certifications are brief, and based on the time put into training, can be done relatively quickly. 
Being asynchronous and flexible, workplace training can be adjusted around day-to-day tasks and certifications can be completed without any delays on deliverables. In other words, workers can manage both training and work simultaneously. 
Having an opportunity to build a comprehensive skills portfolio and work on their professional goals, employees are overall reported to be much more satisfied with their employers. This goes a long way in building mutual trust and reducing turnover. 
Create Micro-Certifications with Edly LMS
The future looks bright for micro-certifications and MOOCs. Now would be a good time to monetize your LMS platform and offer in-demand skills to learners worldwide. With new tools and software emerging all the time, the modern workforce would need to evolve constantly and acquire new skills. Micro-certifications will help tremendously in this regard.
Creating micro-certifications is easy, especially if you have expert help. Edly's Learning and Instructional Design services can help you create successful and engaging eLearning initiatives and tap into the micro-certifications market. Get in touch with us today to get started or check out our free trial!