The free and unencumbered access to AI technology has left us grappling with its possible implications. As with all emerging and disruptive technologies, there are camps for and against AI. The reality of the usefulness of AI, however, is far more nuanced than a simple for and against argument.
Consequently, the increasing adoption of AI in various industries is also being met with a heightened interest in placing checks and regulations on the use of AI. From developing industry standards to creating AI content detection tools, lawmakers and the tech industry are working in tandem to promote the ethical use of AI.
AI content detectors emerged not long after the release of Chat GPT. Much like Chat GPT, these detection tools also leverage AI and natural language processing to determine predictable patterns in text. However, these tools aren't just limited to text input. Many AI image and video detection tools have also been gaining popularity.
AI detection tools have a promising premise but are they really needed? And how reliable are these tools? Let's take a look!
The Case For AI Content Detection Tools
Detect Plagiarism
A potential misuse of AI that concerns educators is the increased incidence of plagiarism in the classroom. Students only need to write in a well-defined prompt and get perfectly written essays, which often don't come with accurate citations. Students can easily pass off AI-generated content as their own. This raises some serious concerns about academic dishonesty, which not only affects students but institutions as well. 
AI content detection tools can help flag such responses, based on the likelihood of AI-generated or plagiarized content they contain. Plagiarism detection tools like TurnItIn.com (which can also be integrated with the Edly LMS) have been available for a long time but may be more limited in scope. An AI content detection tool, on the other hand, may also be able to detect whether an AI wrote the content in the first place.
Promote Original Thinking
Using AI to supplement learning materials is a great way to explore new concepts and can be used as an effective teaching tool. However, overuse can build students' reliance on AI tools and lead to a loss of creativity and original thinking. Students need to exercise their communication and argumentative skills in order to boost their self-confidence, creativity, and vocabulary. 
Overuse of AI tools can hamper this development and AI detection tools have become necessary in order to encourage original thinking. 
Uphold Integrity
With no checks on the accuracy of AI-generated content, educational institutions are grappling with the potential spread of misinformation. Given how widely connected social media has made our lives, incorrect information can quickly travel across the globe with potentially severe consequences. Such content needs to be fact-checked before it is made public, and AI detectors can help play an important role.
Moreover, higher ed institutions are ranked by the quality of research publications they produce. AI-generated content used in these publications can affect the integrity of the research, especially if it includes false information or incorrect citations. These factors make the case for AI content detectors stronger than ever.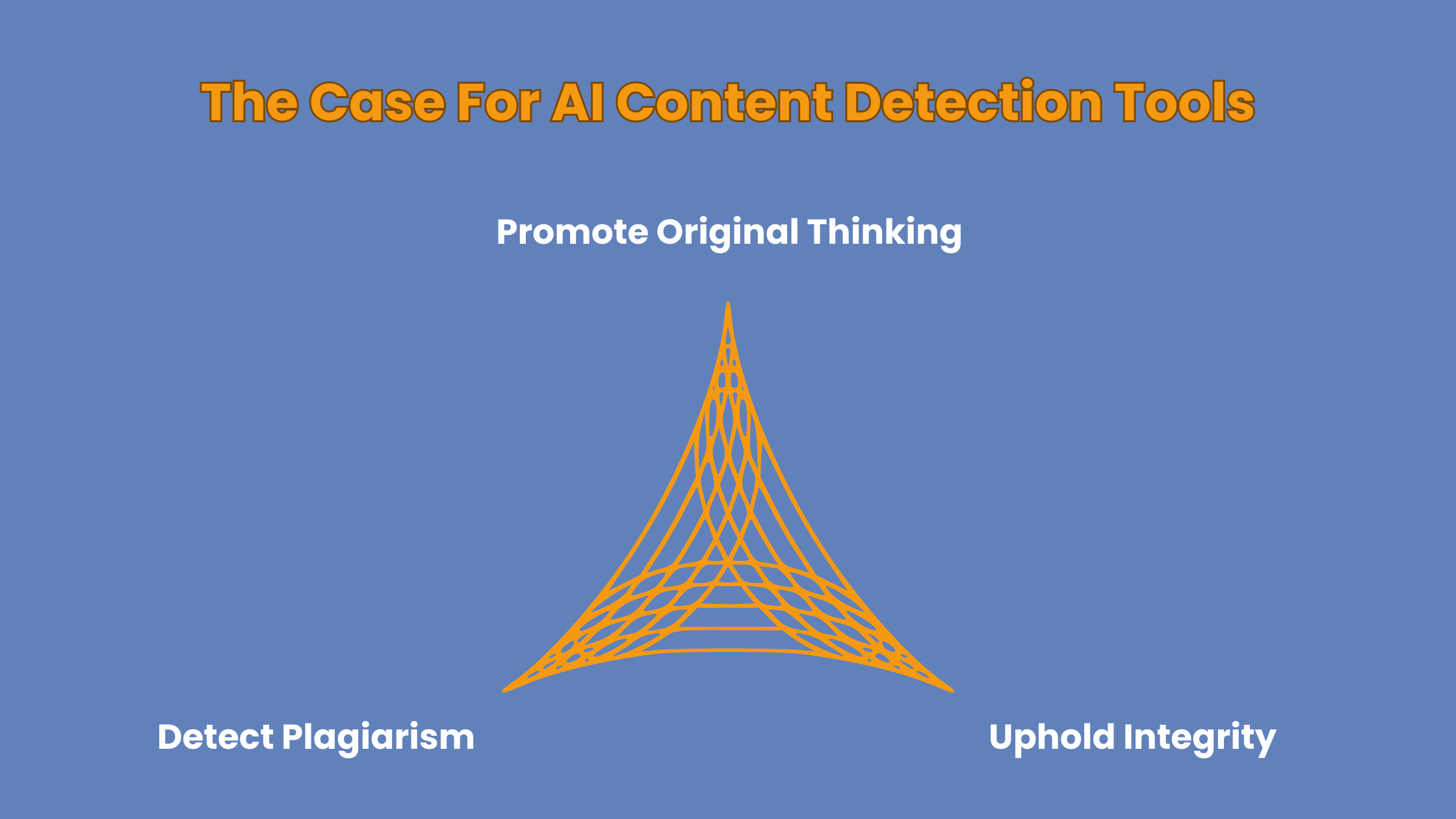 Issues with AI Detection
As much as we need AI content detection tools, in reality, these tools are not always accurate. There is a strong possibility of these tools detecting false positives, where original content is flagged as AI-generated. According to Turnitin, these detectors can flag as many as 1-4% of original responses as AI-generated. 
There's also the issue of AI detection tools being easy to fool. False negatives are especially easy to obtain if students blend AI-generated content with some original content of their own. Additionally, as more advanced AI models hit the market, they get harder to detect.

Create a Seamless Learning Environment with Edly?
Get in touch with us and learn how we can help you achieve your goals and objectives.
Edly's AI Detection Solution
Our team has been able to integrate GPT Zero API into the edX Staff Graded Assignment (SGA) xBlock. The SGA xBlock originally allows students to upload assignments and instructors to view and grade these uploads, complete with instructor comments and annotations. 
On top of the usual functionality provided by the SGA xBlock, incorporating GPT Zero support allows instructors to see an additional action labeled 'Verify Content' on the interface. Upon clicking the 'Verify Content' button, a pop-up appears, showing line-by-line results assessing the probability of each line being AI-generated. This can be used to determine how original any essays or qualitative assignments are.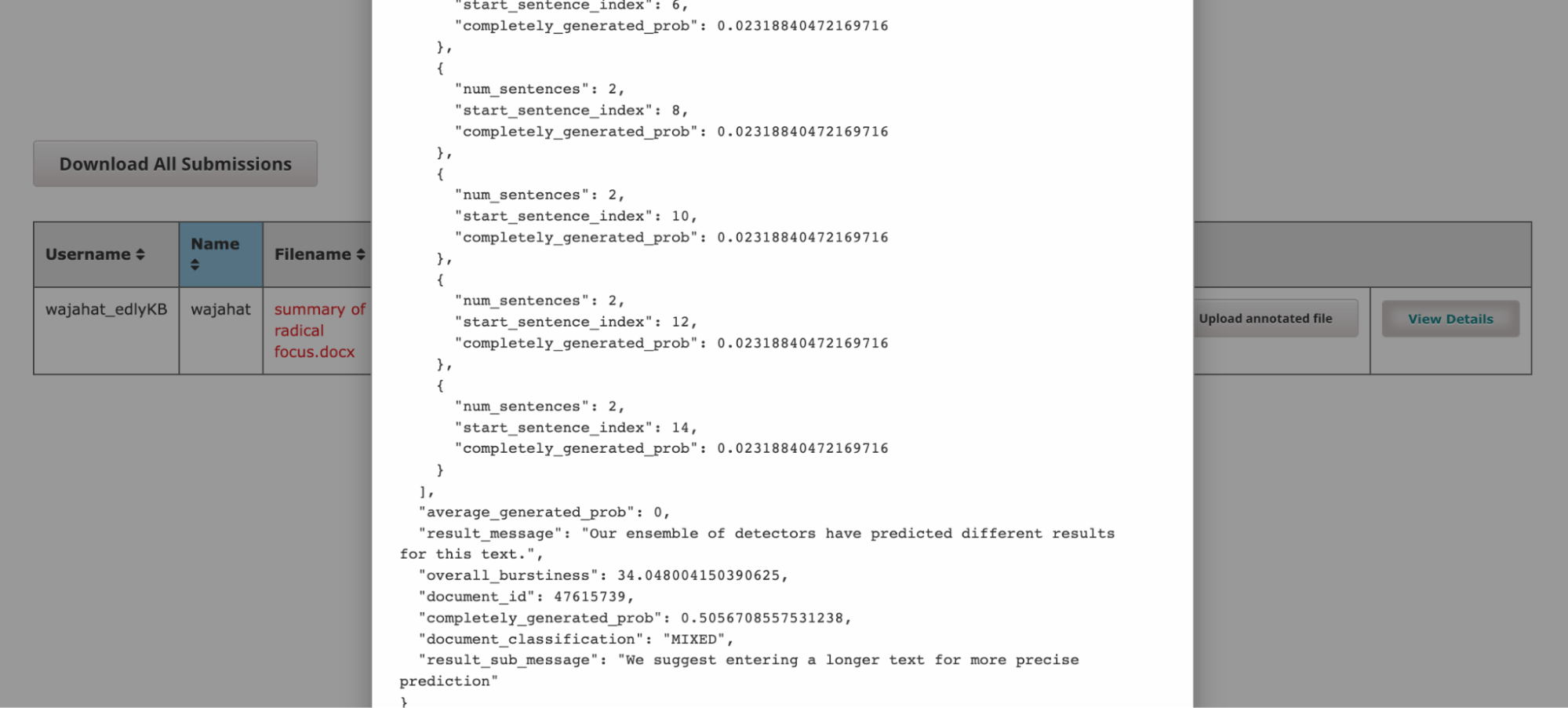 Get in Touch
The widespread popularity of AI tools makes them impossible to keep out of the classroom or even the workplace. Instead of fighting the use of AI, embracing it would not be such a bad idea after all. But in order to place checks on its use, AI content detection tools will become increasingly necessary. As more accurate detection tools hit the market, we can expect a more measured integration of AI in our everyday lives.
If you're looking to incorporate AI detection tools into your LMS platform, look no further! With Edly's help, you can seamlessly integrate AI detection into your existing Open edX-powered platform. Get in touch with us today, or try our platform for free!