Data has become perhaps one of the most valuable resources of the 21st century. The world around us has evolved in such a way that data is generated, managed, and analyzed constantly. Be it people, businesses, or even governments, everyone relies on numbers to stay relevant and efficient. The same applies to learner data in the eLearning industry. 
In order to keep a Learning Management System functioning effectively, it is important to understand how its services are being received by the end-users. Do learners react positively to certain interfaces? What kinds of courses are more popular than others? Are there enough enrollments for the data to be meaningful in the first place? These are all questions worth reflecting on.
Tools like Edly Insights, the reporting tool for Edly LMS, help keep track of learner data. In this article, we will discover how Insights help Edly users make the most of their platform. But before we discuss the specifics of Edly Insights, it is worth exploring first, the usefulness of having reporting tools in online learning.
Why is it Important to Analyze Learner Data?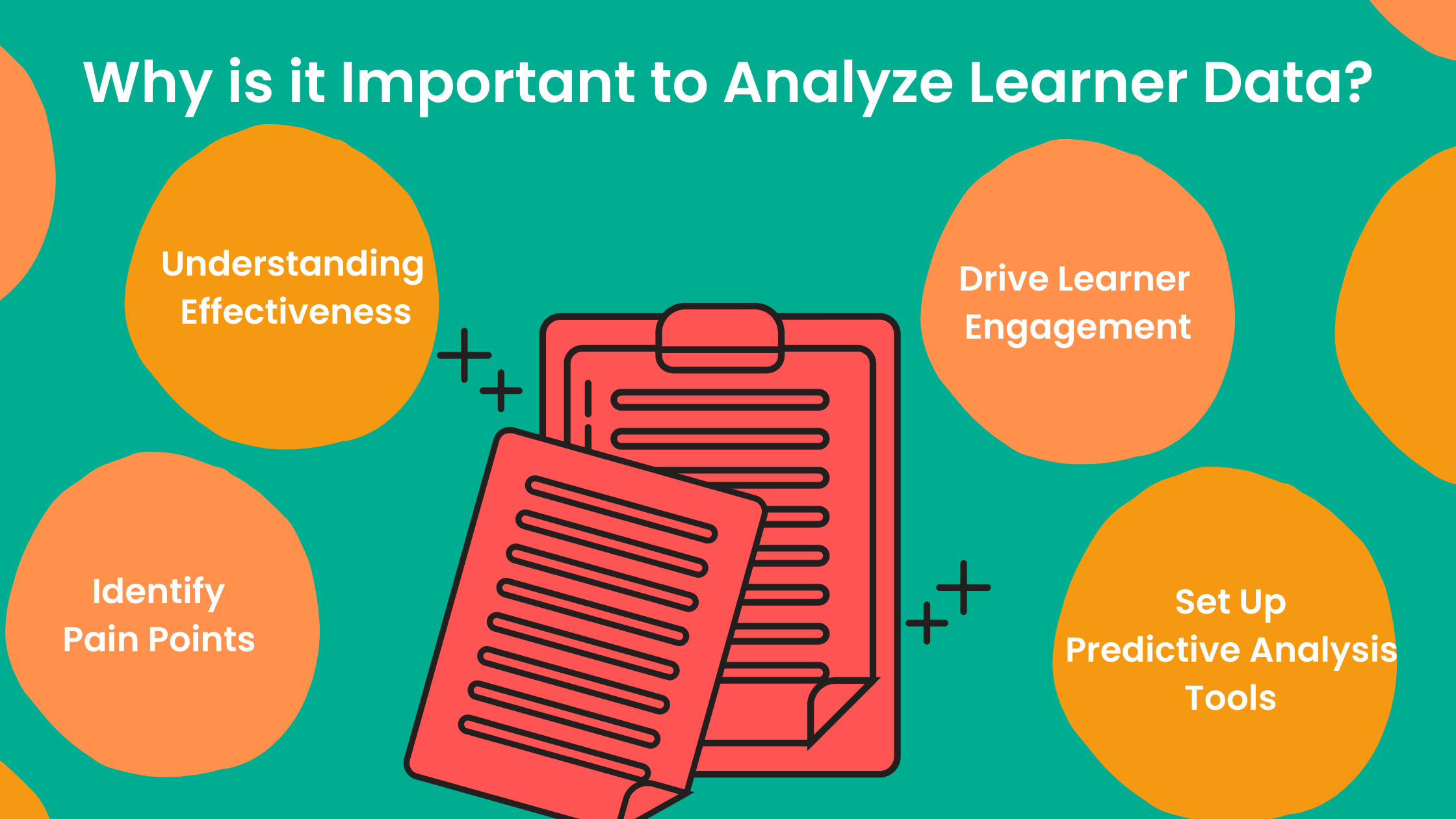 Understanding Effectiveness 
Data, when analyzed in the right way, has the potential to measure how individuals react to learning and whether they are gaining useful knowledge that would help them perform better in their roles. This insight is necessary in order to ensure that an organization is not wasting its resources as well as the learners', since learning is a time and cost-consuming endeavor.
Knowing data such as the number of enrollments gives course authors an idea about the seasonality of a particular course. Other learner data like course completion rates, the number of active users, and the average number of days to complete a course can point to the difficulty that users experienced while taking the course. Having understood the potential roadblocks to the learners' success, organizations can address them and ensure that their resources are spent in an effective manner.
Identify Pain Points 
Naturally, understanding the effectiveness of your online learning strategy ties in with identifying pain points faced by the users as well as the organization involved. These pain points could allude to potential knowledge and skill gaps that the students have. Learner data can help shine a light on these gaps which can help an organization focus on addressing them. 
For example, data such as the number of attempts or time logs directly point to particular modules where learners might be experiencing some difficulty. This could either be because the course material does not address the problem or explains it ineffectively. In either case, it is data worth knowing. Assessment performance and direct learner feedback are also highly effective in identifying these pain points.
Drive Learner Engagement
Having identified the potential pain points, it is possible for organizations to now leverage the learner data to increase engagement. If users are engaged in a particular course, they are likely to do well in it, return for similar courses and tell others about their experience. This, in turn, makes an eLearning platform more popular. 
While analyzing data to determine user engagement is a time-consuming task, the benefits make a strong case for the analysis. Going through individual learners' data to determine which materials they found engaging, uninteresting, or challenging helps glean learner patterns and enables organizations to design courses in a way that maintains engagement and motivates online learners.
Set Up Predictive Analysis Tools 
The world has evolved today in such a way that Artificial Intelligence (AI) and machine learning are integrated into our lives in every conceivable way. Trends in the eLearning industry also indicate a similar interest in AI. Leveraging predictive tools to determine the success of certain courses and learners is useful in generating revenue. It also helps organizations decide their future course of action with more clarity. According to a Deloitte survey, 49% of the respondents believe that analytics helps them make better decisions.
Tools like data mining and predictive modeling rely heavily on data. AI is only effective if it analyzes a large chunk of past data to be able to accurately make predictive analysis. Learner data such as participation indicators and engagement can help predict how well a student may do in a particular course. Leveraging predictive tools to determine the success of certain courses and learners is useful in generating revenue. The power of AI and ML models is based on the high-quality data they are trained on.
Additionally, course views, enrollments, and monthly active users can be used to predict the popularity of a course in the future. For example, if the enrollment of a particular course is initially high, however, the monthly active users dwindle over time, chances are that the course topic appears interesting to the learners, however, it is not designed optimally, or is too challenging. Therefore the popularity of the course is expected to decline over time unless the course authors address these issues.
Edly Insights: All You Need to Know
Now that we've briefly discussed the value of learner data, let's examine Edly's built-in analytics and data tool: Edly Insights. With data focusing individually on users and courses, as well as an overview in the analytics summary, users can access information at varying depths of detail. Data access is also restricted based on user roles. Only certain users such as Admins and Insight Viewers can access detailed reports, while others can only access limited information. This helps keep sensitive learner data secure and leaves the interface uncluttered for those who don't need the data.
Analytics Summary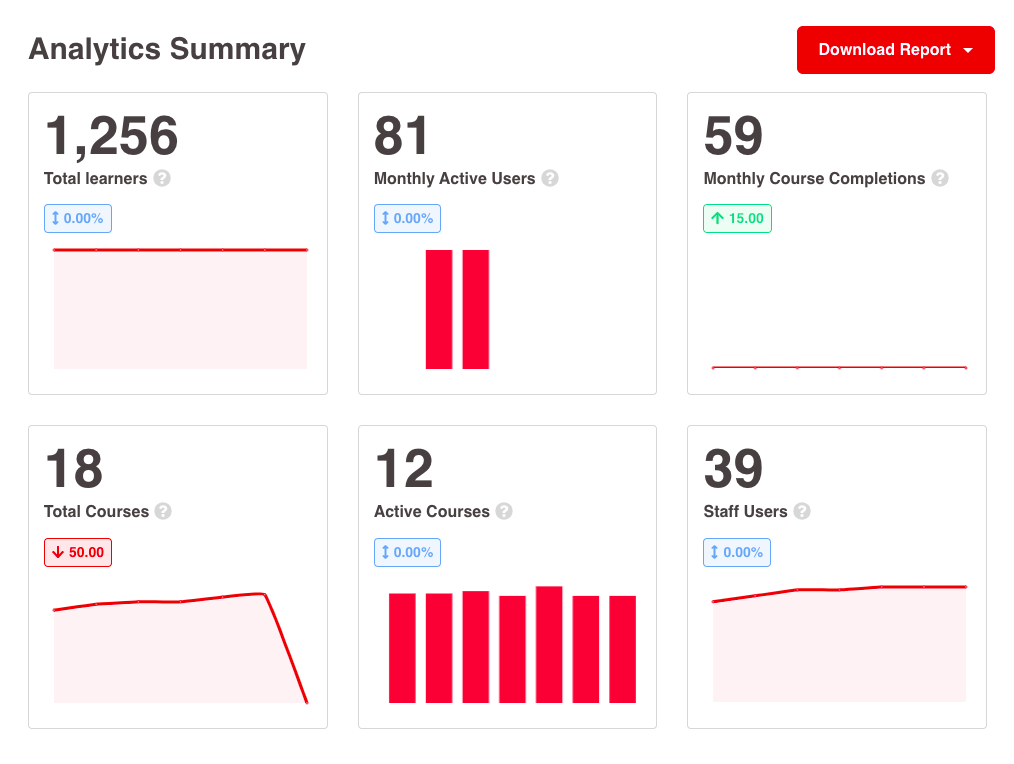 The Analytics Summary available on the Edly Panel dashboard shows essential information related to the organization. The summary can be downloaded from the dashboard in PDF or CSV format. Hovering over an individual statistic gives users a detailed description of that particular data.
The statistics shown range from total learners registered on the platform to monthly active users, and the number of course completions. Other learner data depicts the total number of courses up on the platform, as well as the number of courses that are currently active. A list of top courses is also displayed, ordered both by enrollments and completions. Having a bird's eye view of all these statistics is perhaps the most efficient way to use the data available on hand.
Learner Data
For a more detailed look into how the learners are doing, users can peruse the Learner Data tab. The data available gives details on the total number of registered learners, including new learner registrations for the current as well as the last month. Similarly, the monthly active user statistic is also visible for the current month, past month, and the last six months.

The Learners Overview shares the basic learner information which also links to a learner detail page, which focuses on individual learners, including their personal information, as well as their course activity. This data can also be downloaded and exported.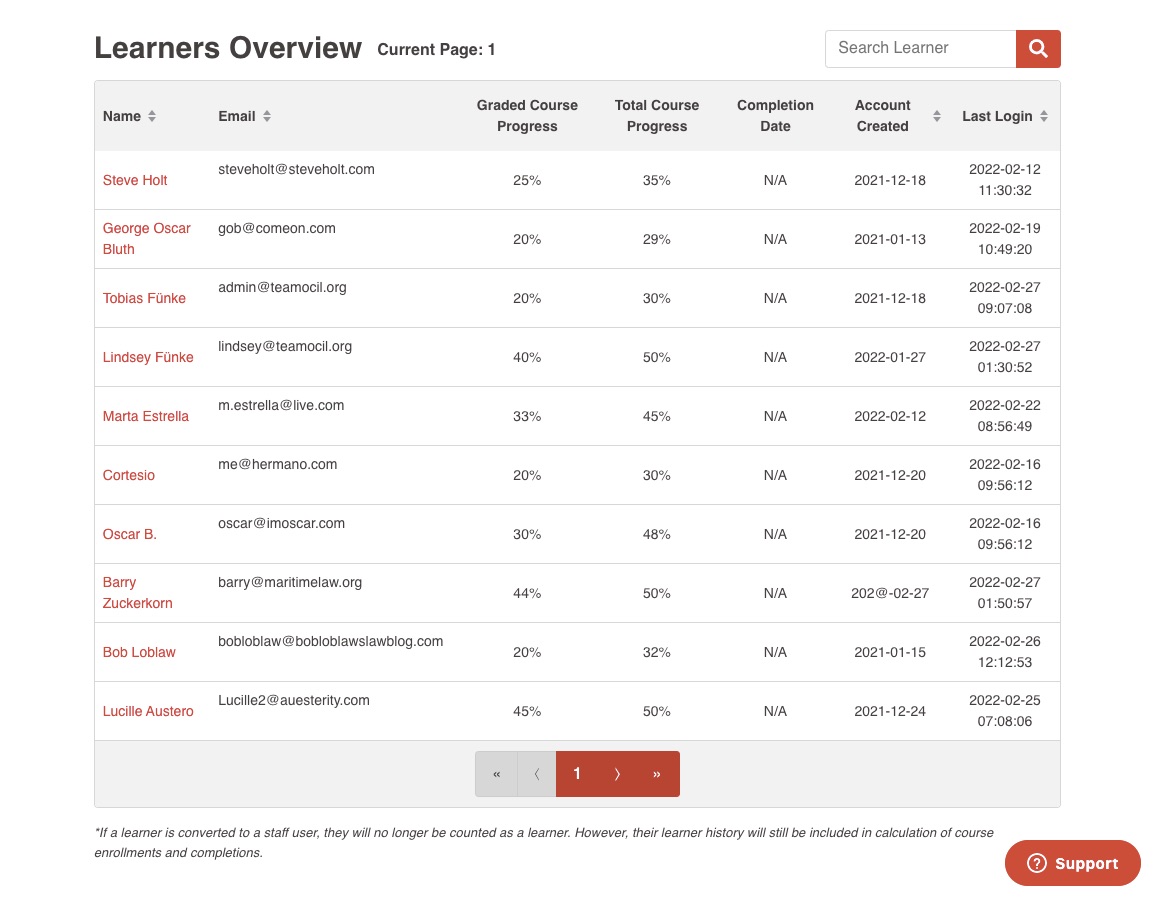 Course Analytics
Similarly, course details are available under the Edly Insights tab. These details include total enrollments, completions, course completion rates as well as the course progress of all the learners enrolled. 
Time-sensitive learner data like days to complete the course, enrollments over time, and completions over time give a very useful look into how well the courses are doing overtime. The data is also aggregated and summarized for additional analysis. This data is crucial to maintaining a relevant catalog of courses on board and determining which courses need to be promoted or dropped.

Get the Best Reporting Tools at Edly
The case for reporting tools in LMS platforms is a strong one. Organizations can leverage learner data to gain insights into how their course topics, design, and interface are received by end-users. They can also determine user behavior and based on that, predict how their future courses need to be designed for maximum engagement. When choosing an LMS platform, it is imperative that great consideration be given to the quality of analytics tools that the platform has.
Edly Insights is precisely the kind of high-quality reporting tool you need for your online learning needs. With detailed data collection on courses as well as users, you can gain an in-depth understanding of how to design courses in a way that matches exactly what your target audience needs. To learn more about Edly Insights and our product, feel free to contact us and schedule a free demo!