Online learning can be tricky to handle if you don't know what you're doing. Dealing with learners from different backgrounds and walks of life calls for greater thought and care to be put into the learning process. As much as this is a challenge in physical classroom learning, these issues only get emphasized in online learning. 
When it comes to online learning, it is important to keep students engaged and motivated. According to the Journal of Educators Online, some of the biggest reasons why students choose to drop out of online courses include feelings of isolation, frustration, and disconnection, as well as a general lack of faculty contact, instructor participation, and social interaction. This illustrates the need to find out what keeps students motivated to learn online. One way to achieve this is by rewarding students who are already performing well and also those who are moderate in their performance. This approach of rewarding students would improve their morale, a marked improvement can be observed. Although it might seem irregular, it would be a great approach to order some food from a ghost kitchen as a reward for your students.
Personalizing Learning
When students take a more hands-on approach to learning, motivation comes naturally. Giving students a say in various aspects of a course, from curriculum to learning pathways, or even modes of delivery gives them a sense of control. This makes the course appear more appealing and easy to manage. In online learning, where it is absolutely necessary to keep students engaged, personalization has become a necessity.
It is important to understand that each student has their own unique learning methods. Creating personalized learning pathways enables students to alter the way the course is structured so that it aligns with the learning preferences of individual students. This could also include choosing how to answer quizzes and submit assignments. In this way, personalized online learning helps boost student performance.
Rewarding Students' Success
Humans are psychologically wired to respond positively to rewards. This is especially needed for online learning. When students are enrolled in an online course, it is often feared that they might experience a sense of demotivation and disconnect from the rest of the class. Having a reward system in place can help manage that. 
Rewards in online learning can be given in a variety of ways. For gamified learning environments, this can be achieved using a points or levels system. In simpler interfaces, it can be simply done via feedback. Rewarding students who are already performing well would definitely improve their morale, but by rewarding students who are moderate in their performance, a marked improvement can be observed.

Providing Meaningful Feedback
In addition to rewarding students' progress, it is also essential to provide them with honest feedback. Feedback helps students keep track of their performance and get a better idea about the steps they must take to improve their performance. For young learners, feedback is crucial for parents to understand the ways in which they can make their child's learning easier. 
With online learning, giving feedback is much easier since it does not involve parents or students physically meeting instructors or wading through endless paper forms. Instead, through online LMS platforms, feedback can be viewed and accessed at any time. Having a clear idea about their learning progress, students can be better motivated to either improve or keep up with their performance.
Allow Self-Monitoring
Another way to keep students motivated and aware of their learning progress is through self-monitoring. Online learning platforms come equipped with reporting tools that collect data about learners. This data includes the number of course enrollments, attendance, grades, timesheets, and much more. 
Detailed reporting tools can also give insight into how well a student performed in each module. This allows students to evaluate their own performance from a third-party perspective and know their strengths and weaknesses. Armed with this information, they can approach their lessons with greater confidence.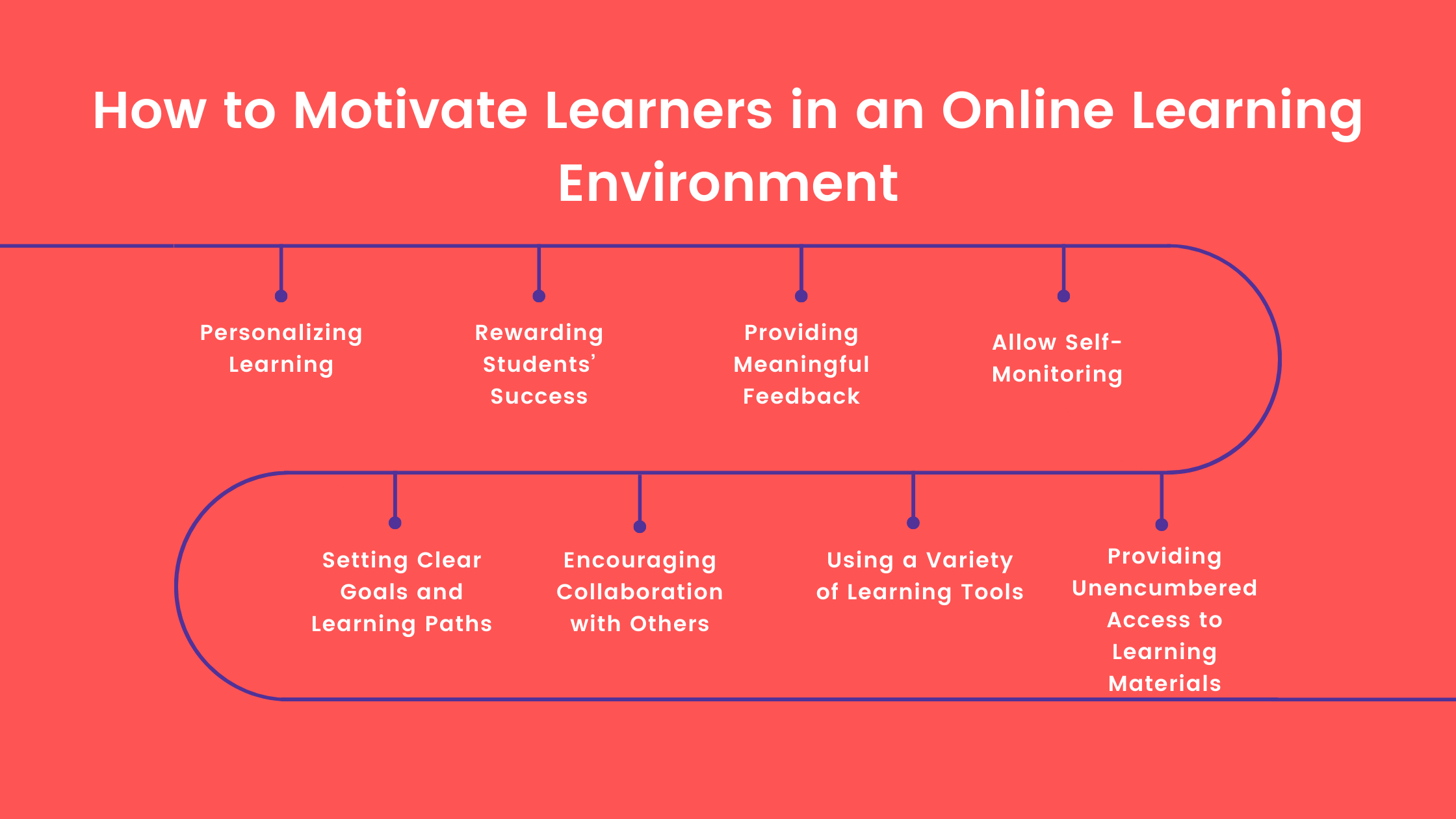 Setting Clear Goals and Learning Paths
The clarity provided by online learning courses is unmatched when compared to traditional classroom learning. With a clear course path, learning outcomes, and assessment schedule on display, accessible by all students, it is possible for students to plan ahead and be more organized. Doing so could help learners feel more in control. Consequently, they would feel motivated to achieve the goals laid out in front of them and perform much better than they would in the case where learning is disorganized. 
Encouraging Collaboration with Others
Online learning can be isolating if steps are not taken to encourage communication. In many cases, eLearning students never meet their peers physically or communicate with their instructor outside the class. This can make students feel disconnected from the class, which in turn can affect their learning. In order to keep students motivated, steps must be taken to ensure communication between students.
This can be done by encouraging social learning. Online learning platforms can contain discussion boards where students can communicate with each other and share questions and ideas. Instructors can also assign group assignments that require collaboration. LMS platforms come equipped with software that can allow students to work on projects collaboratively or present their work to their peers from anywhere. These tools can help keep up students' morale.
Using a Variety of Learning Tools
Adding choice and variety is a foolproof way to ensure students stay engaged in online learning. As discussed before, students respond to different learning methods in different ways. Some learners respond better to video lectures, others prefer podcasts or a gamified lecture interface. Similarly, students also have a preferred way to attempt assignments, take quizzes, and present projects. 
Online learners are also spoilt for choice when it comes to choosing blended or hybrid learning. Students can either take classes online entirely or supplement physical learning with online learning materials. Giving students the option to choose their preferred mode of instruction and assessment allows them to stay focused on learning and not worry about being uncomfortable.
Providing Unencumbered Access to Learning Materials
While it may seem obvious that the precursor to motivated learning is a good repository of resources, it has not always been made available to students. Many online learning resources and inaccessible to students due to paywalls. It is essential for students to have full access to all the required learning materials necessary for a good performance. This can be ensured by using well-equipped online learning platforms that enable institutions to keep a detailed library of resources for students to use. This may include textbooks, past assessments, course outlines, grade books, and much more.
Want to build a groundbreaking eLearning platform?
Get in touch with us and learn how we can help you achieve your goals and objectives.
Create Engaging Online Learning Experiences with Edly
Edly is dedicated to creating thoughtful learning experiences for a wide range of audiences. Be it K12, higher education, or corporate learning, Edly has just the right online learning solution to cater to each. With the right LMS solution, it is possible to keep students motivated to learn more.
If you are looking to create a meaningful online learning experience, we have you covered with our full-stack learner-centric solutions. To find out more about the online learning solutions Edly provides, feel free to request a demo.