As the owner of an eLearning platform, have you ever thought about what your target audience wants? What value are you offering to your potential learners? How would you do differently from your competition? Answers to all these questions revolve around Open edX custom solutions.
Open edX is an advanced eLearning platform that has transformed the way we learn and educate ourselves. The platform is committed to providing the most effective open-source software to its users globally. Every organization and its learners come with unique needs, and even a platform as sophisticated and resourceful as Open edX may not fulfill their specific requirements and needs.
The lesson that we have learned over the years is that one should never undermine the importance of customization. Platform customization allows you to deliver personalized experiences which definitely gives you an edge over your competitors. It allows you to be creative, imaginative, and a trendsetter. 
With competition becoming cutthroat in the eLearning industry, it becomes even more important today to understand the needs of your learners than it was before. Regardless of the popularity of an eLearning platform, if it fails to understand the learners and their needs, it can find it difficult to stay afloat in the long run. 
To become a king in the eLearning industry, you need to unleash your creativity and reflect it on your eLearning platform by leveraging Open edX custom solutions.
What are Open edX Custom Solutions?
Open edX, a massive open online course (MOOC) platform founded in 2012, empowers organizations worldwide to design customized and engaging online learning platforms. It provides an open-source code that can be modified and enhanced to meet specific learning requirements, making education accessible to all.
Custom development in the Open edX code empowers the eLearning platforms and facilitates the unique needs of their target audience. Amendments can be made in the code to create a masterpiece LMS, tailored to the client's needs and fulfill the purpose of the client's eLearning platform.
What's the need for Customized Open edX LMS?
The eLearning world has witnessed major breakthroughs in the industry in the past few years. Some of the most prominent developments in Open edX are the emergence of tools such as LTIs and APIs that have proved to be a radical change in the way eLearning is done. Despite all these improvements and innovations, it is still not enough to cater to the needs of all businesses. 
A large number of organizations are looking for unique and personalized solutions that not only set them apart but also enable them to fulfill the gaps in the eLearning industry. This customization is enabled by Open edX custom solutions. Here are some of the problems that can be addressed with Open edX custom solutions:
Understanding the cultural differences of your learners can greatly impact the learning experience of the users. Every culture has its own norms that are reflected in its learning approaches. A customized Open edX LMS can create different variants addressing the needs of diverse audiences. You can also develop an LMS that supports multiple languages. 
Industry-Specific Requirements
An eLearning platform can have a vast learner base comprising of learners from the education sector, corporate, NGO, or business community. However, a similar user interface for diverse audience segments such as students and corporate employees would not allow learners to reach their full potential as their needs are not similar. With custom solutions enabled, such platforms can build industry-specific LMS and leverage custom themes with relevant integrations to uplift the entire experience. 
Facilitate Differently-abled People
Open edX custom solutions can enable learning for differently-abled people by facilitating changes to the platform based on the target audience's needs. Custom solutions can not only help in making your eLearning platform more inclusive but also enhance the ease of use for your target audience.
Want to build a groundbreaking eLearning platform?
Get in touch with us and learn how we can help you achieve your goals and objectives.
Examples of Open edX Custom Solutions
Open edX Custom Solutions can lead to the addition of several diverse features on your LMS. We have handpicked some examples for you to give you an idea of how to leverage custom solutions to supercharge your platform.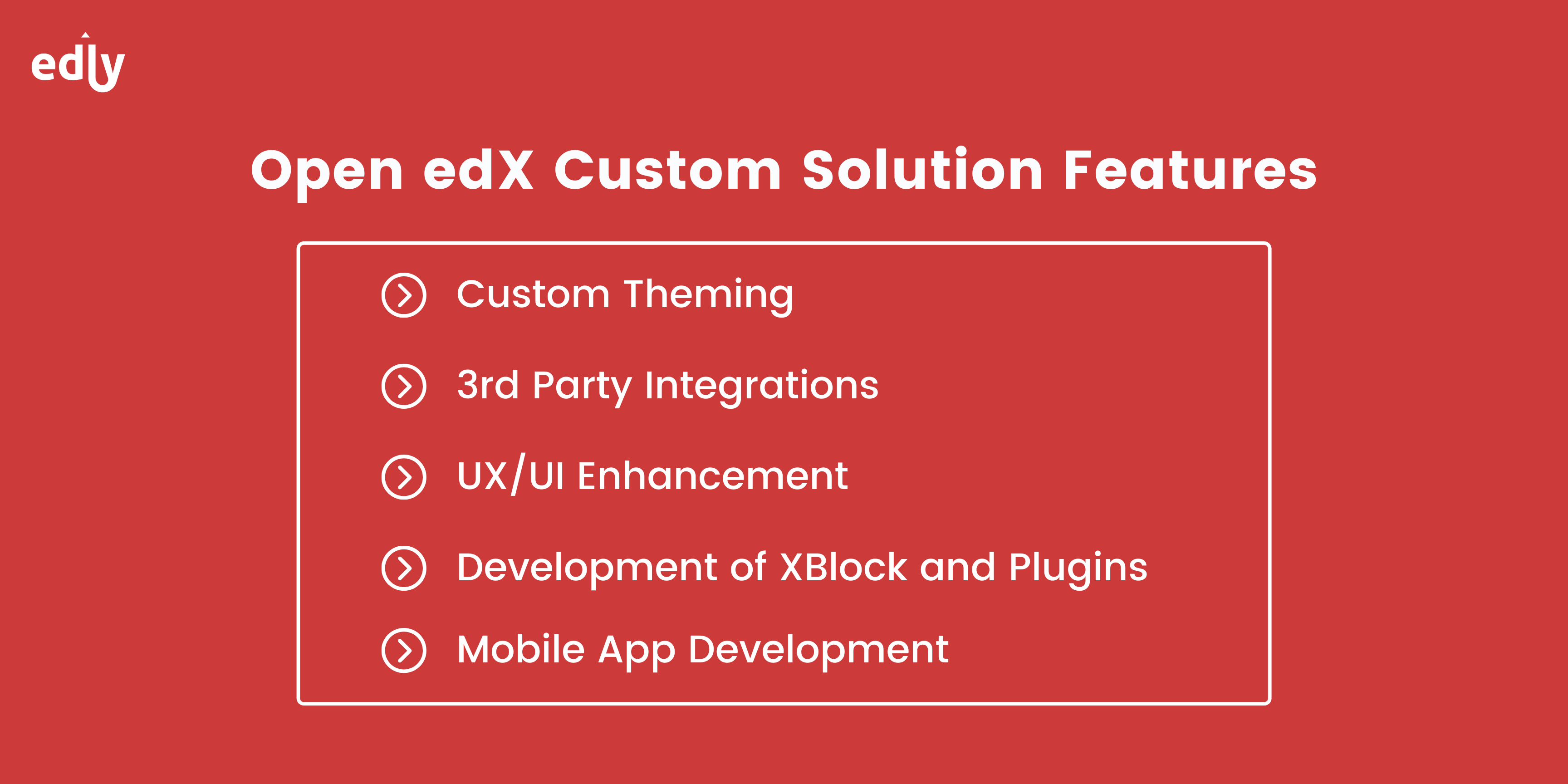 Design customized themes for your eLearning platform tailored to your goals and objectives. You can create multiple themes for each segment of your learner base.
Leverage custom solutions to enhance accessibility of your platform and attract that segment of learners that prefers to learn on their smartphones rather than laptops or desktop computers. 
Get third-party integrations with Open edX Custom Solutions such as eCommerce integrations, Single Sign-On (SSO), API integrations to enhance the functionality of your LMS and unlock new features for your eLearning platform based on your learners' needs.
While the standard version of Open edX allows personalization to some extent to your LMS, you can enhance your user experience further by leveraging advanced options through custom solutions. 
Development of XBlocks and Plugins
You can go beyond simple online classroom interaction using XBlocks plugins. With custom solutions, you can easily implement any xBlock from Open edX xBlocks library and integrate them into your learning management system to enhance its usability. 
Benefits of Edly's Open edX Custom Solutions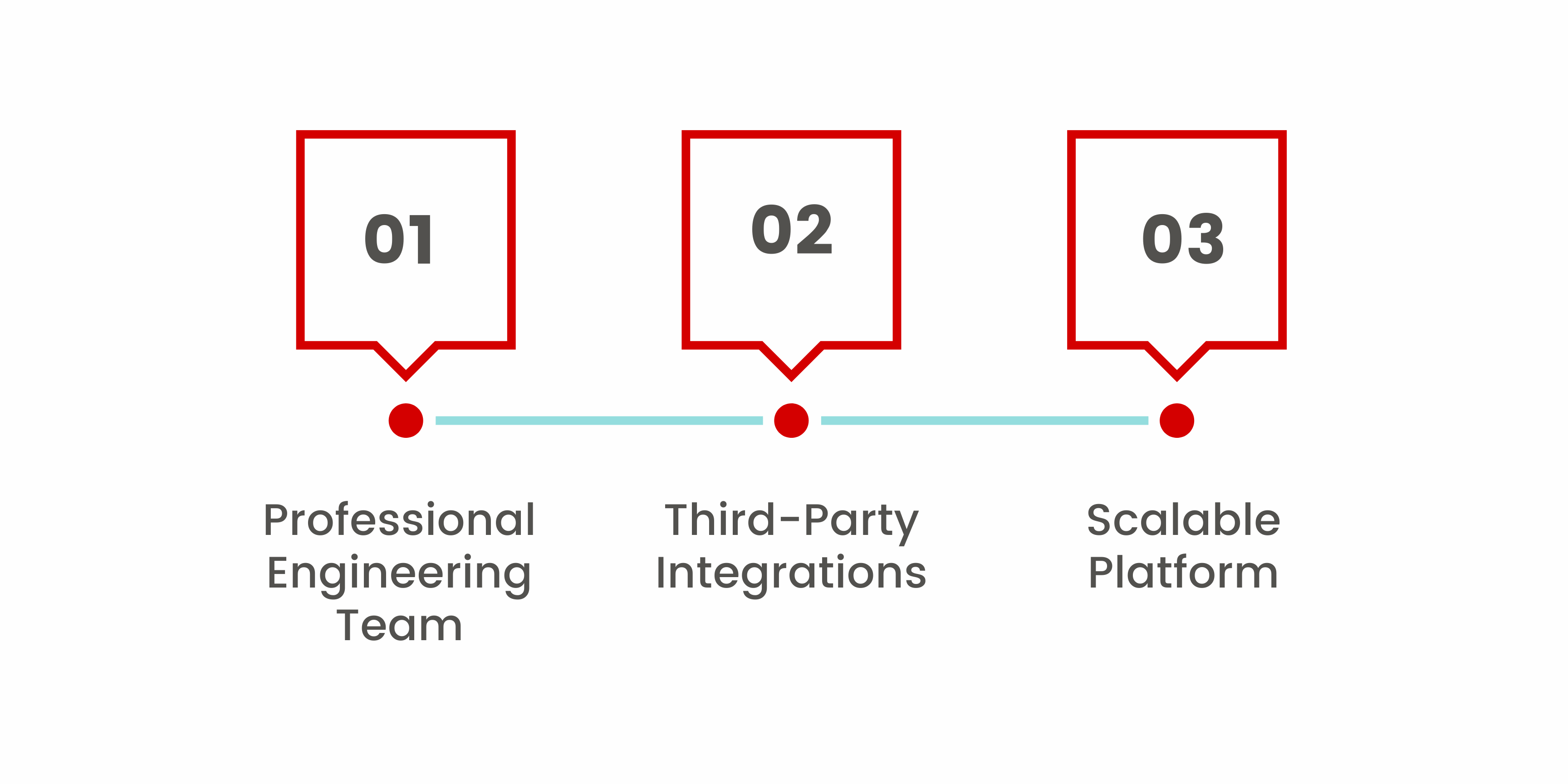 Getting Open edX custom solutions from Edly gives you additional privileges and benefits that help you achieve your business goals and give you an edge over your competitors. Here is how Edly boosts your business with its unmatchable custom solution benefits:
Professional Engineering Team
Being among the earliest partners of Open edX, Edly takes pride in its large pool of developers in the Open edX marketplace. With over eight years of experience, our highly skilled team of developers has created game-changing Open edX-based solutions. One of the defining and differentiating factors about our developers is their deep understanding of the platform that allows them to deploy the customized features successfully in a much lesser time than the competitors of Edly.
Edly's first priority is to ensure the requirements of the client are fulfilled. Each business has specific preferences and limitations due to its geographical location, nature of business, and budget constraints. Edly integrates your preferred payment gateway, interactive features, and other innovative ideas using xBlocks. The ultimate goal at Edly is to satisfy the client by providing a happy learner base.
Edly LMS is made for organizations that aim to grow and expand. Its scalability makes it the perfect choice for future-focused organizations. One need not worry about the ability to manage a growing learner base with Edly on board
Start Your Journey Today
Join the league of great organizations that rely on Edly as their preferred Open edX service provider. Get a seamless learning management system tailored to your requirements and needs. Book a free consultation with our team today.