Let's be honest. Not everyone understands jargon like hosting, servers, and domains. It can become quite the task to choose the right hosting plan and package for your eLearning platform as a miscalculated decision can lead to a laggy website open to vulnerabilities, which would be the last thing you would want!
An unreliable website can prove to be a deal-breaker for the success of your eLearning platform. It is the lifeline of your business and any hiccups in user experience can cost you a lot. 
Let's equate setting up a website with opening up a store. For a store, you would ensure that it is accessible, has enough room to entertain customers with ease, is located at a desirable location, and finally, has affordable rent. 
Setting up a website is no different.
Just like any other website, a Learning Management System also needs to be hosted on servers that can bear the load of users visiting the website. There are different types of hosting services with their own features and limitations that you can choose from including managed hosting.
Without further ado, let's take a look at how you should go about selecting the right hosting type for your eLearning platform. 

What is Website Hosting?
Every website is hosted on a server that is accessible on the internet from any part of the world. In other words, website hosting is renting or buying of space to locate your website on the internet. The places where they are hosted are called servers. When internet users type in a website on a search engine, they get connected to the server where your website is hosted which then shows them the web pages associated with your website. The content on your website can be viewed online by anyone from around the world. 
Types of Hosting?
There are four types of hosting services that you can opt for to host your website. Each type has its own advantages and disadvantages. Let's explore them one at a time: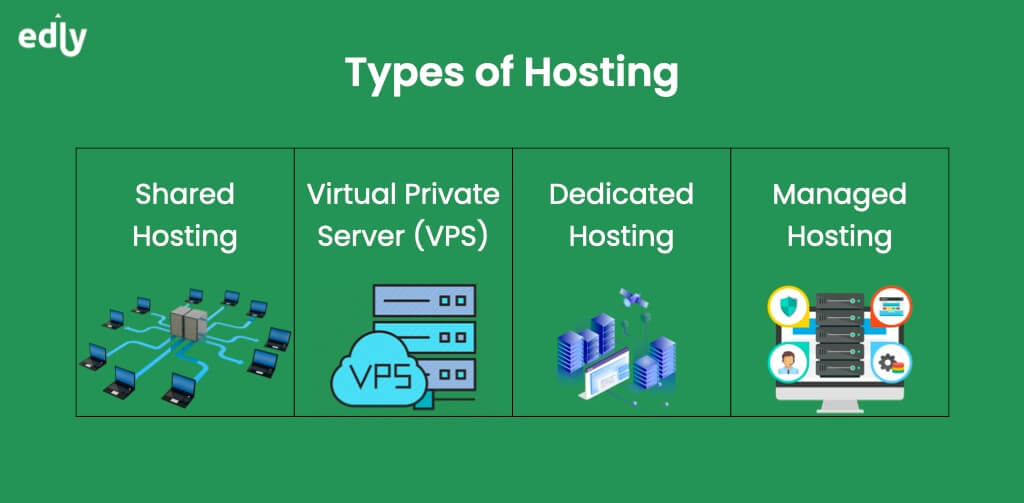 1. Shared Hosting is the cheapest option available for hosting your platform. A large number of websites share a single server in this type of hosting. You would be unable to modify the server features since you're not the only one using the server. Shared hosting is easy on the pocket but since it leads to slow page speed and other critical issues, we do not recommend you to go with this option.
2. Virtual Private Server (VPS) is an isolated server placed in a bigger server. You are still sharing the big server with other websites but at the same time, you have an isolated space in the server only dedicated to your website. VPS gives you the liberty of root access and more customization options compared to shared hosting. It is also cheaper than dedicated hosting. If you are short on budget for dedicated or managed hosting, then this option can be considered.
3. Dedicated Hosting is the type of hosting where the entire server is dedicated to one owner. This means your eLearning platform is hosted alone on the server. It seems like a great bet but it is pricey to maintain and manage an entire server on your own. 
You would need to hire a team of IT experts to ensure your server is well-maintained, secure, and updated. While there are some disadvantages to this, there are also some phenomenal advantages as well such as incredible page speed, full customizations, and a range of options for choosing software. 
However, the final consideration must be directed toward the budget. If you have the budget for this option, then dedicated hosting is a great option to explore. Otherwise, it may not be a wise investment.
4. Managed Hosting is like having your own IT team but at a comparatively affordable fee. What happens in managed hosting is that you hire a company providing hosting services that take responsibility for the security, maintenance, and management of your server. Full support from DevOps can prove to be a great help for your eLearning platform.
Let's explore managed hosting in more detail and find out why it is the most desirable option available to host your eLearning website.
Want to build a groundbreaking eLearning platform?
Get in touch with us and learn how we can help you achieve your goals and objectives.
Why Managed Hosting?
When we say managed hosting is the most desirable option to host your eLearning platform, there are some solid reasons behind it. Let's explore the unmatched benefits of managed hosting!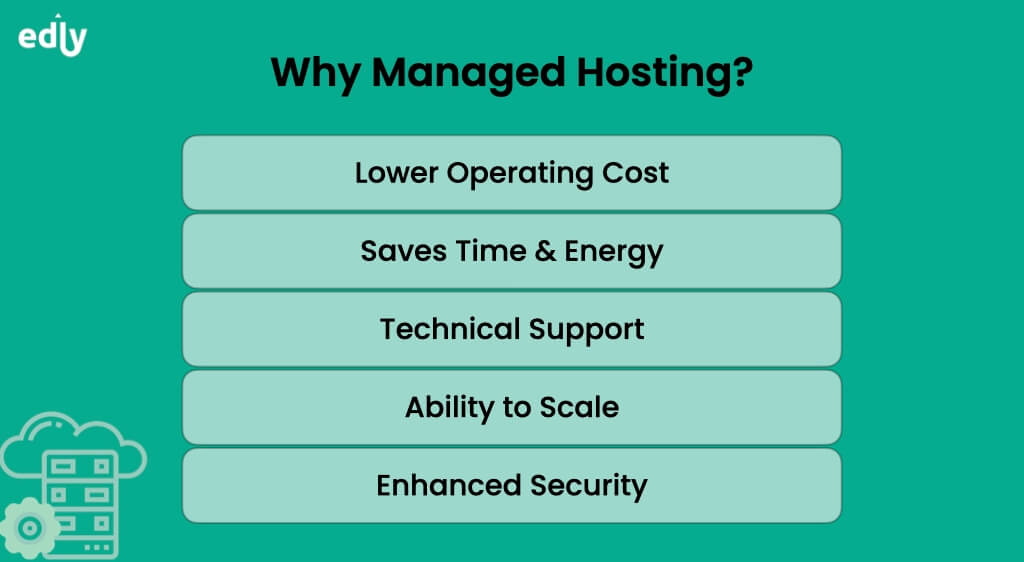 It saves you a lot of money. You don't need to invest in server infrastructure and a data center. The entire hassle of managing, updating, and maintaining the server and data center is transferred to a managed hosting service-providing company. You are also saving a lot on your floor space and electricity bills for not opting for a dedicated server.
The effort and time spent on looking after the server is saved big time. The energy that would have been spent on the server and hosting of your website can be directed toward the content and marketing of your eLearning platform. Your IT team would also be relieved and would be focusing on the front-end design of your website.
Companies providing hosting services have teams that are available 24/7 – 365 days to provide technical support to their clients in case of any issue. Moreover, they are constantly looking after the servers ensuring their security and functionality. The additional cost of managing anti-virus protection and backups is also covered.
It can become stressful to maintain in-house infrastructure when your organization starts to grow. In managed hosting, business needs can be adjusted to peaks and dips in server usage with ease through autoscaling, 24/7 platform monitoring, patching, and maintenance.
Managed hosting service providers have competencies in keeping your data encrypted and hosted on remote servers that are safeguarded by cybersecurity experts. As a result, threats to your business become minimal.
Edly's Managed Hosting Takes Care of Everything
Being the official service provider of Open edX, Edly takes pride in helping businesses grow by providing them with fast, reliable, and hassle-free hosting services. Here is the list of services provided by Edly regarding managed hosting:
Managed data backups and recovery

24/7 engineering & Open edX Support

Guaranteed response times for support requests

On-demand dedicated Support Team

On-demand DevOps support

~99.9% Network Uptime guarantee

URL and port availability monitoring

Managed firewall and VPN access

Vendor-tested OS patching

Server virus scanning

Advanced system monitoring
Get Started with Edly
Our team of experts will help you in finalizing the best hosting services for your eLearning platform. Begin your journey with ease with Edly's trusted managed hosting services. 
With a full-time staff of 400+ that includes 15-20 DevOps engineers at all times, Edly has the technical expertise and capacity required to deliver on your Managed Hosting requirements. For consultation and further information about our managed services, book a free consultation session today.