When it comes to choosing a Learning Management System, organizations are spoilt for choice. Open source or proprietary, web-based or installed, hosted or SaaS, it is possible to find an LMS type that works for everyone. And why not? The abundance of choice gives us the opportunity to tailor everything around us to suit our needs. Why should an LMS be any different?
An open source LMS allows its users to freely access, modify and rebrand the source code in a way that reflects a particular organization's requirements and brand image. While open source LMS platforms are sometimes assumed to be free of cost, they might incur some costs to host, customize and manage the platform. That being said, an open source LMS can still be a cost-effective means of providing top-quality eLearning solutions to learners. 
Before choosing an open source LMS platform, organizations must consider the benefits that it brings to the table. Let's take a closer look at what an open source LMS would look like, its advantages, and how it compares to its proprietary alternative.
Open Source LMS vs Proprietary LMS
Proprietary LMS platforms are 'closed code' in the sense that the vendor has full control over the source code and is responsible for any updates, bug fixes, and security patches. The look and feel of the platform are not necessarily completely customizable. Additionally, there may be very little room to make whatever tweaks or changes a company may need. These LMS platforms come with licensing fees that may renew on a yearly basis. Other maintenance fees may occur from time to time. 
The platform is managed and maintained by the vendor and organizations would need to trust their ability to keep the platform up and running over the course of time. What buyers must consider at the time of purchase is the amount of initial investment and the support that comes along with it. For example, if a large organization makes a significant investment to purchase a proprietary LMS, it is usually supplemented by high-level technical support.
On the other hand, an open source LMS can allow its users the flexibility to customize the LMS to their heart's content. Organizations are free to create a platform in a way that optimizes every feature down to its smallest detail, removes redundant features, and incorporates new functionality as soon as it is made available.
With no licensing fees, using an open source LMS can be a cost-efficient eLearning solution. However, this does place a massive burden on organizations, which must have the tools to manage and support such a huge undertaking on their own. The best way around this would be to look for the right managed hosting solution, where vendors offer open source LMS implementation and basic support at a fraction of the proprietary cost.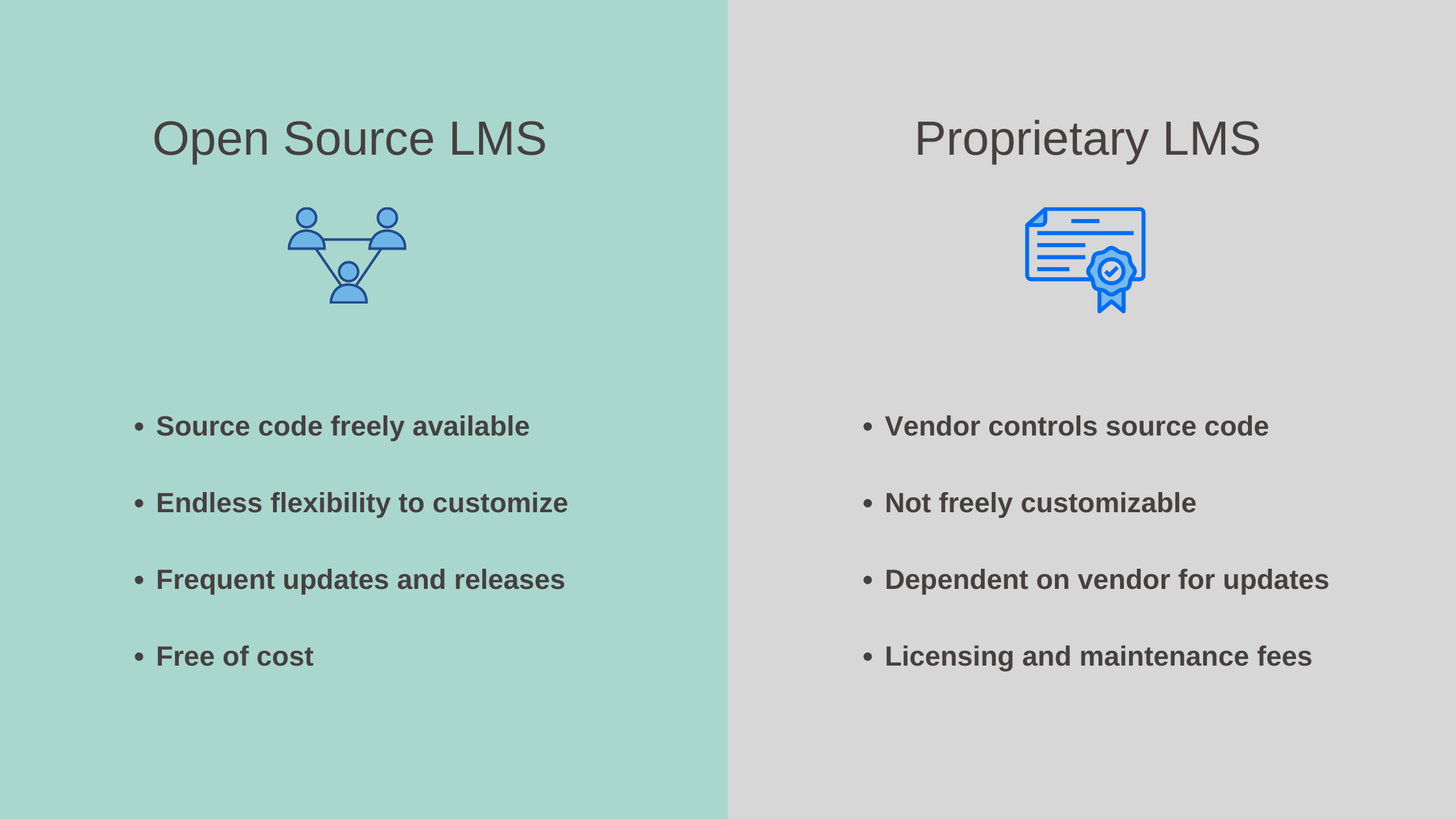 Benefits of an Open Source LMS: 
Now that we have a good understanding of what an open source LMS is, let's take a look at the benefits of adopting one.
Highly Customizable
With open source LMS comes the ability to customize the platform down to the particular needs of an organization. This comes in handy when organizations have specific training or compliance needs that cannot be accommodated by proprietary LMS. Not to mention, the customizability has the potential to reflect a company's values and ethics, and reinforce a sense of ownership among the employees. Additionally, leveraging custom solutions can allow employers to fix particular skill gaps among employees.
Want to build a groundbreaking eLearning platform?
Get in touch with us and learn how we can help you achieve your goals and objectives.
Good Quality Software
As opposed to a proprietary LMS where a single vendor is responsible for providing implementation and support, an open source LMS is serviced by several vendors and the resulting competition ensures that clients get top-quality learning solutions. Due to the competitive market, a lot of sellers place emphasis on customer support, security patches, and round-the-clock service. If unsatisfied, clients can always move their business elsewhere, since they are not bound to any particular vendor. The resulting LMS quality is unmatched by their closed source counterparts.
Flexible Integrations
On top of a Learning Management System, organizations have other software that they have to manage simultaneously. Juggling several different platforms can get easier if there is room to integrate them together. It is also important to share data across platforms such as CRMs, ERPs, and LMSs. 
In many instances, companies bind themselves to a closed source LMS offering limited integration support, only realizing later that their needs are not met by the platform. To avoid this, organizations can invest in an open source LMS where it's much easier to integrate with a wide variety of software. Edly bridges this gap with our SaaS solution by offering an eLearning ecosystem powered by open source technology under the hood. This, coupled with a publicly-available roadmap, allows our customers to be active contributors to our SaaS LMS development. 
Better Branding Opportunities
Many organizations place a special emphasis on branding which extends to the LMS platform as well. With an open source LMS, clients have endless opportunities to customize the platform however they need. The interface can be modified to display their logo, use brand colors, and particular fonts. This leads to a user-friendly interface, where learners can identify with the organization and feel a sense of ownership over the platform.
Cost-Effective
When choosing an LMS, one big factor that companies must always consider is LMS pricing. The expense of a proprietary LMS is quite high, and only large-scale organizations can afford that kind of an eLearning investment. For most companies, though, a more cost-effective solution would be to opt for an open source LMS. Small companies can leverage an open source LMS to set up a good quality eLearning platform with no hefty licensing fees or subscription costs. For an average SaaS LMS, each user incurs an average monthly cost of about $5 – $15. Meanwhile, the cost of Edly's SaaS LMS starts as low as $2.75 per user. 
Just remember: open source doesn't necessarily mean free. If you own your open source LMS, you can avoid unexpected costs like annual subscription fees and licensing fees. You may even be able to reduce costs depending on what hosting infrastructure you use. A closed source SaaS LMS may also find ways to have effective pricing, so make sure to evaluate all the pros and cons and ask yourself the right questions about your preferred open source LMS. 
Community Support
The great thing about an open-source LMS is the huge community support it comes with. With developers across the world constantly improving the code, modifying the software, and fixing bugs, vendors get the best possible learning experience. Leveraging the global community's expertise and collective knowledge, it is possible to implement frequent updates and innovations. 
Any custom solutions that you may require might already have been attempted by an expert, and their modifications can be easily accessed and tweaked. Not to mention, peer reviews ensure that the open-source LMS platforms are well maintained. As a member of the Open edX community, Edly has helped champion open-source contributions towards the Open edX platform.
Frequent Updates 
A natural result of the extensive community support is that open-source LMSs get frequently updated to implement new features that the community has deemed important. The constant feedback ensures that these new releases are not only timely but actually incorporate important fixes and upgrades that users of the platform have found necessary. As a result, most updates hit the mark when it comes to user requirements and improve customer satisfaction. 
Scalable
One great comfort that comes from choosing an open-source LMS is knowing the fact that the platform is completely scalable. Proprietary LMS platforms may be fixed in terms of their bandwidth and the number of users they can support. On the other hand, open source platforms can be flexible enough to both downsize or upscale. This gives organizations an added sense of security in their choice of LMS, knowing that their eLearning platform can grow with them. As the number of users grows on the platform, the company can upgrade the platform to handle the increased usage, without having to migrate to another platform.
Security and Data Control
In the world today, data protection and security have become a factor that both individuals and corporations are increasingly worried about. While LMS platforms must be able to access user data for their reporting tools, the security of the data must be ensured in order for users to trust the platform. 
In such an environment, it makes sense for organizations to maintain ownership of their own data and systems. In a proprietary LMS, user data may be under the ownership of the vendor and if a client chooses to move their business elsewhere, they may have to buy back their data. Conversely, this worry is eliminated in open-source LMS platforms, since companies maintain ownership of their own data and the system itself and can thus ensure their users' security.
Open edX: The Open Source LMS of Your Choice
Open edX is a Massive Open Online Course (MOOC) platform that enables organizations around the world to implement cost-effective and scalable online learning solutions. Thanks to the joint efforts of MIT and Harvard University, Open edX has made eLearning much more convenient and affordable. With the open-source LMS comes huge community support, ever-evolving features, and a robust group of technology partners. 
Edly is one of the largest service partners of Open edX and has been instrumental in providing Open edX-powered learning environments to vendors across the globe. Having worked with edX since 2013, Edly has made several contributions to Open edX with a portfolio full of impressive clients.
Leverage Edly's Expertise
Having taken a good look at the merits of an open-source LMS, there is no doubt that it is a viable solution for organizations that need a highly customized, up-to-date, cost-efficient solution to online learning. With the promise of scalability and community support, open-source LMS presents the perfect package. The only question that remains is how to implement such a platform without the expense of an in-house technical support team.
Edly is here to help with that! You can implement a low-cost, open-source LMS solution with the help of our dedicated team of professionals, ready to create a platform full of powerful features. All you need to do is reach out. For more information on getting a fully managed and branded LMS experience, feel free to contact us and request a free demo!