Are you searching for a guide to installing Open edX onto your system? Trying to understand the various terms used in the deployment process of the Open edX platform? 
You have arrived at the right place as we will walk you through all areas of concern one by one.
Through this blog, you will be able to know about the two versions of Open edX; one for testing called the 'master' version and the other is best suited for direct use known as the 'release'. The two versions can be installed through three methods as listed below: 
Tutor:

Docker-based deployment onto the server

Native:

Open edX deployment using an Ansible playbook

Devstack:

Deployment on a local system using a docker-based environment.
We will guide you through all the versions and methods in detail. Read till the end to have a full understanding of the installation process of Open edX.
What are the Versions of Open edX?
Just like any other software, Open edX also has versions that are launched after a certain period and indicate software updates or the addition of new features. These versions are Open edX codes that are modified and improved further. Each version of Open edX passes through the following two phases:
1. Master
It is the latest code that is available and is newer than the version that is installed at edx.org. The master phase indicates the code is still being tested. The edX community modifies the code and contributes back to the community by improving the code. The version is formally released once the code is tested and ready to be used by the masses.
2. Release 
A release version is the latest and most stable version of the Open edX code. It is launched when it is tested and modified enough to be used by the majority of the users. These versions are currently named after trees. 
Currently, Olive is the most recent release of Open edX, which was released on December 12th, 2022. Open edX has already started planning great things for its next release, Palm.
What should you Choose?
You should only choose a master version of the Open edX code if you plan to modify and fix the code and contribute to the community. However, if you aim to get the latest code with the best functionality, you should go for the Open edX latest released version.
Choosing an Open edX Installation Method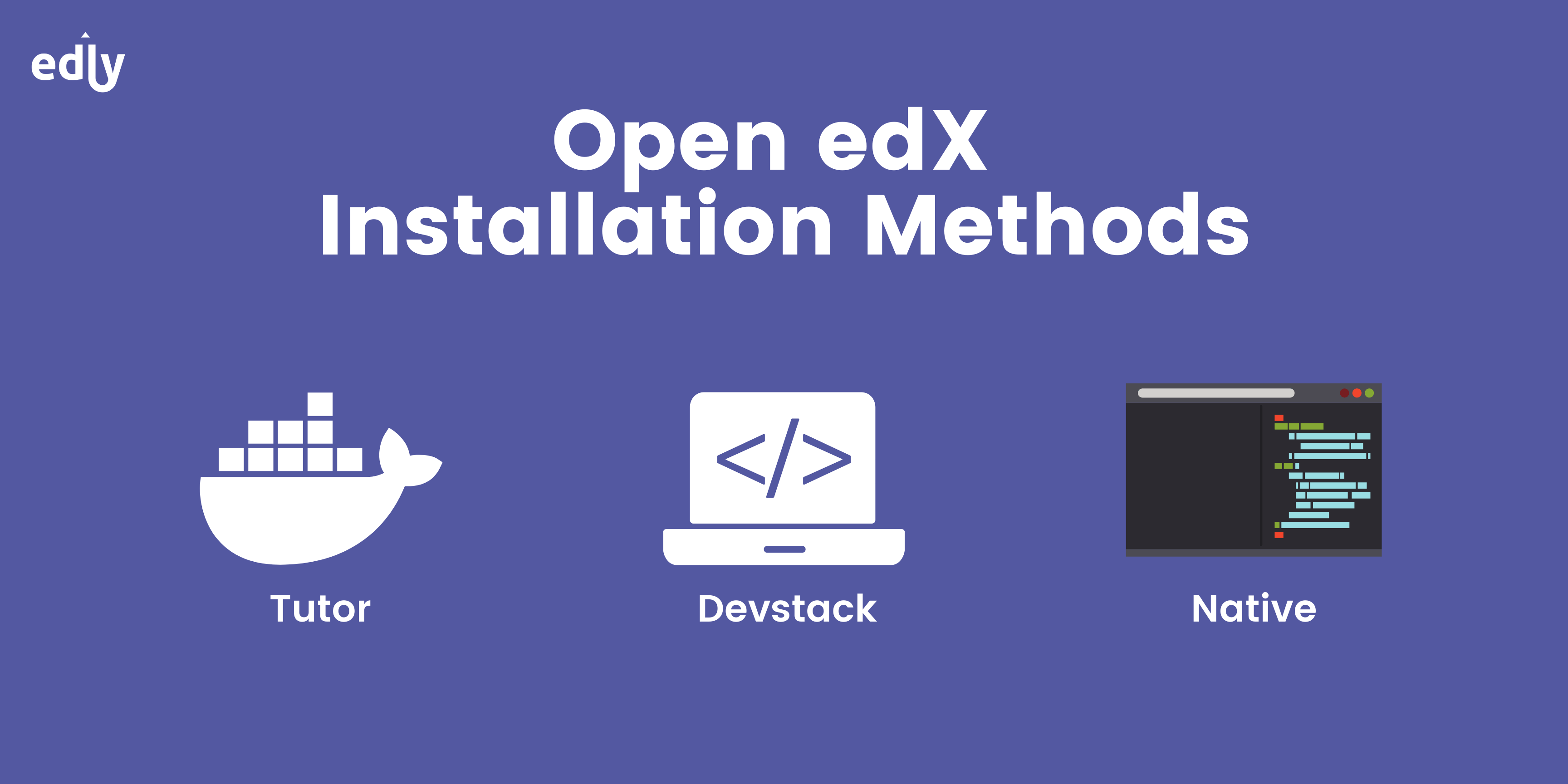 There are currently three methods to install Open edX. All three methods install the same software. The differences between each method are explained below:
1. Tutor: Tutor has now become the official and most widely used Open edX distribution. It is best suited in a docker-based environment for both production and development stages. First introduced in the Open edX Lilac release, Tutor has come a long way, including its recent acquisition by Edly.
2. Devstack: It is a development environment based on Docker. It is best suited for modifying Open edX code locally in the master version of your system. Open edX installation with the Devstack method is similar to a puzzle. It is quicker to assemble the components. 
3. Native: This method will be deprecated in the Lilac, and discontinued in Maple. The software deployment in native is manual, and it provides a production-ready installation on a Ubuntu machine of your own, using an Ansible playbook. This method can be used for both Master and Release versions for testing during the production stage.
Why Native Installation Method is getting discontinued?
Open edX has not formally announced any specific reason as of now. However, we understand that Open edX is moving its architecture towards microservices.
What is a Docker-based Environment?
Docker is an open-source software platform for creating, developing, and running applications. It provides an isolated environment called a container to package and run the software. It is much quicker to write codes, and it helps in reducing delays in developing software.
3 Environments for Open edX Customization
Edly helps its clients in customizing their Open edX code as well. Customization takes place in three environments where the code is created, modified, and tested. These three environments can be used for the modification of any software.
1. Development
The development environment is best suited for you if you opt for a Devstack method. In this environment, the developers collaborate and work on the code of the software. All changes and modifications are done on a local computer.
2. Stage
Stage Environment is based on a server and it is used to modify the code while opting for a tutor or native method. This environment is best for testing and quality checks. After completing the customization in this environment, the version is ready to be moved to a production environment that is accessible to end users.
3. Production
Production Environment is where real-time software is used by the end-users. Only a released version of Open edX is installed in a production environment. Testing and Modifications are not done in this environment as every change will impact its user experience.

Why Choose Open edX?
Open edX is a massive open online course provider that empowers organizations worldwide to design customized and engaging online learning platforms. It was created by the joint efforts of Harvard University and MIT for the well-known learning platform, edX. 
Open edX is the only last-generation open-source platform that has complete features for online learning. It is gaining popularity due to its powerful and unique features. The users of Open edX can benefit from the Open edX community and access the xBlocks library. Many organizations from the Fortune 500 have already switched to the Open edX platform due to the following features:
Powerful Analytics

gives a competitive edge to Open edX over its competitors. Reports can be generated to identify problems and get timely feedback. Advanced insights help in improving the course and tracking the performance of the learners.

Tools and Integrations at Open edX such as API and LTI are available. LTI tools enable communication with external software and enhance the functionality of the system.
Scalability

is the need of the hour in the eLearning world. Open edX platforms are designed to host a large number of learners at the same time.

Interactivity

enhances the entire experience of a user. With xBlocks, Open edX can go beyond simple interactions in an online classroom.
Deploy Open edX today with Edly
Installing Open edX onto your system correctly is very important. Edly not just deploys Open edX from scratch for its clients but also offers customization in the Open edX code. Being the official service provider of Open edX, Edly provides full support related to Open edX. Get a free consultation today.