The much-awaited Open edX conference finally took place after a two-year long hiatus now that the worst of the pandemic is behind us. Held in Lisbon, Portugal, the conference aimed to connect the Open edX community worldwide to talk about the future of education technology. The four-day conference that started on April 26th featured keynote addresses from leaders in learning science, education industry, and academia, followed by several insightful sessions conducted by Ed-tech innovators in the Open edX community. 
Much of the conference addressed the need to leverage open technology to create learning opportunities in higher education, corporations, and in other settings. A special emphasis was placed on the advancements that the platform has made in instructional design, product capabilities, integrations, and extensions. Edly, being a long-time premier sponsor of the Open edX conference, was excited to be a major contributor to this exchange of ideas.
Open edX and The Future of Education Technology
This year, the focus of the conference was on the future of learning in work. Open edX partners used their experience and knowledge of the product to share the challenges and solutions for upskilling and reskilling the modern workforce as well as ideas to impart lifelong learning in the workplace. For greater clarity, the sessions were sectioned based on the use of ed-tech in three major areas:
Pedagogy & Instructional Design

Platform & Product

Extensions & Integrations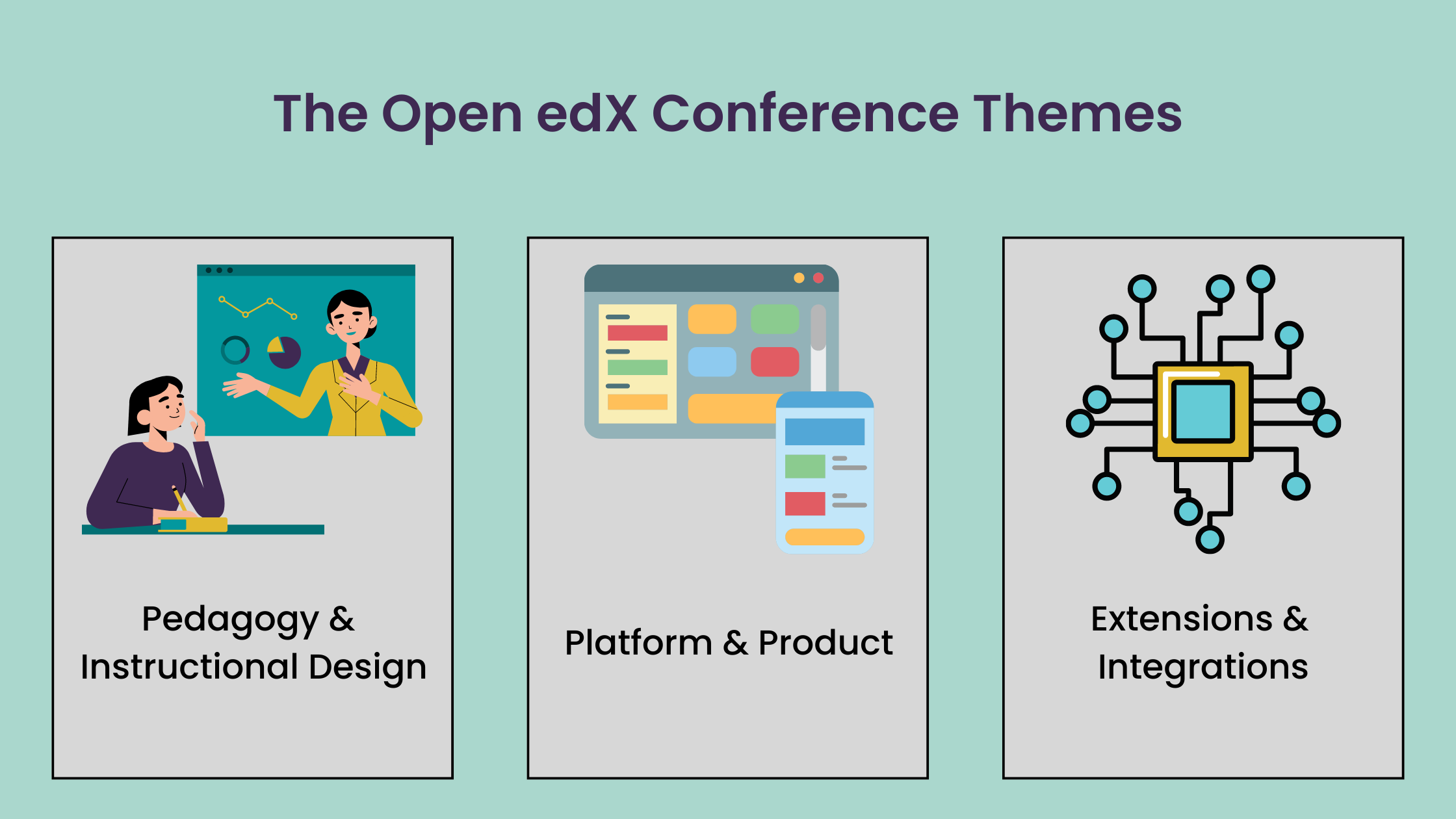 The Conference at a Glance
From keynote speakers to featured talks and lightning rounds, the conference covered everything Open edX. Here are some of the highlights:
Keynote Speakers
The keynote speakers featured education thought leaders in industry as well as academia. The opening keynote was delivered by Anant Agarwal, Chief Open Education Officer at 2U. In his address, he detailed the lifelong learning opportunities made available to users post edX/2U acquisition, as well as the impact that these organizations brought to learners in their everyday lives. He further talked about the rising trend of learner-centric education brought about by innovations in the ed-tech sector.
Other keynote speakers included Paula Marques, Director for Business Transformation, and Tobie Langel, Open Source Strategy Consultant. These sessions gave detailed insights on the future of corporate learning, the merits of having a community-driven open source project as well as information about the Center for Reimagining Learning (tCRIL).
Want to build a groundbreaking eLearning platform?
Get in touch with us and learn how we can help you achieve your goals and objectives.
Featured Sessions
Following the three tracks of the conference's theme, there were several insightful sessions conducted by Open edX experts and partners. Let's have a look at a few:
An AI-powered skills infrastructure on the Open edX platform:

The possibility of leveraging

predictive tools

to create a marketplace of knowledge from skills-related metadata was presented in this session.

2U community introduction & roadmap contributions:

A foray into 2U's commitment to Open edX development, contribution plans, and recent platform developments. This session marks the official steps forward by 2U after

acquiring edX

in 2021. 

How assessment design can eliminate the need for digital proctoring:

Backed by data, this session discussed the ways in which course design can be modified to maximize learning and reduce the temptation for learners to use unfair means.

Deep dive into LTI 1.3 in the Open edX platform:

A highly technical look into the implementation, limitations, and use cases of

LTI 1.3

. LTI, or Learning Tools Interoperability, allows learning platforms like Open edX to connect with third-party applications with a seamless, universal standard. 

Edly's Highlighted Sessions:

Edly also had the opportunity to conduct three sessions that covered a range of topics, from Open edX mobile product development to creating workplace training products and more. Keep reading for more details on Edly's role in the conference!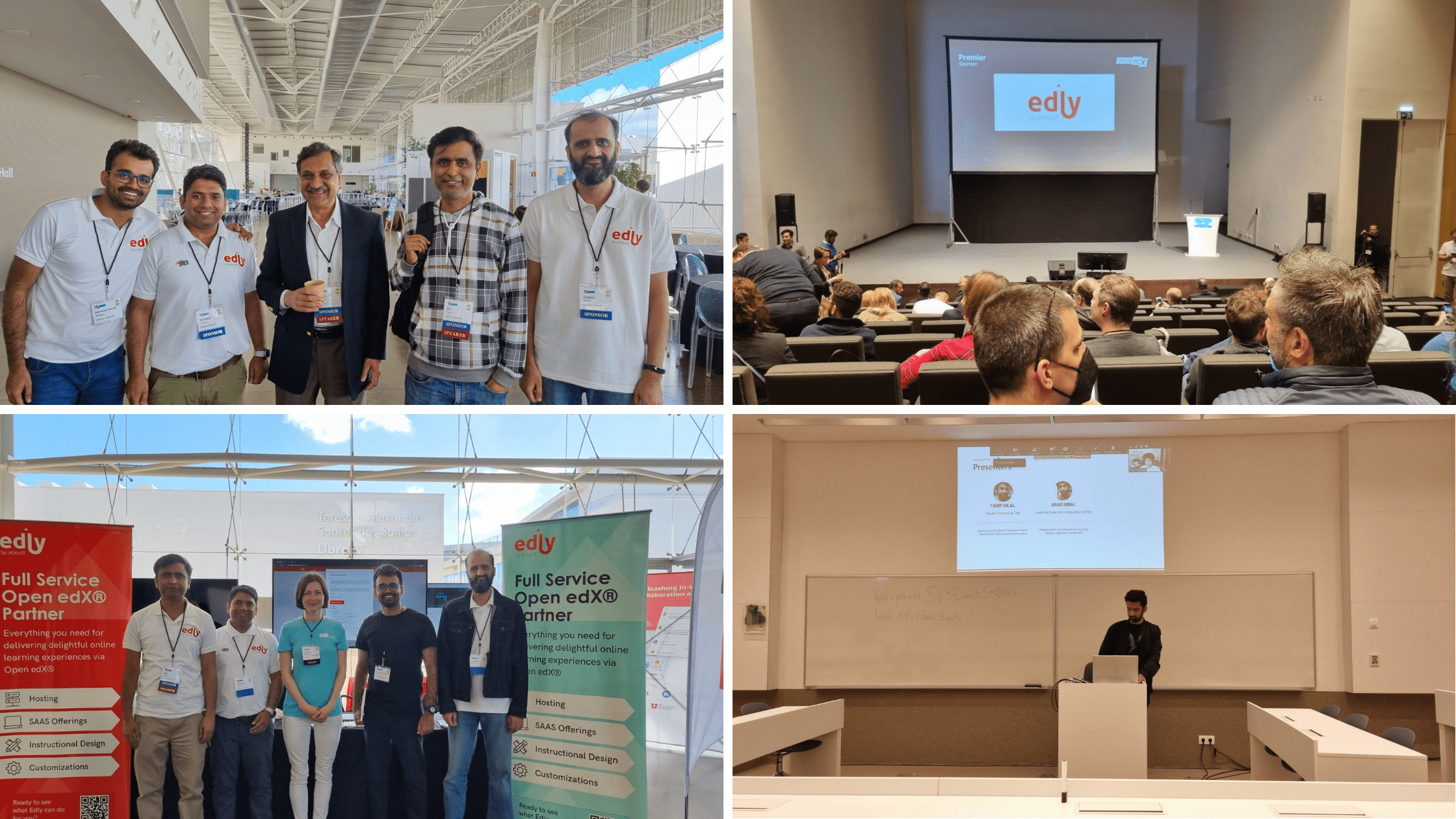 Edly: Premier Sponsor of the Open edX 2022 Conference
Team Edly, as a premier sponsor of the Open edX conference, shared its insights and expertise in a number of areas, both virtually, and in-person. Being one of the earliest partners of Open edX with the largest volume of Open edX engineers in the market, Edly had a vast expanse of knowledge to share from. 
Learning on the Job: 5 Key Lessons from Creating Next-Generation Workplace Training Products
Elearning and instructional design experts, Asad Iqbal and Faqir Bilal discussed major takeaways and challenges from their experience in creating effective workplace training tools. They stressed the importance of five key insights that can lead to more effective learning, especially in the context of the workplace. 
These insights include the use of social learning in corporate training to encourage peer-to-peer collaboration and knowledge sharing. Additionally, corporations must recognize the value of microlearning, which calls for presenting content in the form of hyper-focused, easily digestible chunks. Another key lesson points to the usefulness of incorporating reflective learning techniques that encourage workers to contextualize what they learn and prevent an autopilot approach to learning.
Edly's team also encouraged participants to incorporate learning within the workflow in order to prevent disruption in an employee's day-to-day tasks. This calls for leveraging just-in-time learning techniques that are practical and regarded more as performance support than training. Finally, we discuss the need to create holistic solutions to learning, likening it to an ecosystem with a symbiotic environment, where all participants benefit from knowledge sharing.
Open edX Mobile: Product Direction & Development
In this collaborative session, Edly was represented by solution architects Mian Khalid and Saeed Bashir, who have worked extensively on the Open edX mobile product and its development. The session began with illustrating the need for a well-equipped mobile Open edX solution and went on to describe the latest updates in the application, as well as upgrades to look forward to. 
Our experts explained the behind-the-scenes technical journey of the Open edX mobile product. Each step is carefully navigated and optimized to increase efficiency from the development of particular features to feature testing and its subsequent release. The work, however, does not stop at the release stage. Post-release analysis as well as learner support and troubleshooting further help the team ensure that each feature works just as it was intended and that any difficulties encountered by the users can be fixed promptly.
Navigating through the Code ft. Open edX Repos
In this technical talk (and likely fan favorite of engineers), software engineers Azan Bin Zahid and Syed Dawoud Sheraz illustrate the daunting challenge of navigating several open-source repositories and shed importance on understanding coding practices and guidelines for a seamless code navigation experience.
They go on to describe ways around the challenge that begins with identifying common and consistent patterns among the code architecture. Leveraging commonly available tools like PyCharm, VSCode, and the Github precise search, these patterns can be used as a guide that ultimately leads developers to their desired place in the code. In this way, in just a few moves, the complex sea of repositories can be easily navigated even by beginners.
Learn More
Events like the Open edX conference give the eLearning community an opportunity to meet up and discuss technology, innovations, and ideas in a way that is collectively beneficial. With the strength of the community behind the participants, conquering newly emerging challenges in the learning technology landscape can be made much easier, and can help impart some key lessons to the Open edX partners. In other words, the conference is a chance for the learning experts to experience some learning themselves.
Edly is one of the largest and earliest technology and service partners for Open edX. Our full-stack learning solutions can help curate precisely the right kind of learning and training management tools you need for your organization. For more information on our learner-centric solutions, feel free to contact us and request a free demo!