Reinvention and reimagination are central to keeping organizations relevant to the times. For Edly, that means evaluating how our audience and customers view us and incorporating changes that better reflect our values. 
Keeping the spirit of change alive, Edly is pleased to announce the launch of its new website. With a responsive, UX-friendly, and mobile adaptive design, the new Edly experience is about to get much more seamless. 
Keep reading on to find out what's new and how to navigate our new website!
Industries We Serve
Regardless of what an organization does, investing in learning and development is a common theme among all. The interest in creating eLearning solutions for this purpose has increased quite consistently over the years, reaching an all-time high during the pandemic. This trend has been reflected in our customer demographics. This is why we felt that these organizations need to take center stage in our new website design.

The industries we work with include educational institutions ranging from K12 to higher education, corporations that need to create robust training programs, non-profits, and a wide range of businesses, just to name a few. You can navigate to details about our products and services within each industry, as well as check out relevant pricing plans from the drop-down menu.
It goes without saying that this is not an exhaustive list of the organizations we work with. Being an industry-agnostic ed-tech solution, we work with our clients to create tailored learning solutions. This is why we also connect with several other sectors like pharmaceutical and healthcare. 
The Edly Toolkit
After navigating to your respective industry, you can view the Edly product toolkit. The new Edly experience, featuring our LMS, authoring tools, mobile application, and more, is designed in a way to give you all the information you need from a single menu.
As a UX-friendly and convenient online learning tool, the Edly LMS helps bring all your online learning materials together and allows your audience to interact with the materials in a way that puts them at the center of the learning experience. 
In order to bring rich, tailored content to the learners, Edly Studio helps course authors develop their courses, leveraging multiple formats in an easy-to-use tool. Being an in-built authoring suite, using Studio allows you to access, develop, and upload content from a single place with no additional technical expertise.
Another integral part of our toolkit, the Edly Panel, helps administrators keep track of users, courses, and product updates from a single interface. You can generate reports featuring insights or contact the Edly Customer Success team via the Edly Panel.
The final component of our toolkit is the Edly Go app. Making eLearning available on the go, students can access their courses on our mobile-friendly interface without any hassle. Our native app, available on both Android and iOS, can be used to access multimedia, participate in discussion boards, and monitor course progress, all from the convenience of your smartphone.
Our Services
Edly also provides a wide range of services you might need to bring your eLearning plans to fruition. Simply navigate to the services page within the industry drop-down menu and explore our offerings.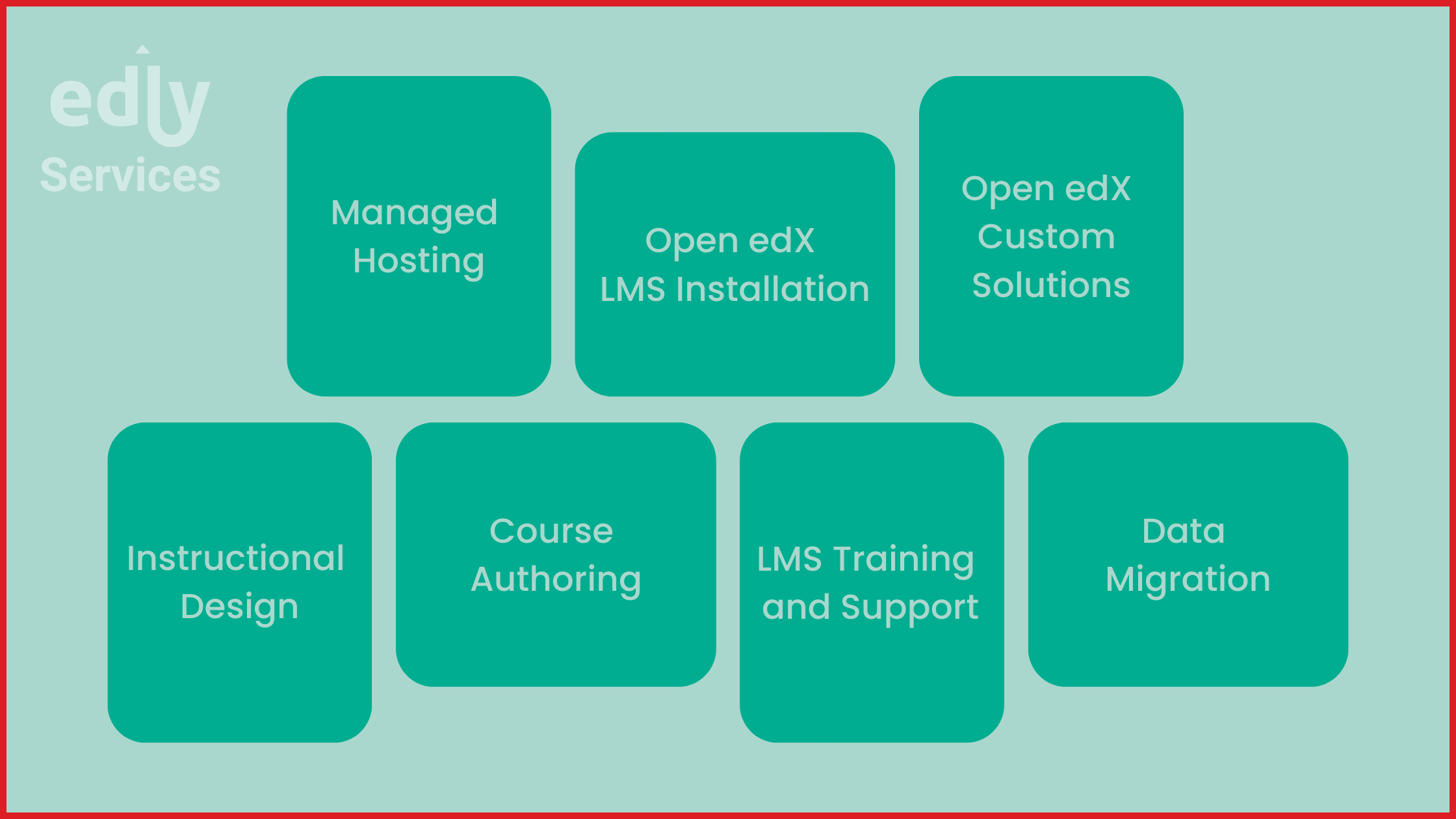 With managed hosting, you can host the LMS at the servers of your choice, while we provide the DevOps support, along with full-time maintenance and monitoring, leaving you to focus on what matters most: the content. 
Edly can also help you get started by providing Open edX LMS installation services, LMS training and support, as well as data migration. Additionally, add your personalized touch to the platform by leveraging our custom solutions. 
Our services don't just address the technical, we are also here to help you with content. With the help of our instructional design experts, you can enhance the learning experience through curriculum design and course storyboarding. In short, we have it all covered!
A Wealth of Resources
Once you've perused the industries we work with, scroll over to our resources section to find out all that there is to know about ed-tech, and online learning, and get to know what we've been working on. 
Our blog boasts several pages dedicated to a variety of topics like the latest eLearning trends, instructional design, and blended learning, along with industry-specific articles focusing on the role of online learning within these industries. Whether you want to learn about workplace learning, Learning Management Systems, or predictive analytics, there's something in there for everyone!
We also highlight case studies from some of our clients in our resources, along with ebooks, guides, and whitepapers to give you a more in-depth look into some of our featured topics. On top of that, our news and updates section addresses the latest features and product updates so that our clients can stay up to date on what's new.
Pricing and Plans
At Edly, we anticipate pricing to be one of the most important purchasing factors for our prospective customers. To find out what pricing option works for you, navigate to the Plans section and find out a transparent breakdown of our plans. Make sure you scroll all the way through to our FAQs section to find out more.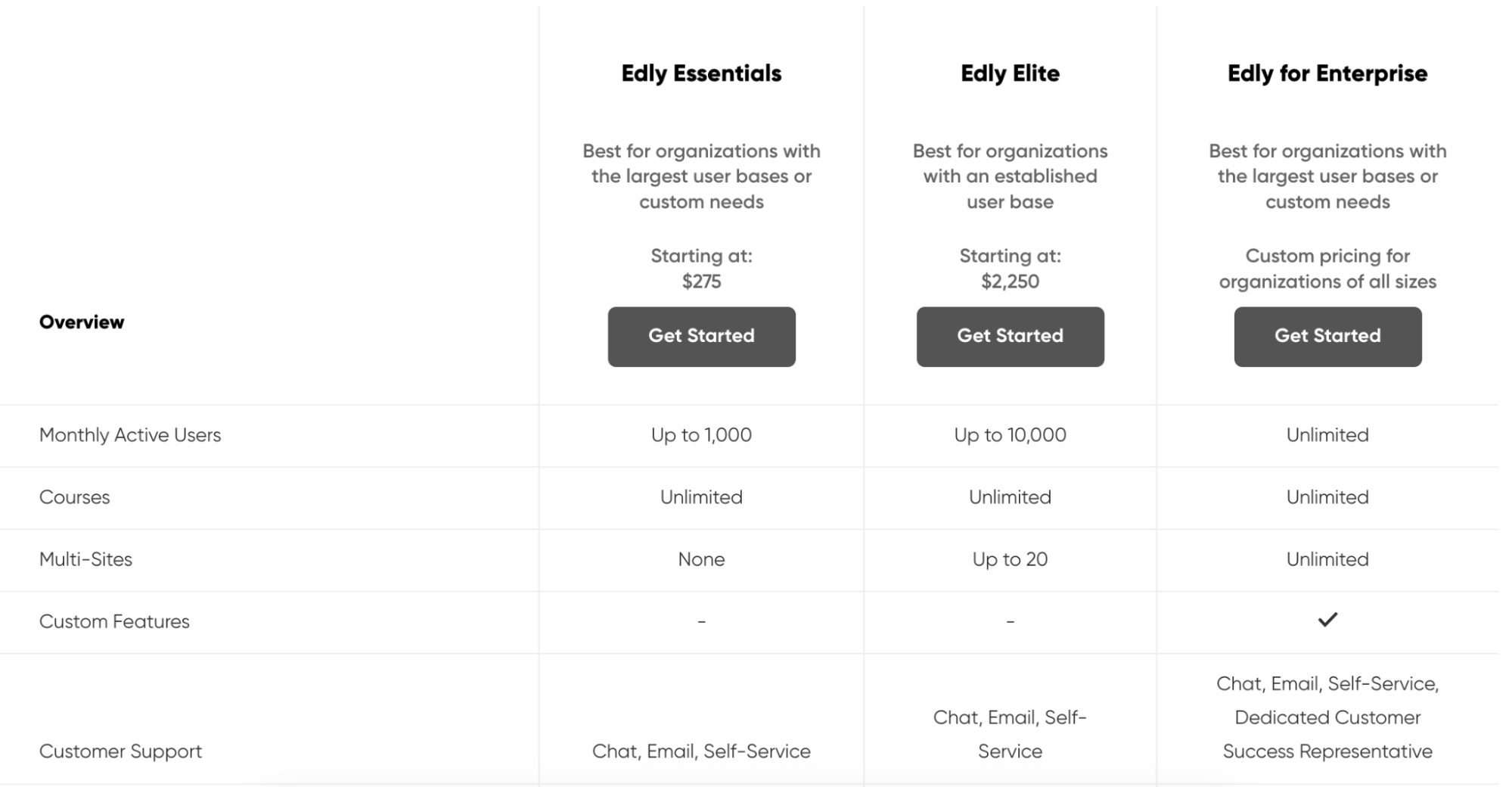 Our plans are designed for all types of organizations, big or small. If you're looking for something more tailored to your needs, you can also request a custom quote from our team. 
Let's Get You Started!
From our clients to testimonials, to the industries we work with, we've laid it all out for you! Whether you want to browse our diverse blog content or look through our pricing plans, the new Edly experience is just a click away. Learn all that you need to know to create thoughtful, personalized, and accessible eLearning content via Edly.
And after you've perused through our pages at your leisure, we're here for the real deal too. Schedule a free demo with us today to get an even closer look at our ed-tech services!