When it comes to creating good online learning materials, the importance of a comprehensive authoring tool cannot be overstated. A great authoring tool has the potential to elevate your online course to make it learner-centric, user-friendly, and engaging all at the same time. With the right tools, even novice instructors can shape their content in a way that delivers the optimal learning experience. 
Authoring tools are central to the online learning experience and often instructors need to think about how these tools can work in tandem with their Learning Management Systems. It can be quite a frustrating journey, after all, subject matter experts aren't always well-versed in IT solutions and may not have the time or expertise to learn new software. 
This is where an LMS with built-in course authoring tools can come to your rescue. Let's explore how built-in course authoring can streamline your online instruction: 
What Does It Mean to Have Built-In Course Authoring Feature?
LMS platforms come in all shapes and sizes. One major difference lies in how content is made available to the platform. Some Learning Management Systems can only use packaged content in SCORM format, created via third-party tools, while others come with an integrated authoring tool as a part of the platform. Some platforms go the extra mile and offer both. 
Built-in course authoring means that a single software covers both content creation and content distribution. Therefore it does not require instructors to export any content. Rich, multi-format content can be created from a centralized platform and immediately deployed without running into any compatibility issues. Sounds like a dream, doesn't it?
Efficient and Streamlined Content Creation
Creating and deploying content becomes much easier when using a built-in course authoring tool, as it eliminates the need to export and subsequently, deploy the materials between two different software. This process is made even faster with the help of features like ready-to-use templates, quick editing, and easy import functionality. 
As an added bonus, the likelihood of compatibility or playback issues is significantly reduced or completely eliminated when using the same platform to distribute the content that you used to build that content in the first place. 
It is not just creating new content that is easy. Built-in authoring suites can help streamline the process of keeping content up-to-date. Instructors can simply make any changes they want from within the LMS platform and verify how it appears to the audience right away. This ease of update plays a significant role in the evolution of the courses, which can be quite different from their initial versions, having taken in the learners' feedback.
Reduced Deployment and Training Costs
Every software you use, whether it is self-hosted or cloud-hosted, carries an expense. Imagine having to keep up with costs incurred due to the licensing fees, maintenance support as well as troubleshooting for both the LMS and a course authoring software. This is especially worrisome for organizations without in-house IT departments. 
Most companies would love the opportunity to cut down costs by half. This can be made possible by investing in an LMS that comes with built-in course authoring. While it is possible that all-inclusive LMS platforms can be a bit pricey, the long-term costs come out to be in the organization's favor. 
That said, some third-party content authoring platforms like Adobe Captivate and Articulate Storyline can add a significant expense that can quickly outpace the cost of an LMS with a built-in authoring tool. 
Reduced training costs further strengthen the case for built-in authoring tools. Whether you need to onboard new employees or train existing employees to use an updated software version, the process can be made much more cost-efficient when organizations only deal with a single platform. 
Create a Seamless Learning Environment with Edly?
Edly's LMS is trusted by the world's most prestigious institutions including MIT and UCSD. Start your LMS journey with Edly today.
Better Security
Perhaps the most preciously-guided resource in modern times is data. Since consumers trust organizations with their personal information, great care must be taken to keep it secure. In an online learning context, this applies to user information as well as course content. 
In 2022, the average cost of a data breach in the US amounted to $9.44 million. The fewer tools an organization uses, the lesser the chance of a breach in security. This is why we recommend investing in a single, good-quality LMS platform that comes with tools like built-in course authoring, instead of trusting multiple platforms with your precious data.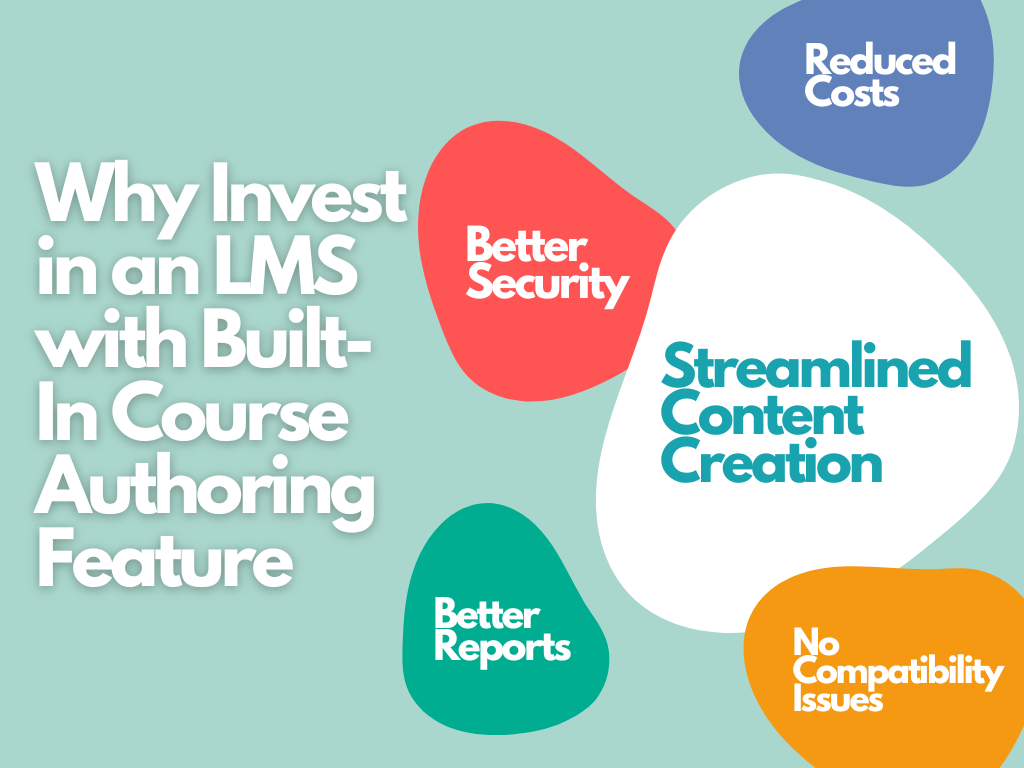 No Issues with Compatibility
All organizations depend on a variety of software to keep their systems up and running. The greater the number of tools, the harder your IT team will have to work to make them compatible. While some stand-alone platforms do come with unique features that cannot be found in all-in-one platforms, it is important to find compromises where possible.
Compatibility issues don't only arise when purchasing and integrating software for the first time. Every time a tool goes through a software update, it has to be made compatible with other systems. On top of that, you are looking at potential data loss or manual data migration. Imagine being able to save all those hours by combining two major tools into one. With a built-in course authoring tool, you don't have to worry about ensuring that the platforms of your choice are mutually compatible.
Better Reports and Data Analysis
All-encompassing LMS platforms really do mean just that. Built-in course authoring does not only cover content creation, it also means LMS data can be easily shared with the course authors. Reports can be easily made and shared from a single platform. 
When user data is made available to content creators, they can get to know how well the audience interacts with the course, where the engagement levels drop, and what parts they find challenging. Knowing this can help course authors incorporate more UX-friendly elements into their courses. Doing all this is possible with stand-alone platforms, but at the cost of your time and labor. 
Course Authoring with Edly Studio
Edly's built-in course authoring suite, Edly Studio, can help you bring your content to life without the hassle of juggling multiple software and licenses. With the ability to incorporate content in various formats from one centralized tool, course authors can spend less time navigating complicated software integrations, and instead, focus on what they do best: content creation.
Edly can work with you to make your online course just as you envision it: be it micro or full degree programs, complete with third-party integrations, digital certificates, or integrated SCORM support. For an in-depth look into Edly Studio, feel free to get in touch with us and request a free demo or try our platform for free!