Nonprofits have a unique demand for learning tools since a lot of the work involved requires specialized skills and training. The better the learning experience, the more equipped nonprofit employees are to deal with their day-to-day work. With the emergence of LMS for nonprofits that enable eLearning and online education, the nonprofit training and education landscape appears to be evolving.
The pandemic has negatively impacted the revenues and funding of over 75% of US nonprofits. This illustrates the need to leverage modern tools like LMS for nonprofits to recover the dip in revenue. With the help of online learning tools, nonprofits can save on expenses like employee training and use a better-trained workforce to generate greater funding. Let's have a look at all the ways in which LMS platforms can prove to be important to nonprofits.
Easy Compliance Management
Working for nonprofits requires a specialized set of skills. Employees must know how to write grants, what databases to access when reaching out to new donors, and how to communicate effectively. It is also important to make sure that all employees receive compliance training. These skills and training can be learned via LMS for nonprofits. 
With the help of an online learning resource, it is easy for employees to access an unlimited library of learning materials, each dedicated to teaching new skills, helping them work more effectively. It is also easy for the nonprofit to administer the training from a centralized platform and keep abreast of the progress of the employees from the LMS.
Generate Revenue
LMS for nonprofits is a very useful investment when it comes to generating revenue. When employees are well trained to handle nonprofit work, it is natural that revenues improve accordingly. Workers can also be cross-trained across different departments, meaning there is little need to bring specially trained employees to join the company when in-house training is so much more convenient. Learning skills from the right resources make it possible for the nonprofit to function effectively and be much more professional in all its dealings.
Create a Centralized Training Library
An online library full of training materials and courses is a much sought-after resource. It is possible for nonprofits to gather all their learning materials on a single platform for little to no cost and then provide access to the library to other organizations for a fee. This helps nonprofits set up an additional stream of revenue, while at the same time, making sure that accurate and reliable information is being shared with the rest of the world.
Another positive of having a centralized library is that all employees have access to the same type and quality of the material. This creates a level playing field among all the employees in the organization and does not unfairly disadvantage those who would otherwise not have access to good training materials.
Globalize Training
Now that nonprofits can create an online, centralized library full of useful resources, it is possible to share that with the rest of the world. Many organizations have employees spread all over the world and it is hard to streamline training without the help of an online platform. LMS for nonprofits gives access to the same material to employees all over the world, ensuring uniformity in training, achieving goals, and dealing with clients. Having this uniformity gives a sense of professionalism to the nonprofit.
Reduce Training Time and Expenses
In the past, training employees meant either hiring an expert and bringing them over to the organization's premises or having entire departments fly out to attend conferences. This is not just a huge strain to the expense of the nonprofits, but also wastes a huge amount of time that can otherwise be spent much more productively. 
Thanks to LMS for nonprofits, this has changed massively. Much of the training is available online in the form of recorded lectures. These lectures are usually supplemented with quizzes to ensure retention. It is also possible to attend live conferences via a video link if the conference is happening far away. The amount of time and money saved in this manner is a big reason why LMS are now considered essential for nonprofit organizations.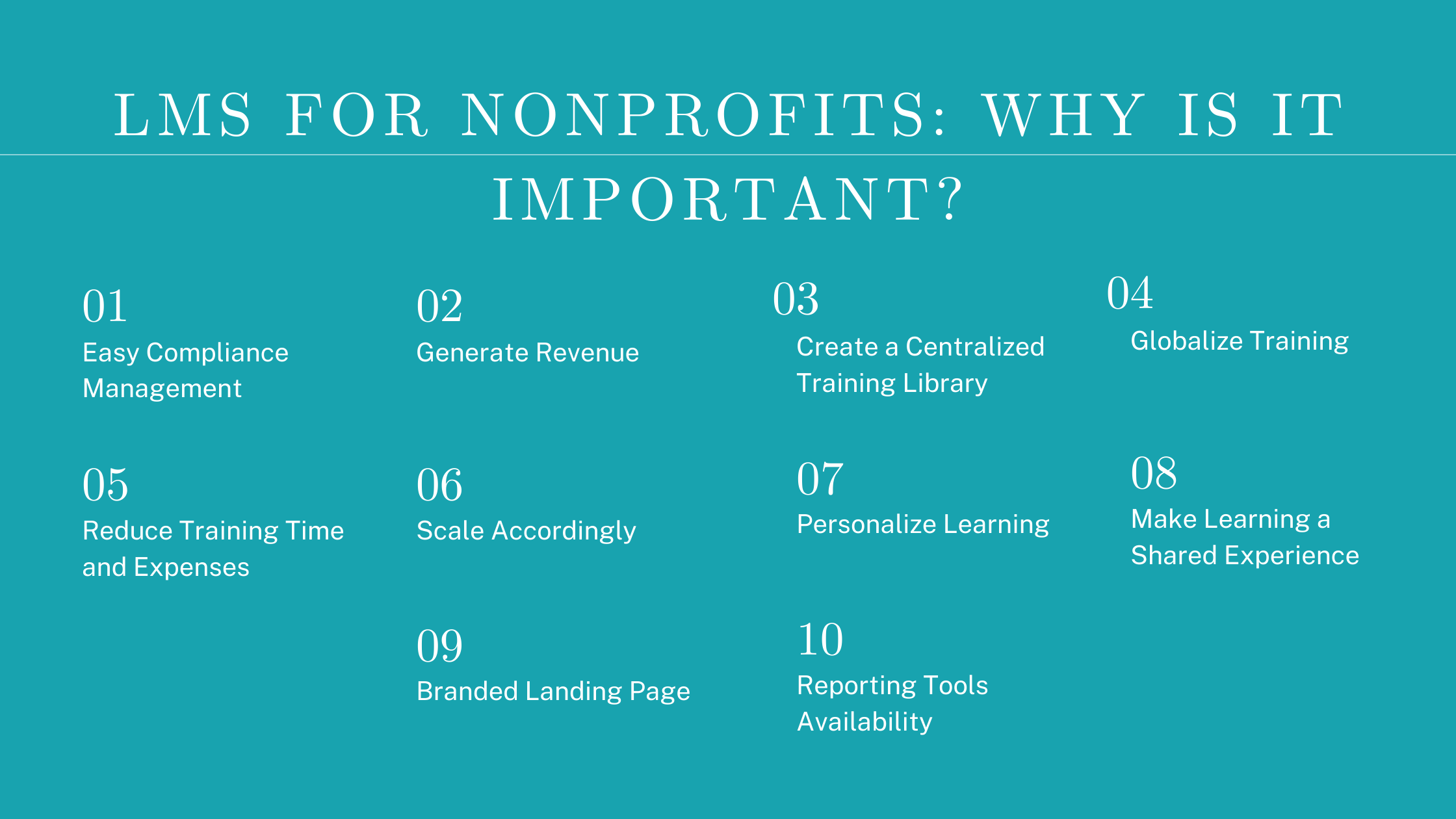 Scale Accordingly
Many nonprofit organizations start small due to limited resources and eventually gain decent revenue to upscale. This, however, does not mean that they must deprive their employees of resources that are crucial to the organization's development and growth. 
Many LMS for nonprofits provide scalable options to the organizations that can grow with the size of the nonprofit. This prevents them from making unnecessarily expensive investments in huge LMS platforms that are not needed by small-scale organizations. It also allows them to transition to other platforms easily, in the event that a particular platform is not well suited to them.
Personalize Learning
When nonprofit employees are expected to learn on the job, it is understandable that each person would have different timings, a different pace, and a different capacity to learn. For this purpose, it is essential that an LMS for nonprofits offer self-paced, personalized learning options. The importance of personalized learning cannot be understated. It is only when learners are comfortable with their learning environment, that they start assimilating knowledge.
Make Learning a Shared Experience
Learning can be made very effective if it is experienced as a group. Well-equipped LMS for nonprofits enables just that. With the help of discussion boards, learners can discuss assignments and compare their progress to others. It is also a great platform to collaborate on group tasks and work on presentations together. 
This helps nonprofit employees get to know each other better and builds a sense of camaraderie among them. Having built these relationships via social learning, it is natural that this sense of teamwork would filter into their work.
Branded Landing Page
It is essential for nonprofits to build an organized database for learning that not only contains accurate information but also aligns with the organization's branding requirements. A white-labeled LMS reinforces what the organization stands for and enables employees to learn in an environment that resonates with the organization's values, mission, and vision. . LMS for nonprofits is also useful for new employees, so as to learn more about the nonprofit and get the most accurate information, right from the source.
Reporting Tools Availability
Having advanced reporting tools help nonprofits keep track of how well the online learning strategy is working. Reporting tools in LMS platforms enable organizations to evaluate data like the number of enrollments, course completion rates, grades, and feedback. 
This data is instrumental in shaping compliance training methods. The result is a streamlined training program that efficiently trains employees in specialized skills like grant writing or communicating with donors.
Want to build a groundbreaking eLearning platform?
Get in touch with us and learn how we can help you achieve your goals and objectives.
Edly's LMS for Nonprofits 
LMS for nonprofits has become essential in today's world. With benefits like cost-effective compliance training, easy availability of learning resources, and better revenue, the importance of using LMS in nonprofits cannot be taken lightly. When it comes to choosing a platform, it is important to consider how well its features help the nonprofit achieve its mission. Here's where Edly's LMS solution for nonprofits comes in handy.
Case in Point: Philanthropy University
Philanthropy University is one of the world's largest online upskilling ecosystems that has successfully empowered over 5000 nonprofits as a trainer for social impact organizations. With a successful partnership with Edly, Philanthropy University has built a state-of-the-art learning and community platform for frontline practitioners. Edly continues to partner with Philanthropy University as its all-in-one technology partner.
By combining expert instruction and quality content on a convenient online learning platform, Philanthropy University is harnessing LMS for nonprofits to spark change across the globe and Edly is proud to be a part of this transformation.
Read more about it here: Philanthropy University Case Study
Contact Edly Today!
Equipped with the best-in-class learner-centered design, Edly empowers social impact organizations to create seamless knowledge-sharing and upskilling opportunities. If you are a nonprofit organization looking for the best LMS for nonprofits, feel free to contact us and book a free demo!