With the changing tides of time and the growing reliance of the education system on technology, Gen+, a Scotland-based organization, set sail for the development of a platform aimed at equipping the new generation of Scotland with meta-skills to help them thrive in the constantly evolving world.
However, as no journey is without its set of challenges, Gen+ also faced certain issues that could become a roadblock to its success. Being familiar with the Open edX technology, Gen+ was on a quest to find the best Open edX service provider that would help the organization achieve its eLearning goals. 
And that's when Gen+ stumbled upon Edly.
After a number of meetings with Edly and similar service providers, Gen+ had a decision to make: which Open edX marketplace provider was best for them? It just so happened that Edly's presentation on Instructional Design for Open edX was the sign Gen+ needed that gave them the confidence to choose Edly for the development of a superior ed-tech platform.
"I have been blown away by the professionalism, knowledge, and attitude of the Edly team. The whole team has worked very well and helped us get access to the right people during the length of this project. I really have felt it's a true partnership." 

       – Samantha Bedford [Chief Operating Officer – Gen+]
Here are the challenges faced by Gen+ and the solutions provided and implemented by Edly that enabled them to achieve their goals.
Gen+, An Introduction
Gen+ is building the meta-skills capacity for every pupil and their teachers in Scotland. The organization focuses on young people between the ages of 9 and 14 with a unique program that enables them to recognize and nurture their unique talents.
Launched in 2021 and funded by the Peter Vardy Foundation, Gen+ offers a new approach to learning for every child and teacher in Scotland. Not only this, Gen+ has strong partnerships with local authorities, schools, and social sector organizations that enable Gen+ to build a support system for the youth.
Challenges Faced by Gen+
Gen+ wanted to build a learning platform targeted at school-aged children and their teachers using Open edX technology with the help of a UX design agency. 
Understanding the growing needs of children and the dependency of the education system on technology, especially in the wake of COVID-19, Gen+ wanted this platform to make blended learning for children and teachers in Scotland a breeze.

The platform was to be built around the centralized Scottish Single Sign-on (SSO) platform called Glow.  As well as providing an incredibly easy way for teachers and pupils to log in, the Glow system also allowed classes to be set up and synchronized in advance – ensuring frustrating access barriers to learning are removed. Furthermore, the organization was looking for an LMS service provider that could build a scalable and modular platform to handle various content forms such as documents, presentations, videos, etc
Most importantly, Gen+ needed a user experience built around the needs of students. They needed the support of experienced instructional design experts to bring engaging, high-quality education to the next generation. 
Edly x Gen+: The Ultimate Solution
Finding the right service and service provider is always a daunting task. Luckily, Gen+ came across Edly's solutions that focused on the Open edX technology and were aligned with the requirements of Gen+. 
Open edX, being open source, is powering thousands of eLearning platforms across the globe. From K12 and higher education institutions to corporations to nonprofits, Open edX has made its mark in diverse industries and has contributed to the education of over 60 million learners worldwide. The solutions provided by Open edX can be used in their native form or modified based on the specific needs of an organization.
In the case of Gen+, massive customizations were needed, a task only some Open edX service providers can complete. Edly proposed to modify the recent, most stable instance of Open edX and build it around the central Glow database along with a frontend application in React that would support the extended views not natively provided.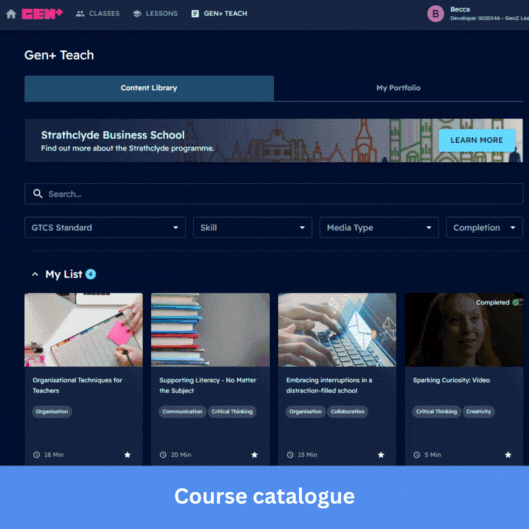 As Open edX's theme revolves around a single user and single course with no notion of classes (a group of students) or programs (a group of courses), Edly offered to customize the platform to include classes and programs as per the needs of Gen+. This meant creating separate dashboards and experiences for students, teachers, and parents.
Beyond the technology running on the front end, the user interface in Open edX was also given an innovative GUI. With 3D user avatars, vibrant colors, and streamlined Units or course screens, the Gen+ Open edX experience looks completely distinct from the standard Open edX experience and traditional learning management systems alike. At a glance, it almost looks like the Gen+ Open edX experience has taken inspiration from popular video games, like Fortnite and Apex Legends. And that kind of progressive thinking and marriage of technology and design is what made the collaboration between Gen+ and Edly so rewarding. 
Want to build a groundbreaking eLearning platform?
Get in touch with us and learn how we can help you achieve your goals and objectives.
Impact of Edly's Solution
The role that technology, user experience, and instructional design played in the development of the Gen+ Open edX platform cannot be understated but ultimately it is the interdependence and partnership between the client and vendor that made the platform launch a reality.  
After seven months of design thinking and development with Edly, Gen+ launched its program in January 2023. The solution developed has already been implemented in 11 schools entertaining about 5,000 pupils and providing them with critical meta-skills. It is also working with about 900 teachers who have access to an innovative micro-learning library, enabling teachers to develop their knowledge and understanding of meta-skills. In the next academic session, Gen+ aims to expand to 40 schools and gradually expand to more each year until it has covered all schools in Scotland.
About Edly
Edly has been transforming the eLearning space and the way people learn through cutting-edge, Open edX-powered eLearning solutions for almost a decade now. With a global client base, we have created value for millions of learners worldwide and developed hundreds of LMS platforms for educational institutions, corporations, non-profit organizations, and individuals.