In the past few years, we have witnessed a dramatic shift in the attitude towards digital transformations in the workplace. While the adoption of technology in business had been steadily increasing for several years, the pandemic accelerated this transformation in an unprecedented manner. According to a PwC survey, 52% of the respondents say that they have accelerated their plans to adopt Artificial Intelligence (AI) in their corporations following Covid. 
Embracing this digital transformation has become a necessity in today's corporate landscape. Many organizations are looking for ways to introduce fully remote or hybrid work models which require a complete overhaul of traditional workplace norms. But changes don't happen in a vacuum, and corporations must work to make this transformation easy on their employees. Therefore, these changes must also be reflected in the learning and development strategies that organizations have in place. 
Advancement in employee training means building learning solutions that are flexible, convenient, and at the same time more effective than traditional training methods. By leveraging the latest technology and learning tools available, organizations can step into a new era of corporate training that works to impart both technological skills and professional development and puts learners at the center. 
If all this sounds promising to you, keep reading on to find out the value of starting your company's digital transformation from its most important asset: the employees!
Why a Digital Transformation Starts with Employee Training
Increases Employee Productivity
Perhaps the biggest roadblock to employee productivity is the lack of engagement they experience in training. This leads to poorly trained workers who inevitably underperform in their roles. The spillover effect, in this case, is huge and is a major reason why over half of US employees are unhappy in their jobs. 
The best way to address this is by focusing on the core issue: engagement. It is imperative that employees are engaged when they take their compliance training courses, otherwise, they will be less likely to retain whatever training they're receiving and more likely to abandon the course. Many next-generation workplace learning solutions depend on tools like reflective learning and microlearning to keep employees invested in their training. By adopting these tools, organizations can expect a significant rise in employee productivity, as they would be able to actively participate in their training, and by extension, their roles.
Makes Training Robust and Efficient
Beyond employee productivity, leveraging training tools that minimize disruption of an employee's day-to-day work and provide tailored learning content makes it possible to make training more efficient. Incorporating digitally advanced elements like Alternate Reality (AR) and gamification, learning materials can be better retained and are more likely to be applied. 
On top of that, creating custom learning solutions can put learners in the driving seat, and allows them a unique level of control over the ways in which they learn. This allows employee training to occur in the most efficient manner, without making it feel burdensome. 
Beyond eliminating the burden of training, custom learning solutions allow you to create specific, relevant training content rather than out-of-the-box, generic content. Using examples specifically from and for your business instead of a generic course on workplace security, for example, can make the training content more relevant and memorable for your users. With custom solutions, you can also create new experiences directly inside of your course. 
Creates Flexibility in the Workplace
Adopting modern employee training methods includes creating mobile-friendly solutions. Many well-equipped workplace LMSs come with a mobile version where employees can take training lessons with greater ease and flexibility. Better accessibility brought about by mobile training leads to higher completion rates as learners can squeeze in a quick quiz or lesson whenever they find the time to do so during work or even while they're away from their workstation.
Mobile learning also makes it possible for workers to continue learning from home. This is particularly useful for employees working in hybrid or remote roles. This flexibility has been absolutely critical as the pandemic reshaped expectations of working from the office. Additionally, many modern workplaces employ staff from all over the globe, working in different time zones. Having flexible training solutions enable workers to learn at any hour of the day, no matter where they might be.
Encourages Upskilling and Reskilling
In order to keep your organization up to speed with the latest digital transformations, it would be useful to study the shifting priorities of the modern worker. Many prospective workers consider the quality of the employee training solutions and professional development to be a significant deciding factor when accepting an offer. Allowing opportunities for professional growth helps attract the best candidates out there and makes them more satisfied in their roles, which reduces turnover.
Organizations that offer employees opportunities to build on their skillset are not just investing in the employees, they are also investing in the organization. By giving workers the opportunity to upskill or reskill, companies can work on eliminating any skills gap within their workforce and as a result, create highly skilled employees.  
Investing in the professional development of your employees will give them a reason to invest in your business. Numerous analyses by the World Economic Forum shed light on the importance of offering upskilling as a business but critically, "an average of 66% of employers surveyed expect to get a return on investment in upskilling and reskilling within one year."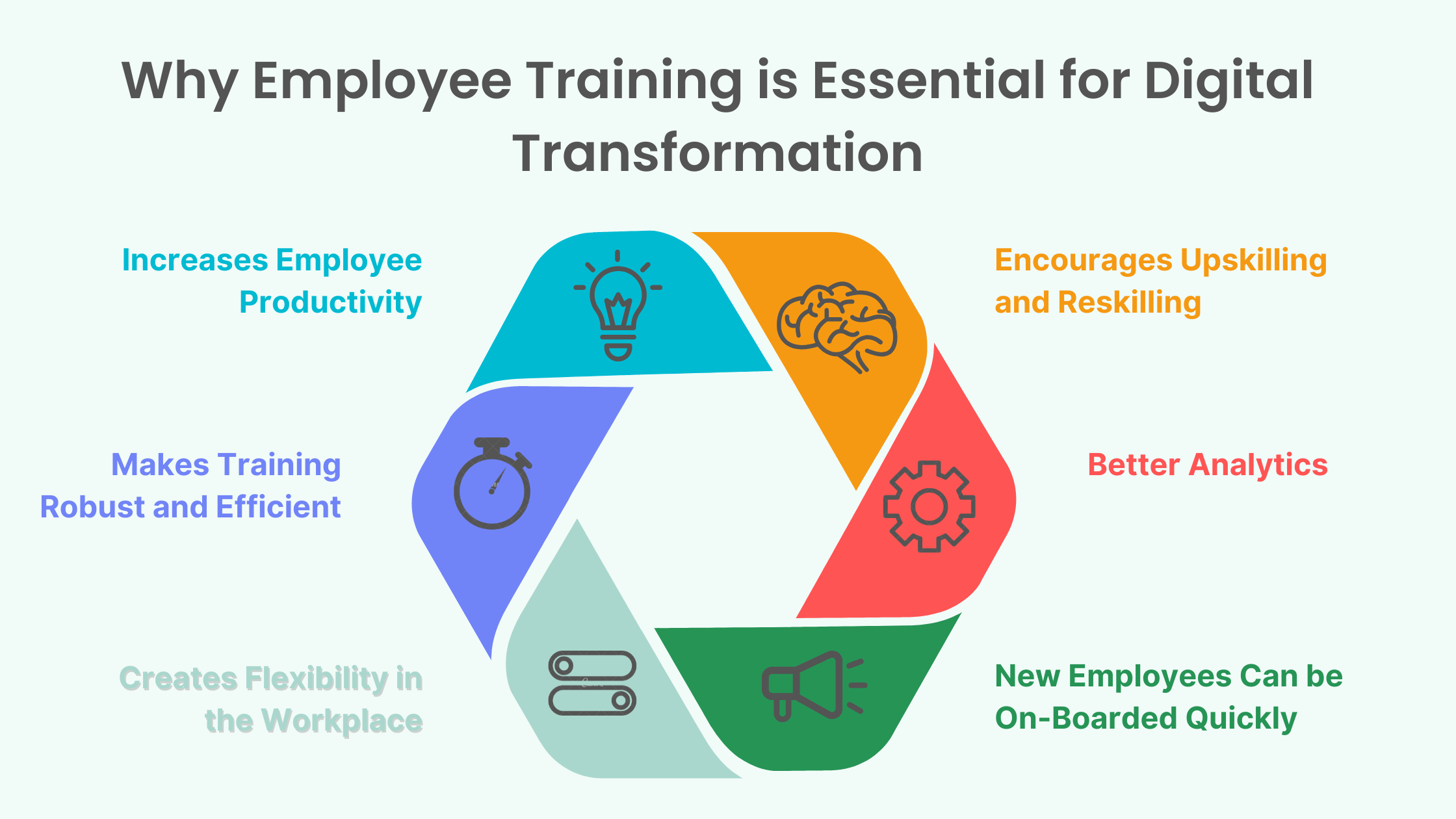 New Employees Can be On-Boarded Quickly
Many rapidly expanding organizations are faced with the challenge of onboarding new hires efficiently. While it is absolutely essential to properly train new employees, it is a time-consuming and strenuous process, which disrupts older employees' work as their expertise would be needed to conduct the training. 
Digital transformations in the workplace involve streamlining this process in a more time-efficient way. This is where online training programs come into play. New hires can work their way through the onboarding process with some supervision from the older employees. In this way, they can receive uniform, self-guided training which does not come at the expense of the organization's productivity.
Training your employees with our seamless LMS
Get in touch with us and learn how we can help you achieve your goals and objectives.
Better Analytics 
Some of the best-equipped workplace LMS platforms come with state-of-the-art reporting and predictive analytics tools that can prove to be a game-changer in employee training programs. Data from employee performance can help organizations identify the areas of their training strategy that appears to be lacking and build upon aspects that are well-received by the learners. Not just that, corporations can also create tailored training solutions for workers based on their past performance. In this way, training can be optimized and employees can be more receptive to the training they receive. 
Creating Transformative Employee Training Solutions
We have discussed the merits of digitally transforming the employee training process. But how should an organization promising to do so walk the talk? Here are some ideas:
Building Training Within the Workflow:

Create non-disruptive learning solutions that approach training as performance support instead of instruction. Leverage various mediums like knowledge sharing sessions, discussion boards, and emails to deliver the learning in a more approachable format.

Microlearning:

Break down training into smaller, easily digestible chunks of information.

Microlearning

involves focusing on one learning objective at a time and promises better retention. Using methods like spaced repetition, short quizzes, and FAQs, learners can take in new information without feeling overwhelmed.

Offer Customization:

Offering

personalized learning

options means putting the learner in the driver's seat, and putting them in charge of their own learning. From customized learning paths to their preferred medium of instruction, all elements of personalization help build on the learners' strengths.

Make it Mobile:

As we discussed before, offering mobile learning solutions adds a greater level of flexibility to existing employee training solutions. Employees can learn on the go, from their desks, or from their homes. Mobile training also makes it possible to leverage microlearning more efficiently.

Encourage Collaboration:

Social learning

allows employees to come together and share valuable on-the-job experience in a way that can't be taught in a classroom setting. By leveraging discussion forums, learners can discuss ideas, share insights, and ask questions, which goes a long way in creating effective learning environments.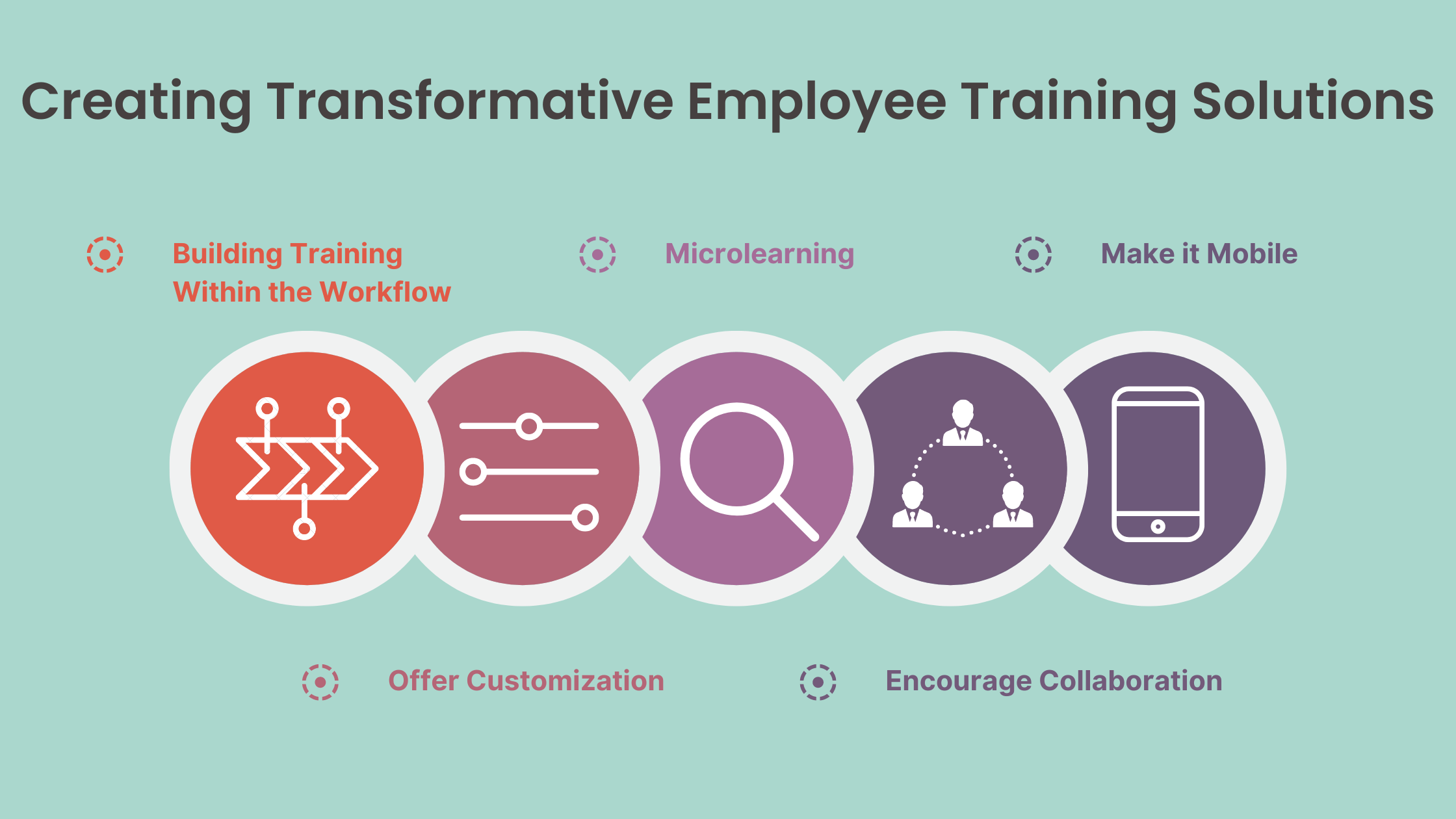 Edly's Employee Training Solutions
The global digital transformation market is projected to grow to $2.8 trillion by 2025. This points to the inevitability of a transformation in employee training programs that organizations have in place. With a better equipped and more thoughtful approach to training, companies can expect better performance, lesser turnover, and much more skilled employees at hand. By creating personalized and collaborative training opportunities within the workflow, organizations can get ahead in their digital transformation plans with a well-equipped workforce.
Edly's workplace learning tools are built for the workforce of the future. Our best-in-class workplace LMS promises security, flexibility, and most importantly, customizability, to match the needs of your organization. With extensive reporting options and course authoring tools, our workplace learning solutions can help you digitally transform your organization. For more information on our employee training solutions, don't hesitate to get in touch!