The global learning landscape has changed dramatically in the last couple of years. The way people used to learn has changed completely and has shown the world that learning online is also feasible and more efficient. eLearning is not a new phenomenon but the need to adopt it has become a necessity for most organizations. eLearning businesses in 2023 will see massive growth. Wondering why? 
Let's explore all the reasons for starting an eLearning business in 2023, starting with the basics.
What is an eLearning Business?
Before finding out the 'why', let's explore the 'what'. eLearning is the delivery of education through digital resources. It provides you the comfort of learning from anywhere and anytime, enabling you to achieve beyond contemporary learning boundaries. An eLearning business provides a platform for both trainers and learners to communicate online.
Why start an eLearning Business?
Starting your own eLearning business can be challenging but it is worth it. Firstly, eLearning businesses are highly profitable and have a lot of potential to grow in the coming years. It is a more convenient and flexible mode of learning; hence attracting the tech-savvy youth. eLearning is limitless and it offers a vast number of features that the world has not seen before. 
Want to build a groundbreaking eLearning platform?
Get in touch with us and learn how we can help you achieve your goals and objectives.
Importance of eLearning Businesses in 2023?
The importance of eLearning businesses in 2023 has increased more than ever. Let's take a look at some of the reasons why: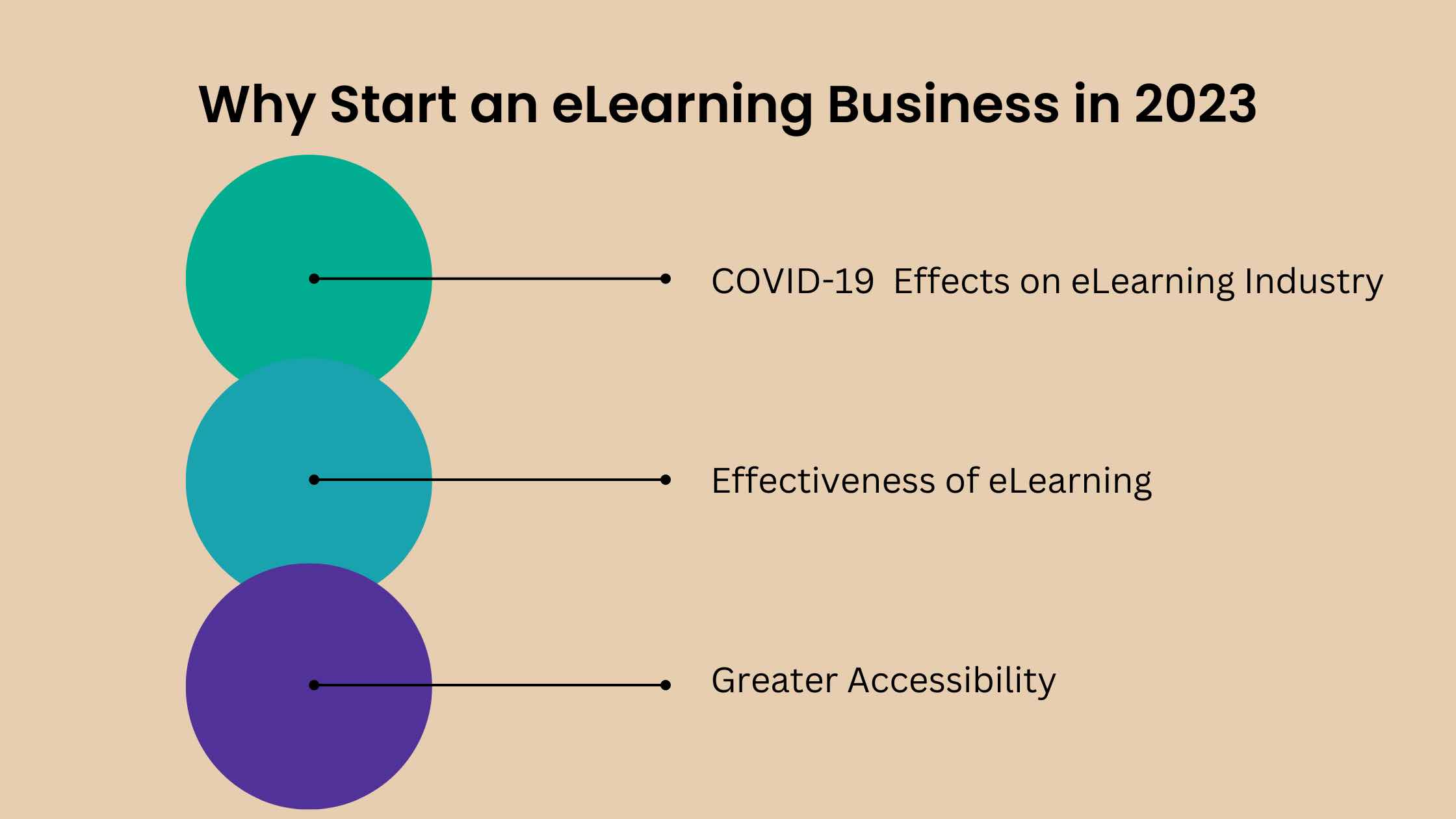 a. COVID-19 Pandemic and eLearning Industry
Ever since the start of the pandemic in December 2019, the way of life has been transformed in many ways. The educational sector is also amongst the ones that have seen radical changes. For decades, we have witnessed classroom education worldwide despite unimaginable transformations in technology. However, the circumstances created by Covid-19 changed this, and classroom education no longer remained the norm.
No doubt, technology in education was flourishing simultaneously with a physical form of learning in most parts of the world. However, it was the very first time in modern history that the entire educational sector worldwide faced a lockdown. The lockdown propelled the educational sector towards online learning and expanded the potential of eLearning not just in first-world countries but also in developing countries facing significant impediments in the ed-tech sector. 
eLearning was always the future but COVID-19 sped up the process and provided an opportunity to prove that eLearning is widely applicable, more convenient, and significantly cheaper. 63% of the university leaders predicted that top universities will have 100% of courses online by 2030.
b. eLearning is more effective
eLearning has proved itself as a better alternative to classroom learning. A study revealed that eLearning programs take 40-60% less time than traditional classroom learning. 
Traditional education in classrooms is more time-consuming and more costly along with its known limitations. However, eLearning is more engaging and efficient; research by IBM Group found that their employees were learning 4-5% times more from an eLearning program compared to classroom education. 
eLearning increases the retention rates of learners by 25% – 60% compared to an 8-10% increase in face-to-face learning. The reason behind the difference is the convenience of learning with a flexible schedule that provides a less stressful environment for students. Moreover, the cost of buying books and notebooks is also absent in eLearning contributing to lesser use of paper; hence, eLearning is environmentally friendly as well.
c. More Accessibility
Another reason that would convince you to start your eLearning business is the accessibility of online learning. A learner can start learning online from anywhere, anytime, and in any language. eLearning surpasses geographical boundaries, language barriers, and cultural restrictions.
A learner needs an internet connection to access thousands of platforms and millions of courses online from any device. One of the biggest hurdles in most parts of the world is the lack of qualified instructors to teach a large number of students. This challenge can also be overcome by eLearning where millions of students can access a single course made by an instructor thousands of miles away.
How to Set Your eLearning Business Up for Success?
Knowing the reasons for starting an eLearning business is not enough. You must know how to be successful as you are not the only one who is out there. The good news is that millions of learners can become your potential users. All you need to do is differentiate your content and provide value to the learners. We have shortlisted some of the latest trends that you can explore to make your eLearning business successful: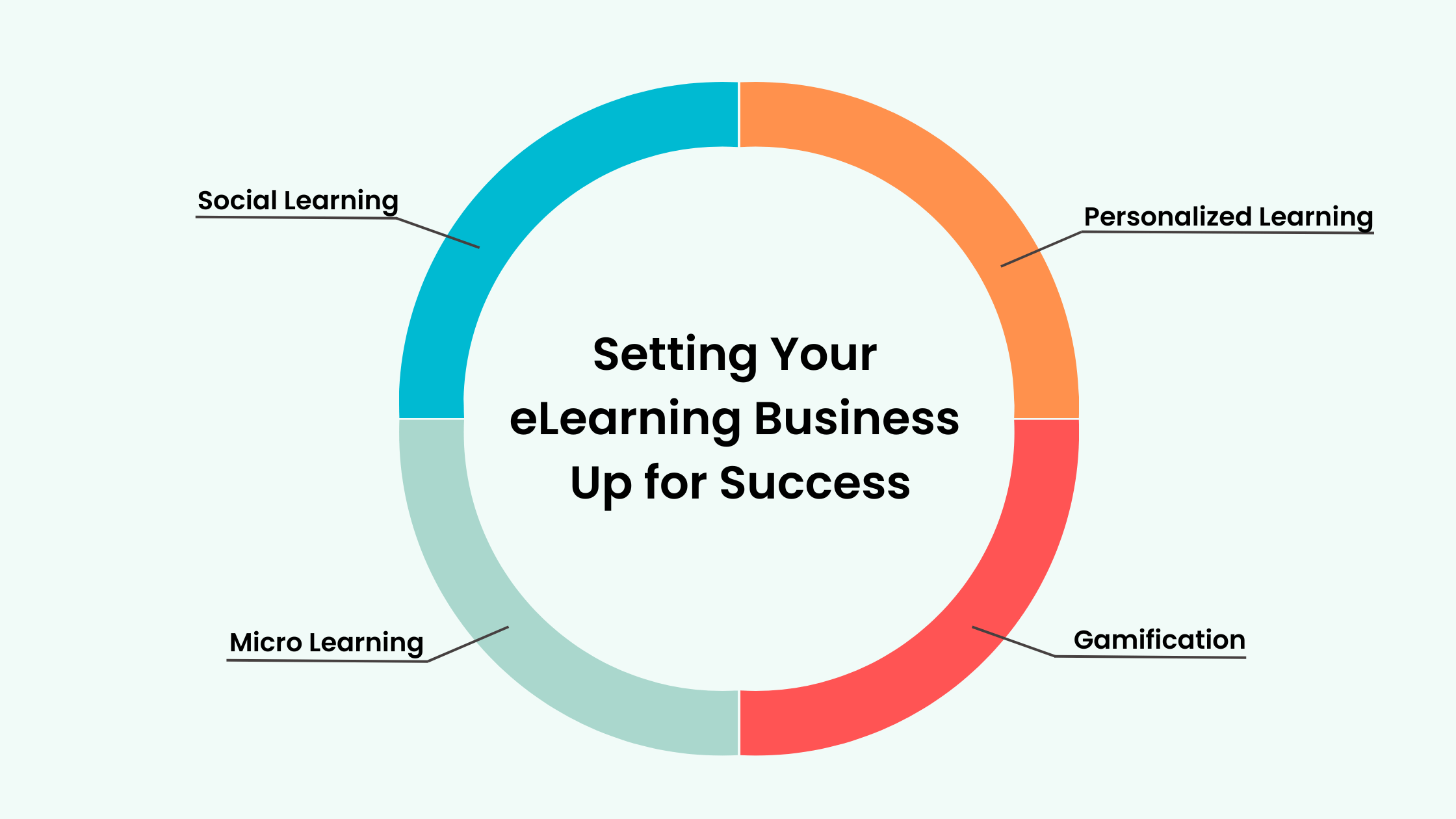 a. Social Learning
The more human interaction, the more satisfaction of the learners at your eLearning platform. Courses are available on thousands of websites but you can stand out by providing one-to-one sessions for learners and instructors. Live chat rooms and discussion forums are also among the tools that you can provide your users. 
b. Micro-Learning
The retention rates of the learners are not as high as you expect. You can include infographics, polls, and quiz questions between the course content to avoid the overflow of information. The end goal should be to ensure that your learners are gaining knowledge and skills from your platform.
c. Personalized Learning
Provide as much flexibility and convenience as possible to your learners. Learners are more productive when they are given the option to learn at their own pace and time. Features such as skipping a topic release pressure on learners and they grasp more knowledge.
d. Gamification
You can introduce rewards for learners for completing a number of courses. A leaderboard showing the rankings of learners can also encourage and motivate the learners to do well. It is also a great way to retain learners on your platform ultimately making your eLearning platform successful.
eLearning is a great way to upskill strengths and learn new skills to help your learners progress in their careers and get better job opportunities. If you are interested in knowing about eLearning business models, read our blog: 3 Types of eLearning Business Models.
You can turn your eLearning business dream into a reality with Edly. We, at Edly, have helped numerous organizations achieve their online education goals through our cutting-edge eLearning solutions. Get in touch with us to set up your eLearning business in a hassle-free way.