The constant evolution of eLearning means that those in the industry need to stay on top of the latest trends, models, and technologies in order to provide the most advanced learning experience possible. The latest focus on instructional design is a good example of this. 
With so many new ways to present and impart knowledge, organizations must pick and choose what model helps them achieve their end goals. To address this, one of the simplest and most effective models worth considering is Thiagi's four-door instructional design model.
In order to counter the passivity of online learning at the time, Dr. Sivasailam "Thiagi" Thiagarajan came up with the four-door instructional design model. The idea is for learning to be designed keeping the end deliverables in mind. Another goal is to encourage learners to take charge of their own learning. The four-door model allows flexible and well-thought-out online courses to be designed in a cost-effective manner without the need for instructional design experts. 
Without further ado, let's explore the four-door instructional design model and analyze the benefits that Thiagi offers!
The Model Explained
The instructional design model is divided into four sections that Thiagi has likened to rooms, all interconnected to each other with four doors. Learners can access these doors in no particular order, based on their learning preferences.
Library
The first door we'll discuss is the library. This would be a repository of all the information needed to fulfill the learning objectives of the course and complete the final assessment successfully. The library could contain content in a variety of formats such as books, PDFs, videos, podcasts, checklists, slides and much more. 
The content in the library is labeled as optional or essential. Essential items are strongly recommended though there is no compulsion to go through all the learning materials. Following the principles of instructional design, users are free to structure this content in any way, be it bite-sized pieces of information or detailed notes. 
Most organizations would already have many learning materials on hand. Any deficiencies in the material can be addressed and then put in an accessible location to create a library where all learners could easily access it. No specific instructional design expertise is required in this case since learners are free to choose whichever material is relevant to them.
Playground
The playground refers to fast-paced and fun games that involve the application of knowledge learned from the library. These games are meant to be interactive and entertaining to keep the learner engaged for a short period of time.
These games could be similar to multiple-choice questions, crosswords, tic-tac-toe, sequencing, and more. Each game is tied to some content in the library and has up to three levels of difficulty. Learners can challenge themselves with any level of difficulty they choose.
These games, or 'frame games' as referred to by Thiagi, are essential components of instructional design and are meant to reinforce learning. The games can be designed by instructional design experts or, more conveniently, game generators or templates can be used to do so in a cost-effective manner. Simply plug your relevant content or training material into a game generator to get started!
Cafe
Moving into the social aspect of the model, the cafe refers to an interactive space where learners can connect with one another. A good instructional design does not isolate learners and aims to expand learning by socializing. Here, students attempt to answer open-ended questions and participate in discussions with their peers and subject matter experts to compare their responses. 
The cafe is a sort of a forum where social learning is encouraged. After answering an open-ended question, students can browse through the answers of other learners and reflect on what they have learned and assimilated so far. Other aspects of the cafe might include wikis, blogs, or online message boards. 
While you may integrate or link out to an external discussion tool in your courses, in Edly's LMS, discussion forums and wikis are available out-of-the-box to support the Cafe model.
Evaluation Centre
Finally, Thiagi's instructional design model includes a final assessment where the learner's knowledge is rigorously tested. Unlike the playground where students test themselves with fun, quiz-like components, here the assessment is much more detailed and based on real-life scenarios.
The idea is to see if the learner has incorporated the end goals and deliverables that were set out in the beginning of the course. Although an instructional designer actually designs this component first, it is up to the user to determine when they attempt this assessment. The assignment mimics job-based scenarios that would involve concepts learned over the course of the class.
Why Use the Four-Door Instructional Design Model?
It's important to evaluate the merits of adopting a certain instructional design approach. Here are some benefits of using the four-door design model.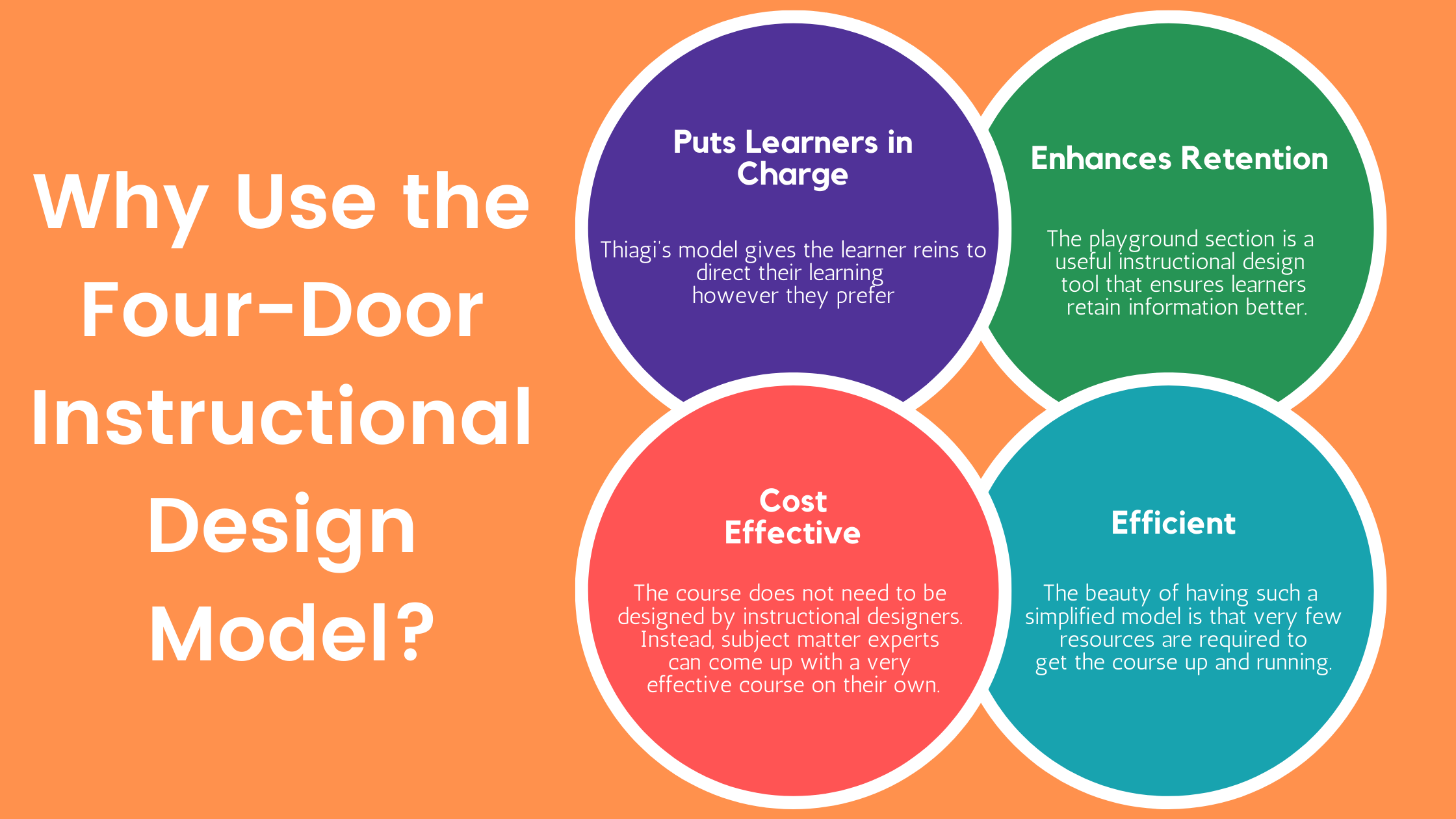 Puts Learners in Charge
As mentioned before, Thiagi's model gives the learner reins to direct their learning however they prefer. A more traditional learner might go through each door in the same sequence as described above. Other more adventurous learners may decide, for example, to check the evaluation center first to see what they're up against and then go through the library accordingly. In any case, the freedom to learn as they please goes a long way in motivating online learning students.
Enhances Retention
The playground section is a useful instructional design tool that ensures learners retain information better. Using short, interactive games ensures that the knowledge being taken in is reinforced without overwhelming the student. With the help of a gamified learning environment, course authors can make sure that they make full use of the playground in the four-door approach.
Cost-Effective
This particular instructional design model makes use of all the existing resources an organization may have. Course authors usually have sufficient resources as a starting point and these resources can be utilized in the library section of the model. On top of that, the course does not need to be designed by instructional designers. Instead, subject matter experts can come up with a very effective course on their own.
Efficient
In addition to being cost-effective, the four-door instructional design model is also fairly efficient. No detailed course structuring needs to be taken care of. The beauty of having such a simplified model is that very few resources are required to get the course up and running. No instructional design experts need to be hired. As such, organizations can save capital and ensure good quality training at the same time.
What's Next?
The principles of instructional design have the power to turn a rudimentary learning environment into an exciting venture. With Thiagi's model, this is especially true since the four doors are not set up in any particular order. Depending on the type of learner, users are free to peruse each section at their own leisure as long as the end goals are being met. The model can appear to be a challenge to navigate without some form of guidance, and to that end, it is important to plan ahead to address these possible concerns.  
Discover Instructional Design Solutions at Edly
No matter what type of instructional design model you prefer, having an expert on hand goes a long way. This is where we come in. Discover Edly's instructional design solution, committed to creating eLearning experiences that are immersive and motivating to its audience. To learn more about the services we offer, get in touch with us today or even request a free demo!