We live in a world today where it is impossible to imagine life without the convenience of online learning. Our growing dependence on online learning solutions has only been exacerbated by the recent global pandemic. Learning Management Systems have been instrumental in making eLearning possible. As a result, we've seen corporations, universities, and individuals all around the world adopt Learning Management Systems in their everyday life. 
With such popularity, LMS platforms must provide the best possible tools to ensure that the learning experience does not fall short in any aspect when compared to traditional classroom learning. One of the more challenging aspects to adopt in eLearning is the implementation of online assessments and exams. 
Conducting online exams safely requires institutions to take several factors into consideration. How do institutions prevent academic dishonesty, given that their learners are remote? What can be done to identify students using unfair means? Is it possible to lose sensitive assessment data due to a security breach? Addressing these questions is the key to creating a secure online assessment tool.
Fortunately, many LMS platforms can be configured to incorporate the latest security features out there. Let's have a look at the ways in which organizations can ensure that their online exams are secure.
Integrate Exam Proctoring Software
Proctoring allows invigilators to conduct online assessments remotely, without the need to be physically present at the test site. Proctoring employs a number of ways to keep track of the student's progress such as image or audio capturing and screen recording. The students must give consent to having their devices monitored before starting the exam.
By integrating proctoring software within a Learning Management System, the entire process of invigilation becomes seamless. Instructors can create exams within the LMS as usual, and they don't need to be made compatible with any third-party proctoring applications. Students, too, can access their exams within the Learning Management System and perform without worrying about getting acquainted with new proctoring software.
Additionally, instructors can access previous proctoring data of a particular student or course, and track the number of test-takers. The exam reports are also available within the Learning Management System. On top of that, no additional logins are required by the admin or the students. 
Admins can employ different modes of proctoring depending on the nature of the exam: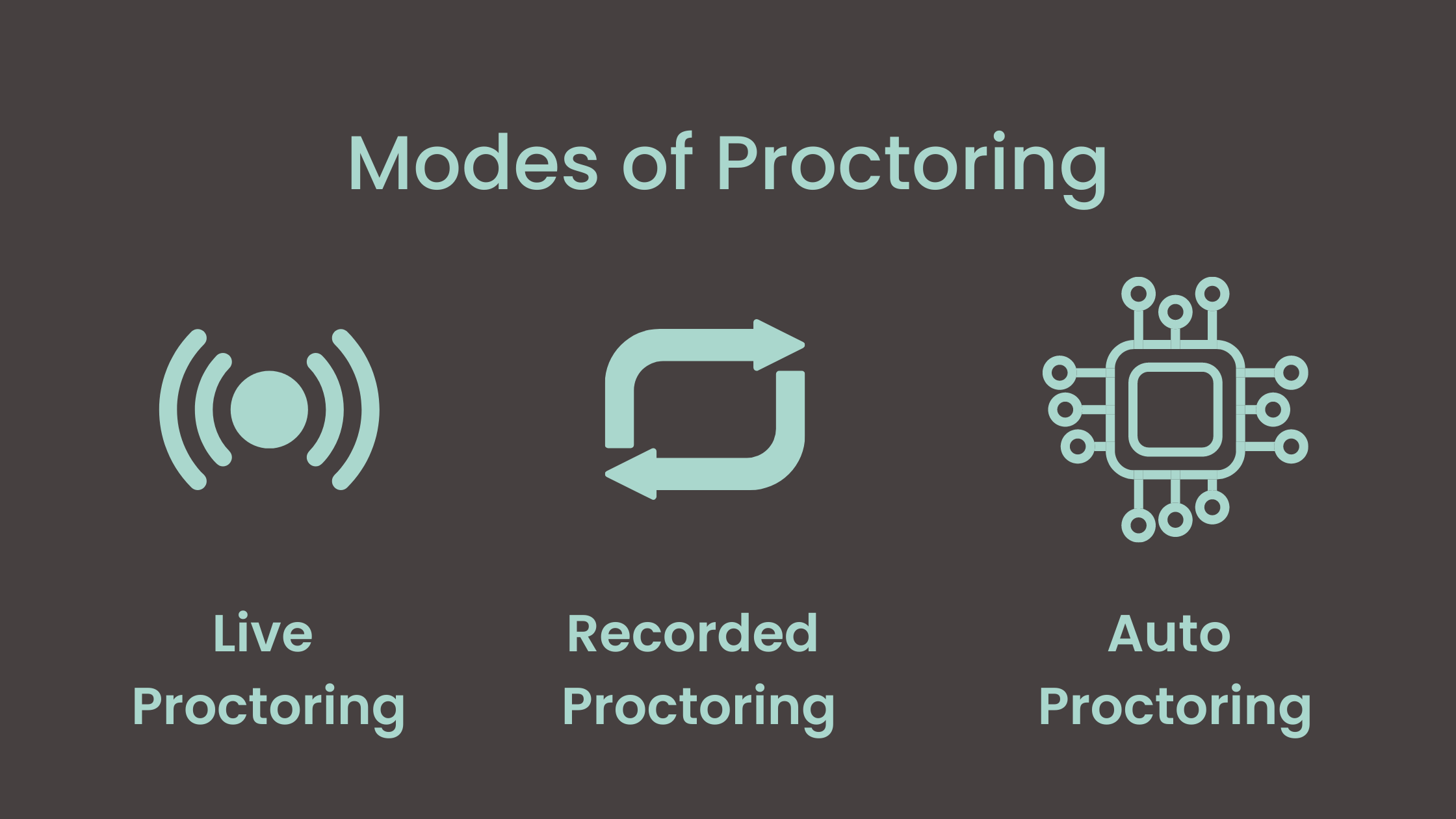 Live Proctoring
Mirroring physical exam invigilation, live proctoring involves an instructor being available online to monitor students in real-time. Multiple students can be proctored at the same time using a live video and audio feed. A chatbox can also be used by the students and the instructor to exchange messages, for example, to warn a student of behaving in a suspicious manner. 
Recorded Proctoring
In recorded proctoring, students appear in their exams via their Learning Management System, while an audio and video recording of their attempt is made. The instructor can access these recordings later, at their leisure. This removes the constraint of the invigilator being physically available at the same time as the student. This kind of arrangement is suitable when students live in different time zones from the instructor.
Auto Proctoring
Predictive analysis and Artificial Intelligence (AI) have expanded the capabilities of Learning Management Systems beyond our expectations. Leveraging AI, auto proctoring studies student behavior, and flags concerning mannerisms or actions a student may be doing. No direct instructor input is required unless there are serious concerns raised by the AI. 
In addition to going through the live feed, auto proctoring also takes images of the test taker at various intervals to detect impersonation. The audio is also monitored to check for any disruptive noise in the surroundings. A successful application of auto proctoring can be observed at Florida State College.

Apply Advanced Encryption Standards
If an institution uses third-party examination software, it is important to ensure data security when transferring data between the software and the Learning Management System. LMS platforms contain important assessment data such as student scores, question banks, solutions, and more. By employing advanced standards, institutions can prevent unauthorized access to this data. 
High-level encryption algorithms can be used when the LMS platform communicates with the examination software. Only certain authorized personnel, such as the admin or instructors, can decode these algorithms. This adds a layer of confidentiality to the data and leaves behind no vulnerabilities.
Secure the Browser
Integrating a secure browser application with the Learning Management System takes online exam security one step further. A secure browser app ensures that test-takers are limited to a single browser window throughout the duration of an exam. If a student attempts to open another window, they receive a warning. After a fixed number of warnings, if a student continues to exhibit suspicious behavior, the exam is suspended. 
Additionally, while an assessment is in progress, the secure browser prevents users from taking screenshots, screen recordings, or using certain keyboard shortcuts. These features ensure that students don't use any unauthorized online resources while attempting the exam. The application can be directly integrated into the Learning Management System with ease, without any need for technical expertise.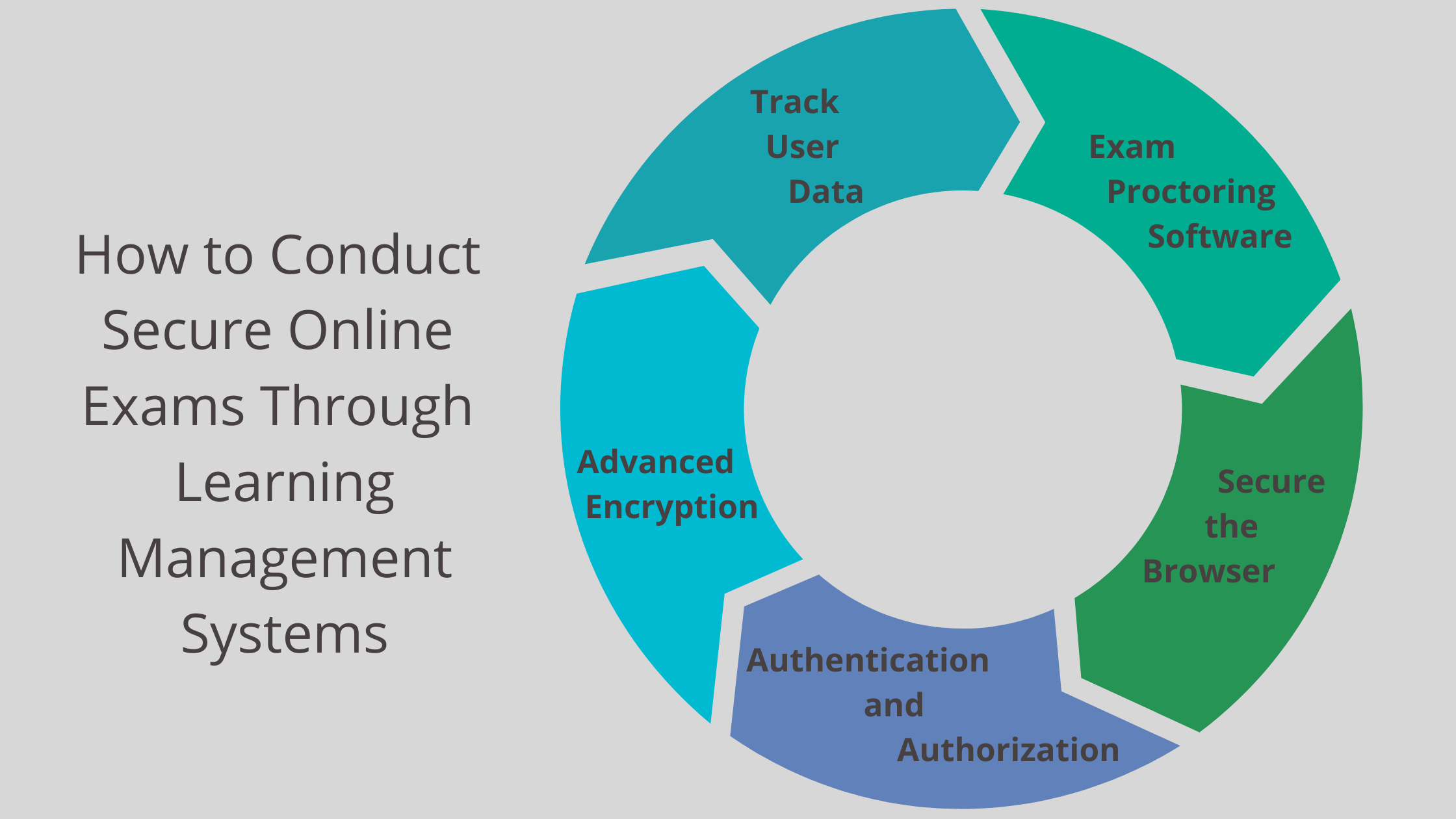 Keep Track of User Data
With the help of advanced reporting tools within a Learning Management System, admins can keep an eye on student activity and check if it aligns with their exam schedules. Data such as login, logout, as well as start and end of an exam are recorded within the platform. Learning Management Systems with advanced exam tools may also record detailed insights, such as time logs, exam section navigation, and geotags. These insights can be very helpful in identifying cases where students may have been dishonest.
Ensure Authentication and Authorization
Another step that can be taken to ensure the security of online exams is to ensure that all parties accessing exam data are authenticated and are authorized to do so. On top of basic login authentication, adding authentication based on IP addresses takes the security up a notch. In this way, only users with certain IP addresses can access question banks, exam attempts, and score reports, thereby eliminating the possibility of an unauthorized party obtaining the data.
Create a Seamless Learning Environment with Edly?
Edly's LMS is trusted by the world's most prestigious institutions including MIT and UCSD. Start your LMS journey with Edly today.
Edly: Your LMS Expert
From auto proctoring to secure browser integrations, there are a lot of options to choose from in order to ensure that institutions conduct secure online exams. Coupling them with advanced encryption standards and efficient reporting tools can make sure that the assessments are even more secure than they would be in a traditional classroom setting. 
Knowing this, it is essential that organizations choose the right Learning Management System, which is easily integrable with all the features we mentioned above. Edly LMS provides organizations with advanced features, made specifically to benefit the end-user. Easily integrable, secure, mobile, and accessible, our platform is well-equipped to handle all kinds of assessment needs. For more information about our product and services, feel free to contact us and request a free demo!