Modern eLearning solutions depend on a variety of tools and applications, with new and improved versions emerging every day. It can be difficult to keep up with all these changes but even if you manage to do so, integrating them with your online learning platform can be a serious challenge. 
For Learning Management Systems to recognize online learning content and tools, the latter may need to be SCORM-compliant. SCORM is a set of technical standards for eLearning software. 
However, not all learning content and tools are SCORM-based. For example, you may want to use platforms like Zoom or TurnItIn.com within your Learning Management System. This means that integrating them into an LMS can be an issue. Yet, you may feel the need to use some of these tools. Fortunately, there is a way to do just that. This is where LTI comes in!
What is LTI?
The Learning Tool Interoperability (LTI) standard was first introduced by the 1EdTech Consortium (formerly IMS) in 2010 as a means to integrate different learning tools or courseware with an LMS. Using this standard, learners can switch between different tools more seamlessly, without the hassle of redeveloping non-SCORM compliant tools. 
In simpler terms, LTI widens the possibility for an LMS to integrate a greater variety of tools, be it assessment software, analytics tools, or even mobile-friendly applications. The possibilities are endless.
The latest version, LTI Advantage, was introduced in 2018. LTI Advantage incorporates newer features and services that can make integration even more secure and user-friendly. The three services it offers are:
Names and Role Provisioning Services:

Automated enrollment in third-party tools with frequent reports on learner activity

Deep Linking:

Easy and intuitive access to external tools

Assignment and Grade Services:

Keep learner scores and grades dynamically updated

Benefits of Using LTI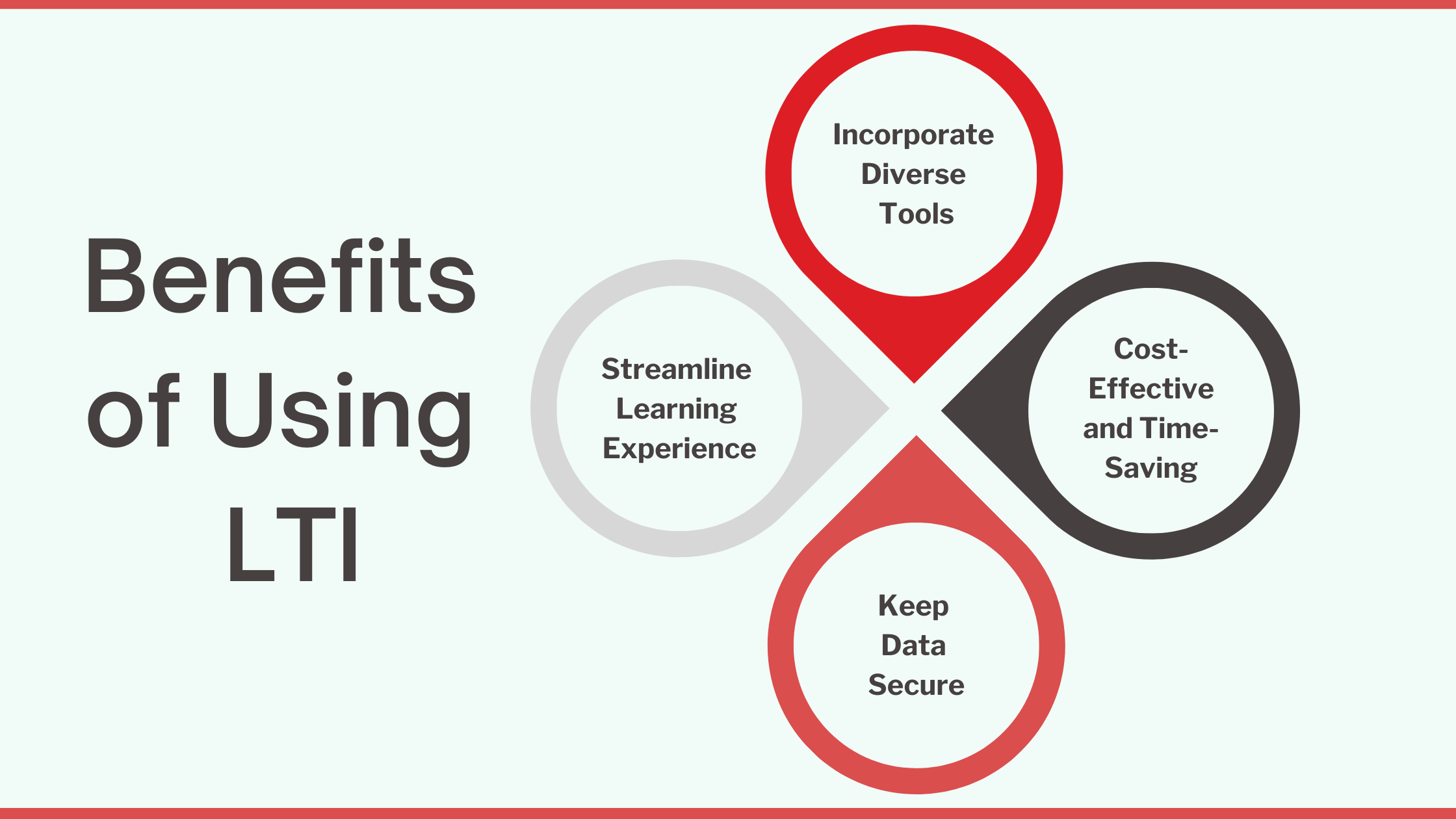 Streamlines the Learning Experience
A major benefit of using LTI is the convenience it lends to students. The Single Sign On (SSO) feature allows users to enter their login credentials only once, even if they switch to a different tool. This saves them from the hassle of multiple logins. 
LTI also streamlines the experience for instructors by automatic transfer and update of data from third-party integrations. For example, assignment scores and grades can be automatically updated in the LMS, even if the scores were being compiled in another tool. This saves instructors from significant manual labor.
Diverse Tools Made Accessible
Thanks to LTI, eLearning platforms can integrate with a wide range of third-party tools that were otherwise inaccessible. This helps organizations keep their LMS platform updated with diverse tools and content, even if the LMS itself is not equipped with the latest features. Perhaps the best example of this is the integration of remote learning tools when the pandemic first started. 
Cost-Effective and Time-Saving
As a robust means of making an LMS compatible with different applications, LTI is both time and cost-effective. Instead of spending resources trying to make different tools compatible with your LMS, LTI offers a pretty straightforward alternative. It also means that institutions spend fewer resources upgrading their LMS platform to incorporate newer built-in features when they can be integrated with third-party tools instead.
Data Security
Data security is a big concern in recent times. For a service that deals explicitly with transferring data between two platforms, LTI leverages the best industry practices when it comes to user security. LTI enables direct data transfer between platforms. The latest version, LTI Advantage, provides an even more secure channel to transmit user information.
Create a Seamless Learning Environment with Edly?
Edly's LMS is trusted by the world's most prestigious institutions including MIT and UCSD. Start your LMS journey with Edly today.
Final Thoughts
LTI helps simplify third-party integrations and significantly eliminates barriers when it comes to the interoperability of different software. With LTI, learners and instructors can leverage a diverse range of tools that can aid their learning and teaching efforts. Most importantly, it makes the act of switching between different tools seamless.
The LTI component in Open edX allows you to integrate third-party tools and applications. If you're looking to make your Open edX-powered Learning Management System more diverse, you've come to the right place. Edly can help build custom solutions into your platform customized to your needs. Get in touch with us today to request a free demo!