In the past few years, we have seen an increasing number of edTech tools and technology get incorporated into the classroom. This is a direct consequence of the increased popularity of online learning. Whether it's online-only or blended classrooms, these tools have helped streamline lessons and create more meaningful learning opportunities across the board. 
Given their demand, newer and more advanced edTech tools have started to hit the market at an unprecedented rate. All these tools aim to enhance online learning, both for teachers and students. Some aim to make lesson planning easier, while others encourage team-based learning, problem-solving, or mindfulness, to name a few. 
With so many options to choose from, educators are often left feeling confused. Which apps and websites are worth exploring? And which ones are over-hyped? While personal experience is a good way to figure that out, we have come up with a better approach.
Let's take a look at some of the hottest edTech tools of this year that are absolutely worth incorporating into your classroom!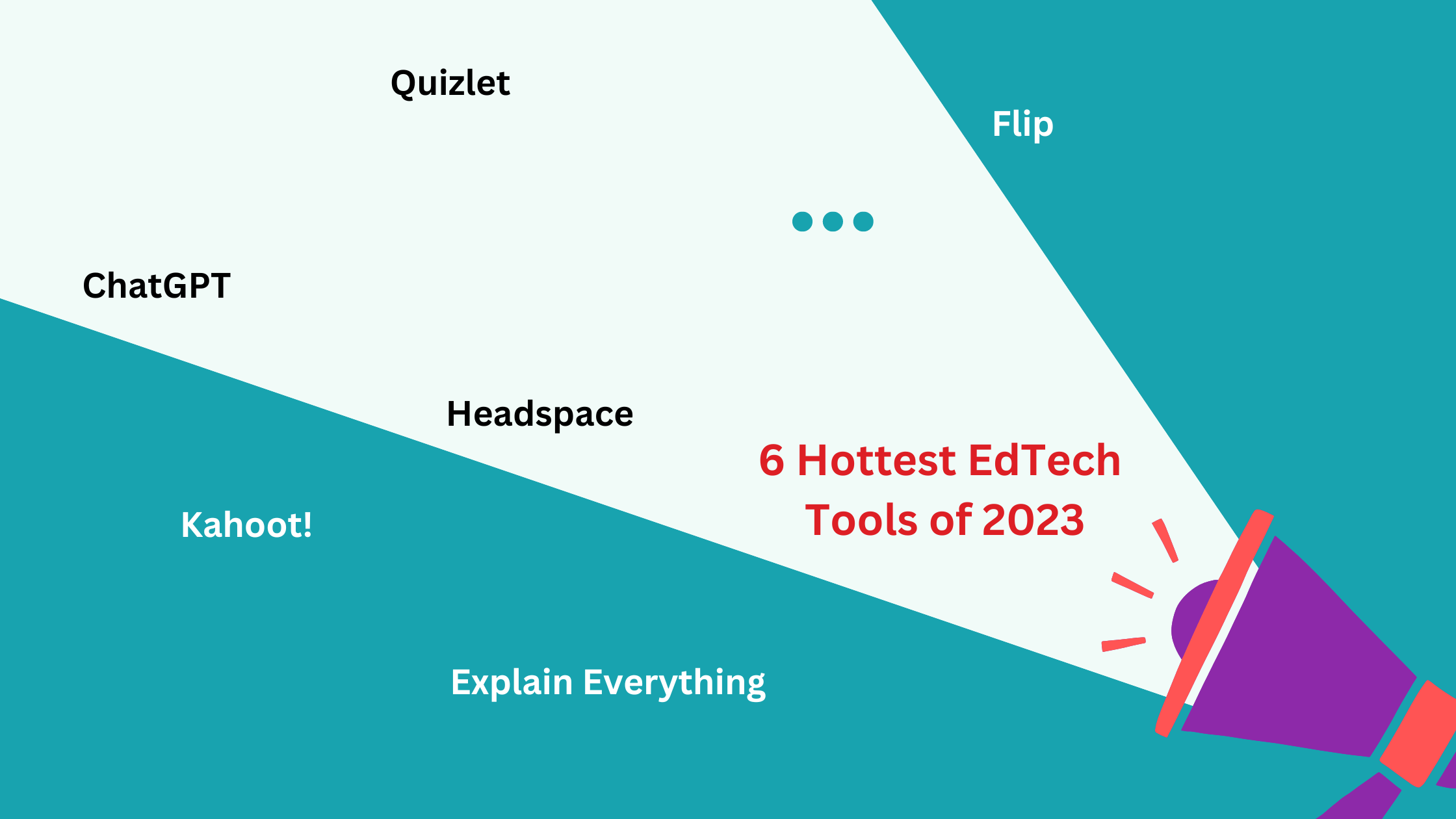 ChatGPT
Ever since its release in November 2022, ChatGPT has become the talk of the town. The technology has sparked quite the debate on the role of AI in education, and the consequences of having this tool available to students. 
While some critics argue that uninhibited access to ChatGPT would result in increased plagiarism, others argue that when used correctly, AI tools can create more meaningful learning opportunities for students. Students can access a wealth of information in response to specific prompts, and look up reference materials, historical data, and sample responses. While AI makes it easier for students to get their hands on information, it certainly doesn't do the learning for them.
For the teachers, ChatGPT can help plan lessons, access all sorts of resources, answer questions, create quizzes, and even help brainstorm class activities. No matter how advanced AI technology gets, it still needs human intervention to discern useful content and apply it. Having said that, the technology definitely has the potential to transform the way we approach learning today.
Kahoot!
Kahoot! Is another one of the popular edTech tools and has been around since 2013. Kahoot! is a game-based learning platform that can help discover, create, play, and share learning games easily. This free and easy-to-use platform can help users get started in a matter of minutes. Attracting students and educators alike, this platform allows users to share these games to create meaningful social learning experiences. 
Students can access quizzes organized by topic and complete their learning objectives in a proactive manner. Kahoot also plays a big role in making assessments for distance learners easier to take. The gamified learning experience helps motivate students and encourages retention. Kahoot! Has quickly become one of the most popular tools used in the classroom today.
Quizlet
A popular concern among educators is determining whether their students are really retaining the course material. While quizzes and assignments are a good way to assess this, these assessments are not as frequent and don't often cover all aspects of the course. Not to mention, sitting through long assessments can frustrate or demotivate students. 
Quizlet offers a quick and effective solution to this problem. This edTech tool offers a massive library of practice quizzes, flashcards, and study materials to its users. Students can peruse a carefully curated library of flashcards for over 100 different topics. Going through a deck can help quickly reinforce concepts and boost retention. The app also comes with step-by-step homework solutions.
Teachers can use Quizlet to create flashcards with colorful graphics and diagrams. They can also upload homework solutions for their students. By looking at the student's progress through these materials, instructors can better understand how well the learners are understanding concepts. 

Flip
Many students can find it intimidating to speak up in class, even if it's an online lesson. Flip is a free app from Microsoft that aims to ease students into class participation. Instructors start by creating a group with their students and adding a topic of discussion. Students then respond via video, audio, or short texts, to express their ideas or build on their peer's observations. 
These conversions are interactive and can be asynchronous, meaning that teachers don't have to be available 24/7 to respond. Instead, all users can reflect on their ideas and view others' responses whenever it suits them. The engagement resulting from digital video content is a surefire way to get students to express themselves.
Headspace
The importance of prioritizing mental health in education can not be overstated. Students often struggle to focus in class and often suffer from irregular sleep patterns, anxiety, and depression. Headspace is an important app dedicated to the mental well-being of its users. 
Headspace helps students practice mindfulness and meditation, even when on the go. The app helps students organize their thoughts, take steps for a more restful sleep, and come up with an exercise plan. It integrates music and inspiring stories to help motivate students and focus on the task at hand. 
Want to build a groundbreaking eLearning platform?
Get in touch with us and learn how we can help you achieve your goals and objectives.
Explain Everything
eLearning is all about making the visual experience capture the learners' attention. Explain Everything is a great app that can help teachers do just that. This app allows teachers to create digital whiteboards, complete with colorful graphics, multimedia animations, interactivity, and much more. 
Instructors can create charts, import images, and animations, and organize them in the layout of their choice. They can invite others to collaborate on the boards and also add narration, to create a complete lesson. Explain Everything also allows instructors to compile their boards in a library. Students can view these boards and watch the lessons at their own pace. The app is compatible with many different kinds of devices.
Integrate Edtech Tools With Your LMS
This is not an exhaustive list of useful edTeach tools and applications. There are so many new tools emerging every day and older ones keep getting better. The best way to figure out which tools are particularly useful to your classroom is by focusing on the ones that address some of your biggest pain points.
Once you've narrowed down the necessary tools, the next step is to incorporate them into your Learning Management System. Edly LMS comes with options to incorporate third-party applications and plugins in a hassle-free way. Get in touch with us today to inquire about our services, or try our platform for free!