One of the most prominent challenges instructors face in online learning is having the learners' undivided attention. Being physically removed from the classroom environment and connecting via screens rife with distractions, the lack of engagement often frustrates instructors who spend quite some time painstakingly putting together the perfect lecture. 
There is no single solution to this challenge. Educators around the world have come up with a variety of ways to keep students engaged. Among these is team based learning.
Team based learning serves a dual purpose: engagement and collaboration. According to research by McKinsey & Company, teamwork effectiveness, and developing relationships are some of the foundational skills needed in the future of work. Team Based Learning (TBL) is a great way to prepare learners to thrive in their work environments.
The concept sounds pretty simple but implementing team based learning can be a challenge. In this article, we explain the principles of team based learning and the reasons why you may need it in your classroom. Let's get started!
Want to build a groundbreaking eLearning platform?
Get in touch with us and learn how we can help you achieve your goals and objectives.
The Principles of Team Based Learning
Incorporating TBL in the classroom means dividing learners into small groups that work together for the duration of the course. Students are judged both individually and as a team. The course progresses through the following five stages:
Pre-Class Preparation:

Students are assigned course materials to go through before the start of each module. These preparatory materials could be anything, from notes to slides, readings to videos, and more.
Individual Readiness Assurance Test (iRAT):

Based on the preparatory material provided to them, the learners are challenged with a small assessment of up to 20 MCQs. The idea is to take stock of their ability to retain and apply the content made available to them.
Team Readiness Assurance Test (tRAT):

Students are then assessed as a team for the same test as before. This could be done using specialized software that allows team members to take an assessment together. Both the scores in iRAT and tRAT count towards the final grade. Feedback is provided to the students immediately after this test.
Clarification Session:

What follows is a chance for the team to appeal their scores and clarify responses where they feel like they have a valid argument. This may also include the instructor's participation as a facilitator of the discussion among team members.
Problem-Solving/Lecture:

In the final stage, students can then work in teams to solve more complicated problems that leverage their knowledge and challenges them to arrive at a collective response. Instructors can then use the results from earlier stages to clarify misconceptions or explain certain concepts in detail. This allows any gaps in the student's knowledge to be filled. 
An optional component for peer evaluation can also be incorporated into team based learning. This ensures that learners get informed feedback on their performance as team members.
Benefits of Team Based Learning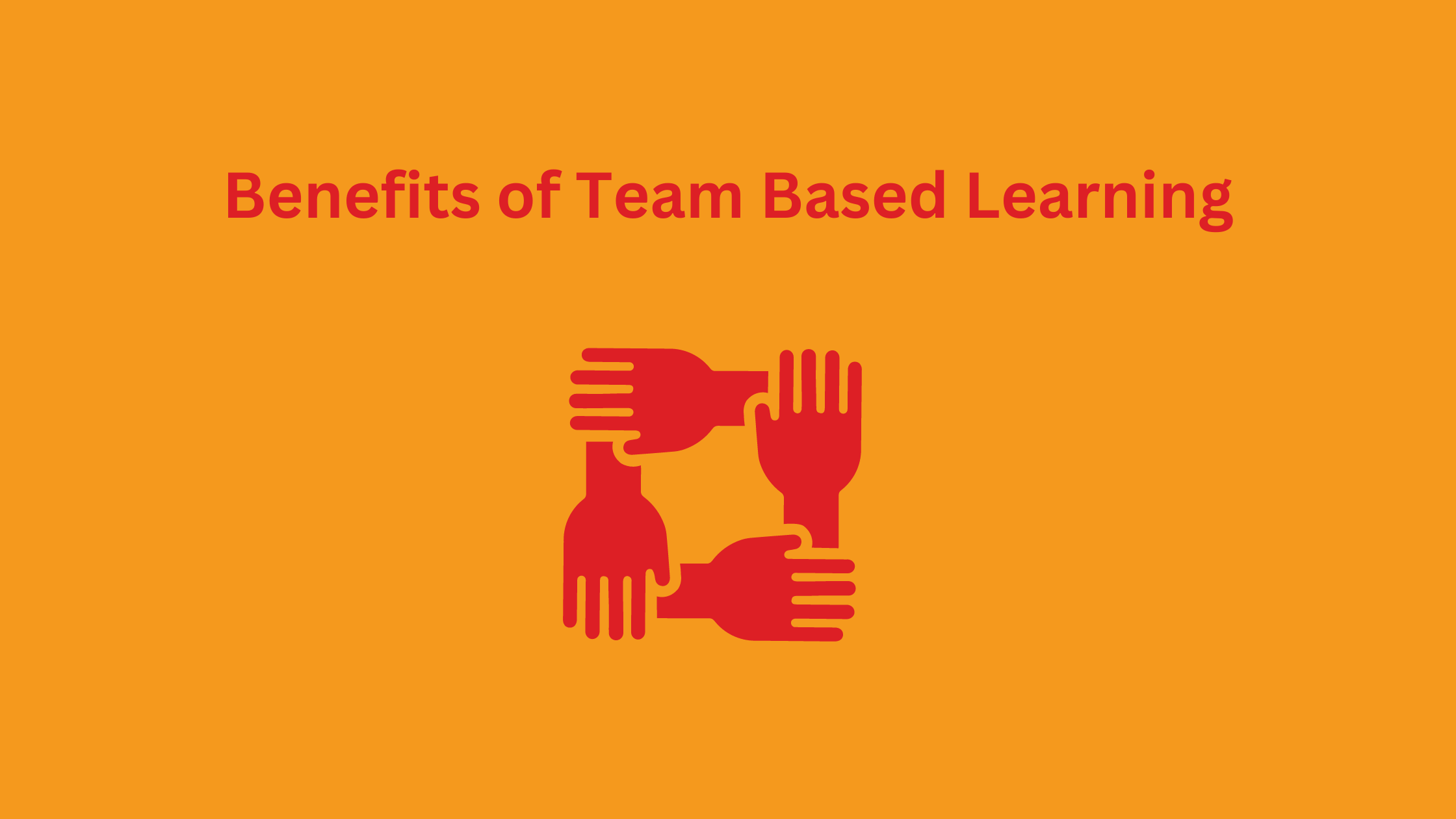 Greater Engagement
Team based learning allows students to engage more with the content. Having to peruse the preparatory material and test for it twice demands quite a lot of attention. The hands-on nature of the tRAT and Clarification component enables active participation by the learners. Additionally, the small group size also means that individuals have a greater sense of accountability, which is a great way to motivate learners and keep them engaged.
Better Retention
Addressing the challenges of online learning, TBL encourages greater retention among students. A big part of that can be attributed to the social learning aspect of TBL. People in general learn most effectively from others and are more likely to recall information relayed to them in a conversation. Working with team members to answer questions in the tRAT stage exposes learners to their own mistakes in the earlier stage and also gives them insight into how others think.

Fosters Collaboration
An important skill that team based learning teaches students is how to collaborate and work as a team. Students are dependent on their team members for their performance, which mimics real workplace situations. Following the tRAT, the evaluation session also needs learners to come together as a team and defend their responses. Added peer evaluations also make sure that students are aware of how their participation impacts others. 
Learner-Driven
When looking at the principles of team based learning, you may have noticed that most of the components require active learner participation and that the instructor acts more as a facilitator. This is a part of the overall shift in eLearning trends emphasizing learner-centered design. Having instructors guide learners as they direct their own learning journey is one of the greatest appeals of TBL.
What's Next?
Team based learning is an effective way to enhance engagement and foster collaboration among your learners. But incorporating it in your online course means making a lot of changes and putting a great deal of trust in your learners. After all, you are creating learning opportunities fit for the future of work. 
Preparing learners for the changing workplace landscape is not easy. This is where we come in. Edly is dedicated to building eLearning solutions around your learners' needs. Find out more about the variety of services we offer or get in touch with us for a free demo!