The combined effect of the internet, search engines, and AI chatbots is that we have more information available to us today than we have ever had. However, navigating this sea of information to get the specific answers you want can be an enormous challenge. This is especially true in education where online learning platforms have made so many resources available that navigating them requires a herculean effort.
One way to organize all this data and present it in a navigable way is via content curation tools. Educators and students can both benefit from a well-organized and coherent learning resource. Content curation provides a reliable, annotated, and rich resource to all students, thereby adding value to the overall learning experience. Additionally, it enables teachers to easily compile and share useful content seamlessly. 
There are many tools available to instructors that can make the job of curating learning materials much easier. Let's take a look at some of them!
Evernote
One of the most popular content curation tools, Evernote, is a must-have for every teacher's arsenal. This application takes note-taking to a whole other level. Instructors can use Evernote to create to-do lists, schedules, and task calendars with the ability to add images, PDFs, and scans in the notes. You can also clip webpages, set up important reminders, and sync your Google calendar with the app.
Perhaps the most convenient feature of Evernote is its flexible search options that can help instructors navigate through all their notes, even the handwritten ones. Additionally, these notes can be shared with others to collaborate and edit, assign tasks to team members, and maintain a knowledge base.
Feedly
Feedly offers the ultimate solution to information overload by allowing its users to get relevant, AI-filtered information from their trusted sources in one place. Users simply add in their favorite sources, and let the application do the rest. As a news aggregator, Feedly sorts through the sources to combine them all in one feed and can filter content based on user preferences.
This tool can significantly cut down the time instructors spend browsing different websites to get their latest information, and instead create a single source that can be shared across teams.
Create a Seamless Learning Environment with Edly?
Get in touch with us and learn how we can help you achieve your goals and objectives.
Scoop.it
Scoop.it is one of the more popular content creation tools available to individuals and businesses alike. This software allows users to gather content from third-party webpages and publications, and present them as a part of a content hub, which can be published or privately shared with others. Any images or content sourced from different websites contain the original link embedded within, making it easier to take a look at the source material. 
The platform also comes with support for many different languages, making it accessible to a global audience. Instructors can use Scoop.it to gather study materials from multiple sources and put them together in an aesthetically pleasing way so that learners can access the material from one place. They can also leave suggestions for the instructors to incorporate relevant content.
Pocket
As a more private curation tool, Pocket helps its users build a personalized library ready to be perused from any type of device. Instead of saving countless bookmarks or sending yourself important links, Pocket helps organize all your useful content and tag them according to relevant categories. These tags can help users access the content saved through its search feature. 
The platform comes with an in-app audio playback to play different articles from your library as audio. Based on the content you save, the app also recommends other materials you may find interesting. Additionally, Pocket can integrate with over 500 different applications, making it extremely convenient for instructors to save useful resources that can help them in the classroom. 
Diigo
Diigo is a curation tool that stands out from the crowd due to its ease of use and features that make content curation simple. Like other content curation tools, Diigo also enables tagging and saving online content in a centralized hub. However, unique features like directly annotating or commenting on webpages, complete with sticky notes and highlights, set the tool apart. These annotations are saved and automatically added to the library.
Using the feature, the software can automatically organize the materials collected but users can customize it as well. Diigo allows for the creation of both a personal library as well as resources that can be shared with others. For educators, Diigo is a handy tool that makes content curation easy without requiring much effort.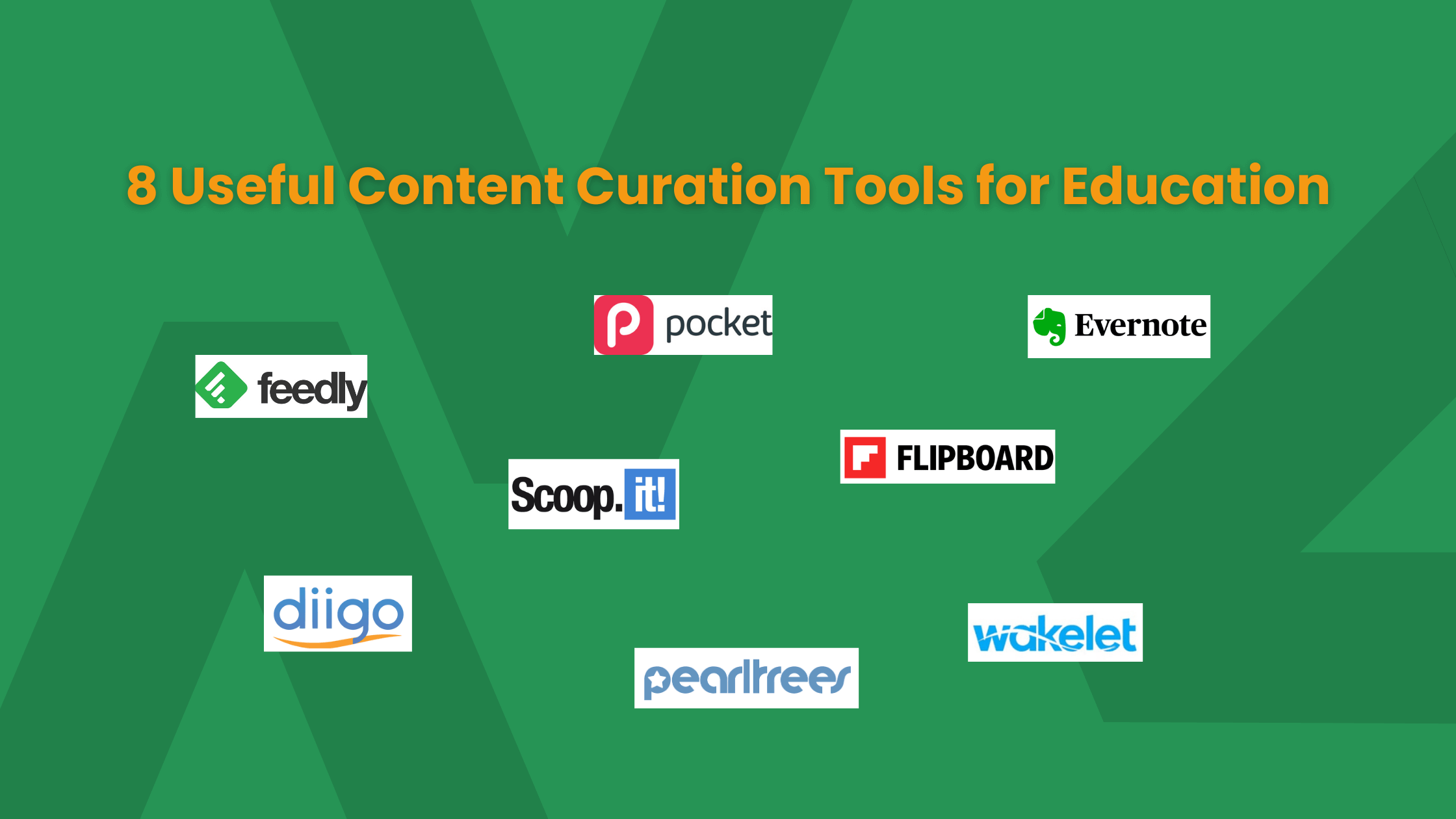 Flipboard
As a bookmarking tool, Flipboard helps instructors save resources like articles, images, and videos in a magazine-style format. With this tool, users can curate a feed with all the relevant content, or browse other feeds in a way that is similar to social media applications. These magazines can be shared with other instructors or students, who can react, comment, or share the resources on their own feeds. Flipboard is easy to use due to its availability as a browser extension, on top of its app.
Pearltrees
Yet another content curation tool, Pearltrees, is a tool used to gather materials in a way that makes all the resources interconnected and linked to each other. The software creates visual, collaborative libraries that lay out the materials in the form of trees, making it a great tool for visual learners. The content can be sourced from anywhere and can include articles, videos, and images. The app is already popular among French schools and is a promising software in Education.
Wakelet
Wakelet is another digital curation tool that has great use cases in education. The app can streamline and organize data from a number of online sources and makes it easy to collaborate and share it. Wakelet allows users to build Collections that can be specific to different topics being covered in the classroom. On top of the usual content, the software allows the addition of PDFs and even Tweets to these Collections.
The tool comes with many different types of layouts, ready to be used. From creating newsletters to digital storytelling or visual assessments, Wakelet can be used in a number of different ways.
Get Started!
Curating content isn't just about gathering all kinds of data and putting it together. The idea is to separate useful data from a vast pool of information and create a resource that adds value to the learning experience. In fact, content curation is more of an art. Skilled educators who develop a good eye for curating the right resources can really make a difference.
It is important that content creation tools work with the online learning platform you have. Having the option to integrate some of these tools in your LMS can create a seamless curation experience. Edly LMS allows the integration of several third-party applications that can help in making course creation a smooth experience. Get in touch with us today for more details or try our platform for free.