Working tirelessly to create a seamless eLearning experience, Edly has recently introduced some new feature updates. Our latest set of updates includes the WordPress plugin Flamingo, H5P, and updates to the Edly Panel. From more detailed reports to new content authoring XBlocks and useful plugins, let's take a look at what's new at Edly!
H5P Content
H5P enables course authors and content creators to create detailed, interactive HTML5 content. With H5P, users can choose from a wide range of content types, such as videos, presentations, collages, and much more. By making content more interactive and visually appealing, course authors can expect their students and learners to be more engaged and invested in their learning. Not to mention, interactivity also boosts retention. 
To bring such high-quality content to our Learning Management System, Edly has enabled the H5P XBlock, allowing course authors to incorporate interactive elements into their courses. Users can simply enable the XBlock in any course by accessing 'Advanced Settings' and adding the keyword "h5pxblock" in the advanced module list. Like other Open edX XBlocks, Edly's H5P XBlock is an Advanced Module acting like a widget, enhancement, or plugin for advanced course content. 

Once enabled through the course's Advanced Settings, users can enable their H5P content by simply navigating to New Unit > Advanced  > H5P content, as shown below:
Once there, course authors can then upload the interactive content type of their choosing by pressing the edit button:

More Detailed Course Reports in Edly Panel
When it comes to Learning Management Systems and quality eLearning platforms, course reports are a way for instructors to monitor their learners' progress, evaluate whether the learning objectives are being met, and even gain better insights into their target audience. 
To that end, Edly has brought more Learner Insights to the analytics hub of its Edly Admin Panel. The new and improved course reports now show greater details about the learners' progress. The 'Graded Course Progress' field shows how far each learner has progressed in the graded assignments for each course. Instead of a percentage-based progress tracker, admins can now see the exact Section, Subsection, and Unit that learners last accessed within their course. A separate field called 'Total Course Progress' shows student progress across both, graded and ungraded components. On top of that, the completion date is also available for each learner. 
Administrators can access the basic reports by navigating through Edly Panel > Edly Insights > Courses > Course name > Download Report and selecting the CSV option
As the report loads, you'll see a "Generating Report" message. After that, simply load your CSV file to access the extended Learner Insights. 

Flamingo WordPress Plugin
From the Edly Admin Panel to the Learner Discovery site, Edly continues its latest enhancements. Keeping track of submitted contact forms has now been made much easier, thanks to the recent introduction of the Flamingo plugin in the WordPress Admin. With this plugin, administrators can view submitted forms, as well as all the data associated with them, including any messages. This way, users do not have to worry about losing important data due to misconfiguration or mail server issues. Admins can simply access their dashboard to view any queries sent to them.  Custom and specialized input fields are also available through this plugin to capture higher-quality information about your learners and other website visitors.  
Once customers enable Flamingo, the plugin can be accessed by going to WordPress Admin > Flamingo > Address Book.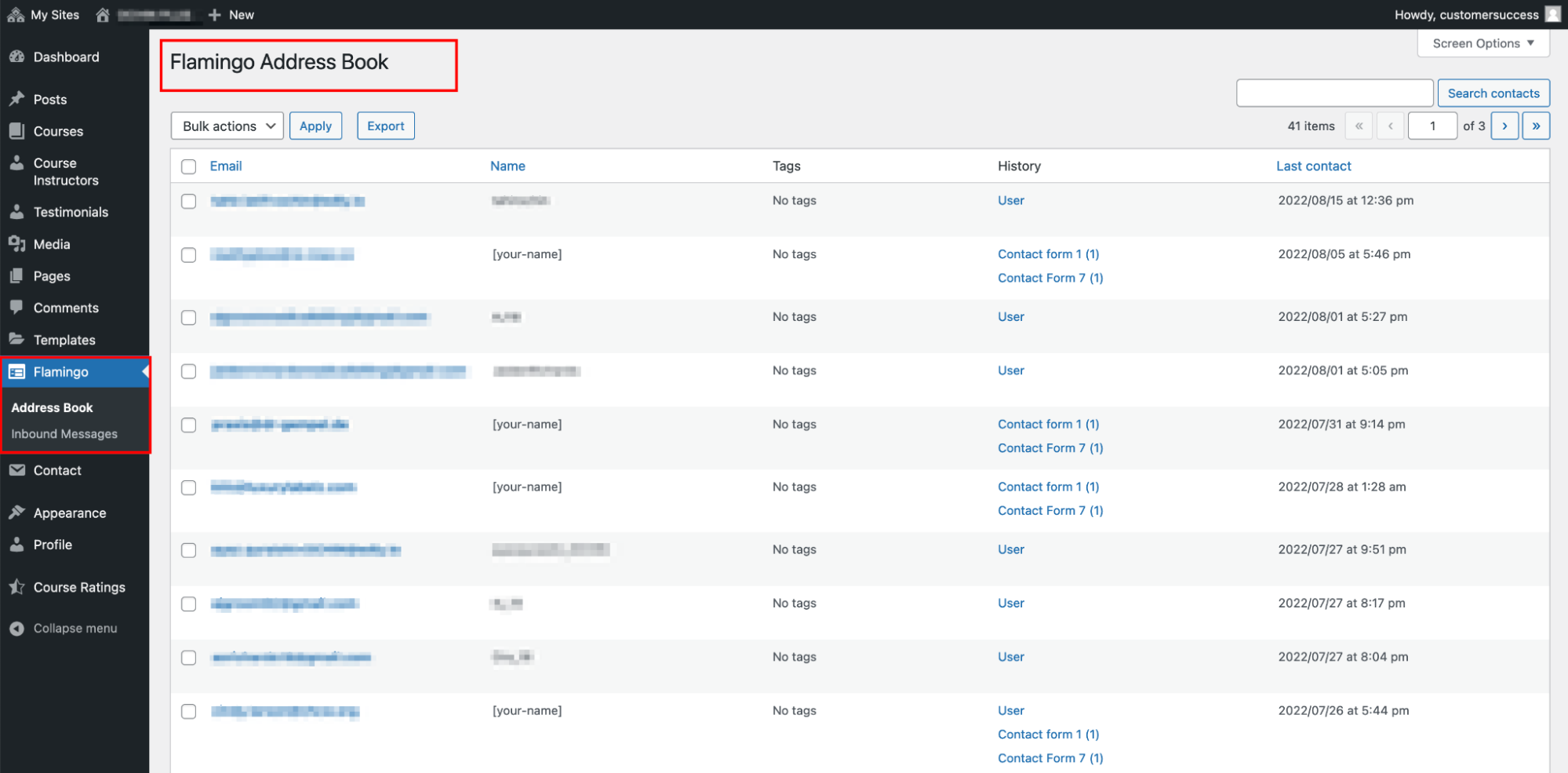 Learn More
All these new features are meant for the convenience of both the learners and the admins. Edly's online learning solutions are built with features that benefit your entire audience. These updates and more like them are always around the corner so keep up to speed with all the new features and updates Edly introduces here.