Imagine this: you've spent a hefty amount of time and money setting up an LMS for your eLearning business. Having high hopes of earning big bucks from it, you launch your new venture. However, a month later, you realize that there are no sign-ups and no learners on your platform.
You wonder why, even though you used the best-in-class technology to build your eLearning platform. 
The answer is painfully simple. While you worked out all the aspects of your platform to deliver the best solution to the masses, you still need to focus on the most important area of setting up a business: marketing and promotion.
Just like all other businesses, running a successful eLearning business requires a well-thought-out marketing strategy that brings the right audience to your online platform and drives the sales process.
Building a marketing strategy may seem to be a daunting task when your hands are already full of other aspects of a freshly baked business. This is where this blog post comes into play.
We have put together a few marketing tips in this post to help you start off in the right direction from day one.
Let's dig in, shall we?
LMS Marketing Tips to Easily Drive Traffic to Your Platform
While there are numerous marketing strategies you can leverage for the success of your eLearning business, we are presenting the tried and tested marketing tips that are surely going to help you grow traffic on your platform.
Build a Customer Profile and Buyer Persona
Target audience identification should be prioritized when devising a business plan as it helps in understanding the demand for your service in the market. The same rule applies to an eLearning business.
By creating customer profiles and buyer personas, you not only get to understand the needs of your target audience at an early stage but also ensure that your product/service is the right fit for your intended audience. 
Furthermore, it becomes easy to move away from the geographies and age groups that don't fall in your intended audience category. Hence, this enables you to make better use of your time and money by directing your marketing efforts to the right audience.
Want to build a groundbreaking eLearning platform?
Get in touch with us and learn how we can help you achieve your goals and objectives.
Shortlist Platforms Frequented by Your Target Audience
It goes without saying that for an online learning platform, one should be exploring online avenues for marketing and branding. There are numerous platforms where you can promote your newly founded eLearning business online. Some of the most widely used platforms include social media channels like Facebook, Instagram, YouTube, Twitter, TikTok, LinkedIn, etc. Other platforms can include search engines like Google and Bing where people go to get answers to their most pressing queries and explore solutions.
As easy as it may sound, it is not possible to be present on all available platforms, devise unique strategies for them, and gain customers for your business. Instead of spending time and effort on several online platforms, shortlist a few of them in the beginning.  
Not sure how you can shortlist platforms? Go back to your customer profile, look at the demographics, and match them with the demographics of the traffic/users of the platforms you want to target. This will help you identify the platforms where your target audience is frequently found.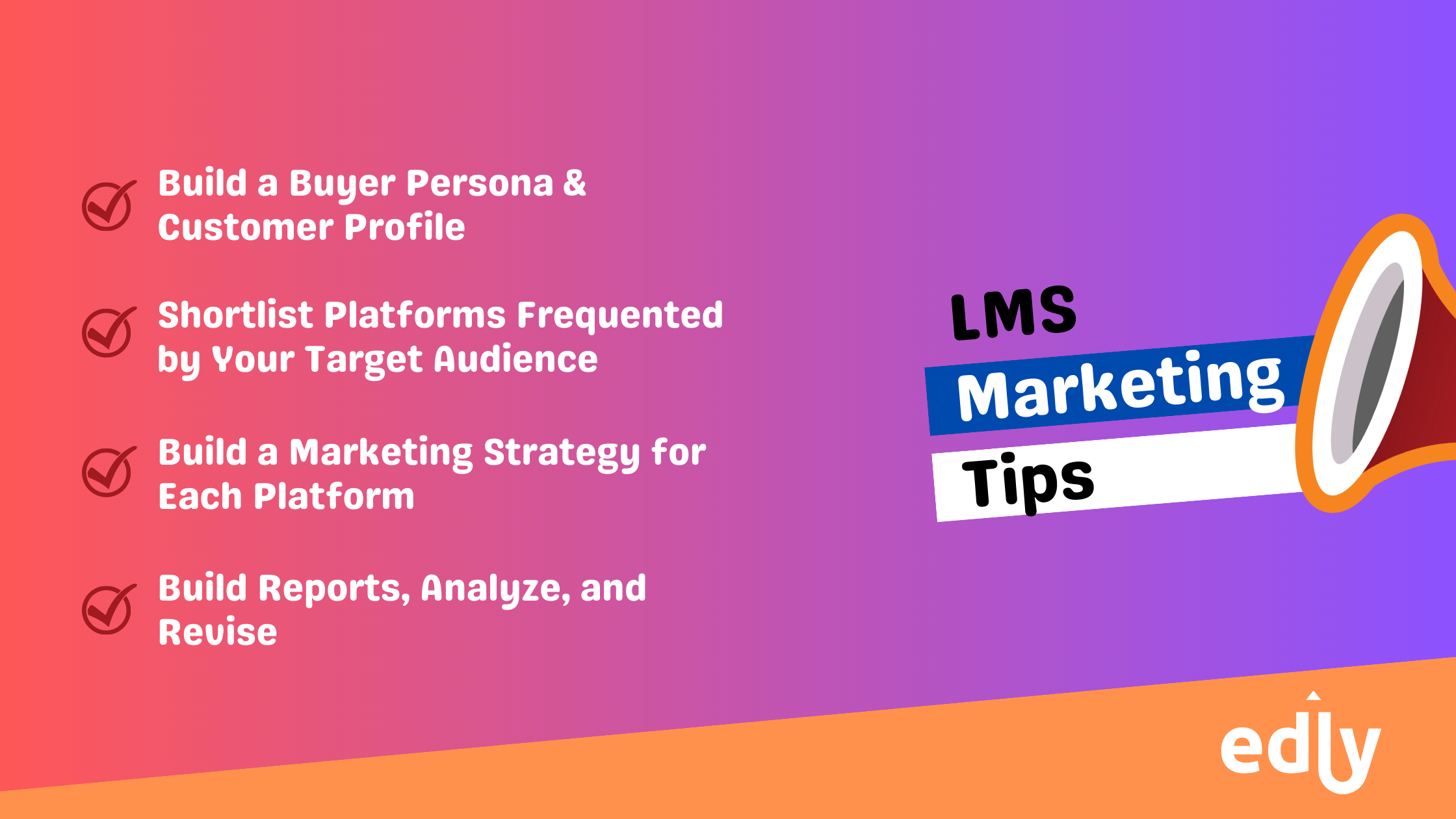 Build a Strategy for Each Platform
One shoe does not fit all. You can't necessarily use the same marketing tactics across all of your chosen platforms and emerge successful. 
Each platform has unique features that set it apart from other players in the game. It is true that there are people who are present on several of these platforms and you can find your target audience overlapping on most of them. But, within digital marketing, there are several subdomains and each of them has its own unique criteria that you must meet to reach your intended audience.
Here are some of the marketing methods you can use for promoting your online learning and small businesses. 
This type of marketing refers to the use of social media channels such as Facebook, LinkedIn, and Instagram to reach out to your desired audience. Social media has become an essential part of our lives with an average user spending almost 147 minutes per day on various social media platforms. Hence, ensuring a business presence on social media has become a necessity. It is also important to have an attractive name, which you can create with a business name generator.

Did someone say content is king? Well, yes. It is. And content marketing leverages that.
By producing various types of content such as blog posts, case studies, guides, and ebooks, businesses get to educate their customers online and convert them into business leads effectively. Most of this content is normally found on the business website of organizations. You can also explore video content creation and share it on platforms like YouTube and Vimeo.
Search Engine Optimization
Search Engine Optimization is the art of optimizing your website in a way that it starts ranking on search engines against relevant user queries. For example, if a learner looks up 'Google Analytics Free course' on Google and your eLearning business pops up as the top search result, your website is doing excellent in terms of search engine optimization. There are numerous ways to work on search engine optimization of your website but you can start by adding a meta title, meta description, and focus keyword to each of your web pages. Plus, checking your email deliverability can be very helpful for your business.
By now, almost all of us have seen ads in search results on search engines like Google and Bing. Those ads are a result of search engine marketing. While search engine optimization takes time, search engine marketing enables businesses to gain instant results by spending money on ads. 
Build Reports, Analyze, and Revise
Your marketing strategy is incomplete if it does not include performance reports. To ensure your marketing efforts are paying off, keep a close eye on the metrics that are important to you. For example, if your aim is to gain website traffic through Google ads, analyze the ad impressions and clicks every day. Understand how increasing or decreasing the ad spend impacts the performance of your ads and tweak your paid acquisition marketing strategy accordingly
Performance reports enable businesses to change their strategies as market trends change. Remember, in an ever-changing and volatile online marketing industry, slacking is not an option. Therefore, efficient reports are your best friend if you want to get results.
Conclusively
The success of your eLearning business depends on the quality of your product and the effectiveness of your marketing strategies. It is imperative that without focusing on both of them, you cannot achieve your business goals.
We hope you find our marketing tips helpful and use them to build a marketing strategy that supports your objectives.
About Edly
Edly has been transforming the eLearning space and the way people learn through cutting-edge, Open edX-powered eLearning solutions for almost a decade now. With a global client base, we have created value for millions of learners worldwide and developed hundreds of LMS platforms for educational institutions, corporations, non-profit organizations, and individuals.