Even just a few years ago, no one could have imagined the idea of a hybrid workforce to be this popular. Despite all the uncertainty brought about by the pandemic, it's one great legacy has been making hybrid work not only possible but a permanent option for many people. It is highly unlikely that all organizations will turn back exclusively to an in-person workforce now that we've all experienced the benefits of flexibility.
With that in mind, organizations must revise their workplace training strategy in a way that suits the hybrid workforce. Organizations must adapt their training programs to function without the physical presence of all their employees. On top of that, navigating remote work requires employees to learn skills that were previously not a priority. 
Keeping a rigid and unchanging approach to corporate training can cost you more than just money. Here are some ways to train your employees in a hybrid setting, without compromising on the quality of your training.
Provide the Right Tools
No matter how good the quality of your training program is, it's not much use if your employees aren't equipped with the right tools to train. Providing the latest tools, whether it is software or hardware, is easier to manage in an in-person setting as compared to virtual training but a successful hybrid training model depends on your employees getting access to the best tools out there.
Hybrid training requires trainees to work with innovative software that can seamlessly connect teams wherever they are, simulate real-life situations that must be trained for, and leverage collaborative tools that can encourage team-based learning. Providing this kind of support to your employees is the first step in a successful hybrid training endeavor. 
Want to build a groundbreaking eLearning platform?
Get in touch with us and learn how we can help you achieve your goals and objectives.
Emphasize Soft Skills 
When it first started getting popular, most employees were learning to get accustomed to hybrid work etiquette as they went along. Over the course of the last couple of years, however, the skills needed to gain hybrid competence have become increasingly clear. 
Working in distributed teams requires employees to train in soft skills. The most important of which is communication. Knowing how to communicate clear and concise instructions despite physical distances is a skill that appears inherent at the outset but that may not always be the case. Additionally, teamwork, empathy training, and business writing are also needed to prevent any friction in the hybrid workforce. 
For example, if one team is located twelve hours away from another, how can a meeting be appropriately scheduled to accommodate both teams? Scenarios like this have become the new normal with an increasingly global workforce. 
Another notable addition to the list is leadership training. Managers responsible for distributed teams have a unique challenge to navigate. Training them to offer flexibility, trust, and open communication is essential to a successful hybrid workforce. 
Beyond that, eliminating geography as a prerequisite for hiring means that every member of the workforce has access to jobs, employers, and opportunities that were previously out of reach. Fast-tracking professional development opportunities and promotions to managerial roles could be the difference between keeping and losing a resource in your workforce. 
Prioritize Asynchronous Training 
It's not easy to step away from your work to attend a training session with fixed hours. Regardless of whether an employee is present in the office or working from home, expecting them to drop everything to spend an hour looking through training materials is not only an inefficient training practice but also one that is bound to fail. 
Learning is done best when the learner is mentally present and has an appetite to take in new information. Asynchronous training offers an easy solution to the problem: the idea is to create a central learning platform containing all courses and all training materials. Employees could dedicate a time of their choice to pursue these materials and give them their undivided attention.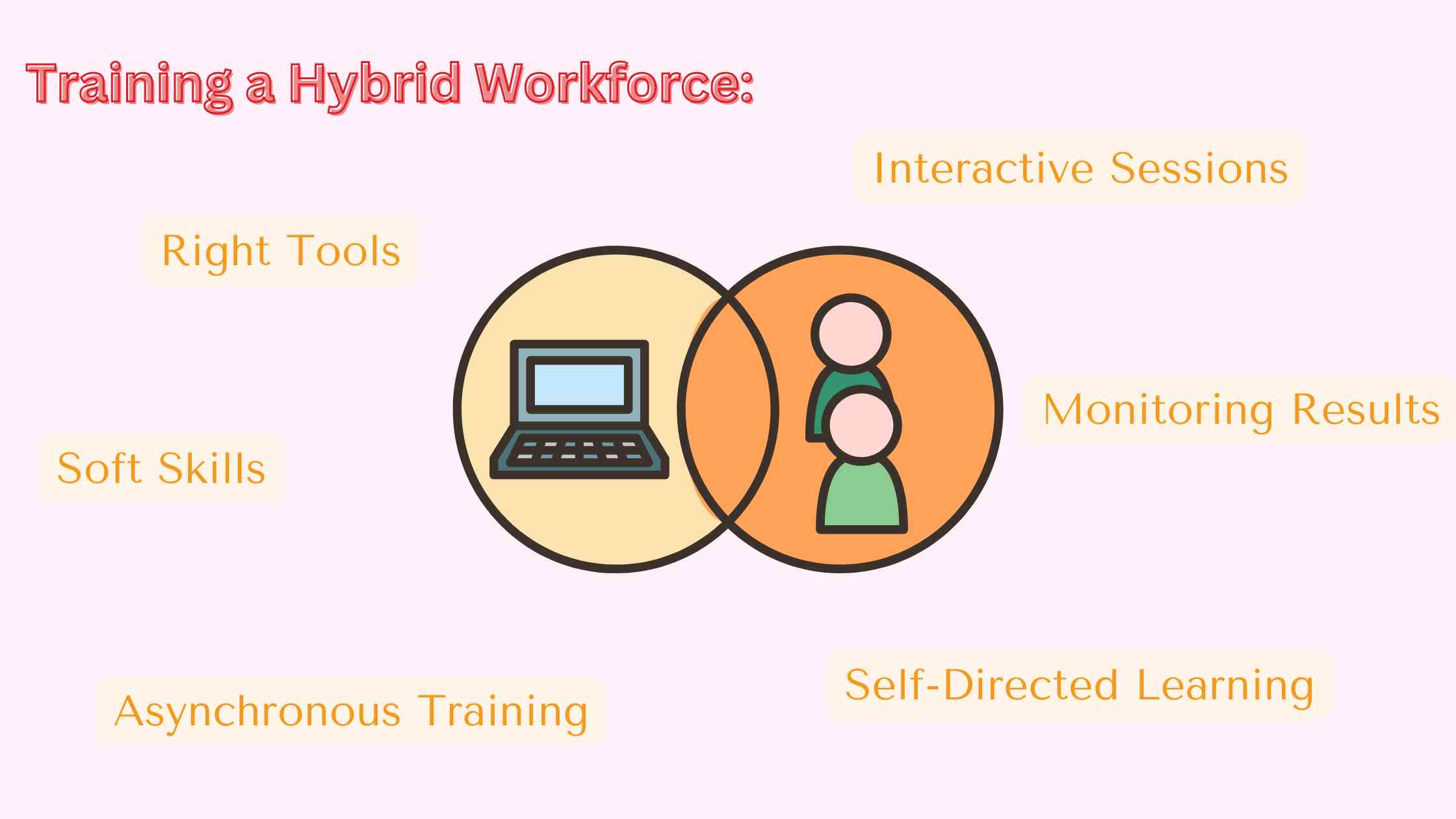 Allow Self-Directed Learning 
On top of asynchronous training, self-directed learning also offers trainees an additional layer of autonomy and control. Every individual has their own approach to learning and a rigid approach can be detrimental to your training efforts. 
Self-directed learning allows learners to choose their own learning path and pace within a particular course and concentrate on modules that they feel will help them perform their roles better. At the same time, they can do away with modules that they find irrelevant to their role and skip skills that they have already mastered. This is especially important for hybrid roles, where employees are the best judge of their own competencies.
Incorporate Interactive Sessions
It is important to not let the physical distance between team members affect their professional relationships. To keep teams from feeling isolated, workplaces must incorporate training exercises that require members of the team to interact and work together. These interactive sessions can be used as a blueprint for the hybrid workforce when actually performing their roles. Working together as a team is also a great way to ensure that the trainees retain the information they are taught.
In the earlier days of the pandemic, team-building exercises, virtual team lunches, and even co-op gaming sessions became a priority for numerous organizations to create some sense of community despite the absence of office access. As some employees return to the office partially or completely, digital get-togethers have slowly been forgotten or abandoned entirely.
Monitor Results
Effective hybrid workforce training requires you to constantly monitor your training efforts. It is important to keep all channels of communication between trainees and organizers open so that any bugs or inefficiencies can be addressed right away. Your at-home employees must feel as heard and validated as your office employees. 
By incorporating feedback into employee training, it is possible to revisit tools that are not effective or add more of the elements that do work. On top of that, organizations must keep an eye out for new and emerging trends that can make their hybrid training efforts even more effective.
Get the Best Hybrid Learning Tools for Today's Workplace
Training a hybrid workforce comes with its challenges. Ensuring both the in-person and online employees get the same resources and keeping them all on the same page is a difficult task. Often, organizations keep changing their training approach to see what works for their employees, but too much change can have an adverse effect on your training efforts. 
In circumstances like these, it is best to get an expert opinion on how to create effective training programs. Edly's corporate training solutions are built with ever-changing times in mind. Our corporate LMS can help your organization train at scale, no matter where your employees are! To get more information about our corporate training solutions, get in touch with us today!