Testimonials are essential for adding credibility to your eLearning business and building trust. Take them as examples of social proof that give confidence to your target audience to invest time and money in your courses and offerings.
This establishes testimonials as an important part of your lead generation strategy for your eLearning platform. And it is undeniable that gaining good reviews is no easy feat. Once you have gained the fruit of your labor, it is time to decorate your storefront with it.
Edly marketing site enables you to do so with so much ease. In just a few steps, you can publish testimonials on your eLearning website powered by Edly.
Without further ado, let's see how this can be done.
Adding Testimonials to Edly Marketing Site
The first step is to log in to your WordPress account to manage your marketing site. Once logged in, head over to the Testimonials mentioned on the left side menu. Click on All Testimonials to view everything you have in this section so far. 
If this is your first time adding testimonials, you will not see the list of testimonials as shown below. However, Add New Testimonial button will still be visible to help you start adding one.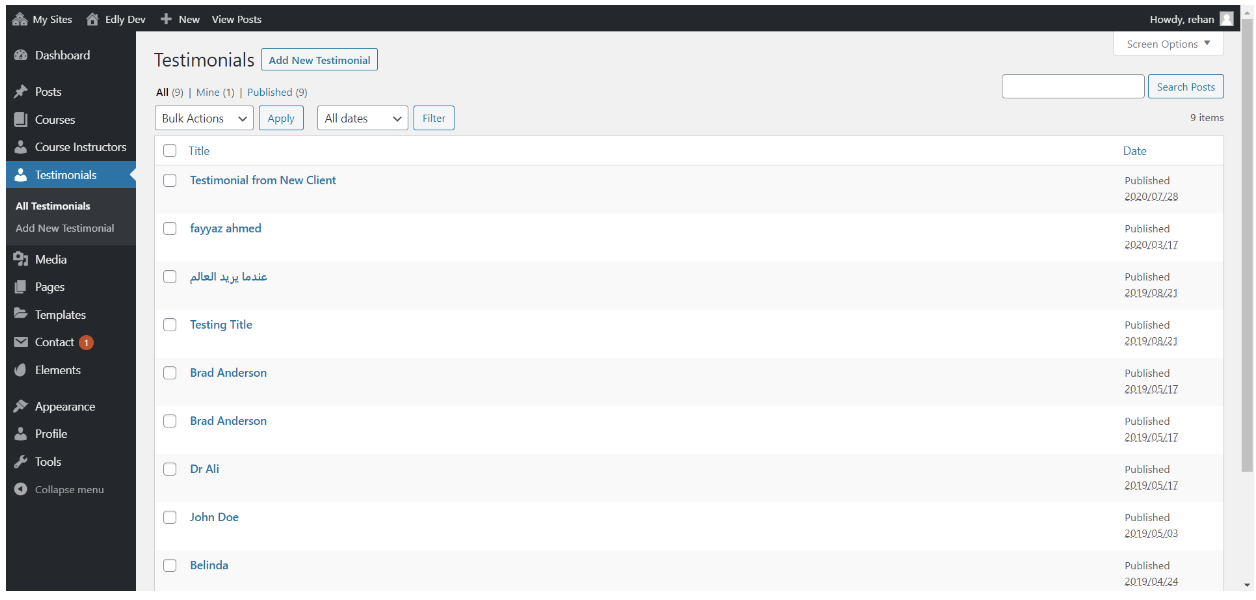 To add a new testimonial, click on the Add New Testimonial button at the top of the page. You will see the following screen prompting you to add the title and body paragraph of the testimonial.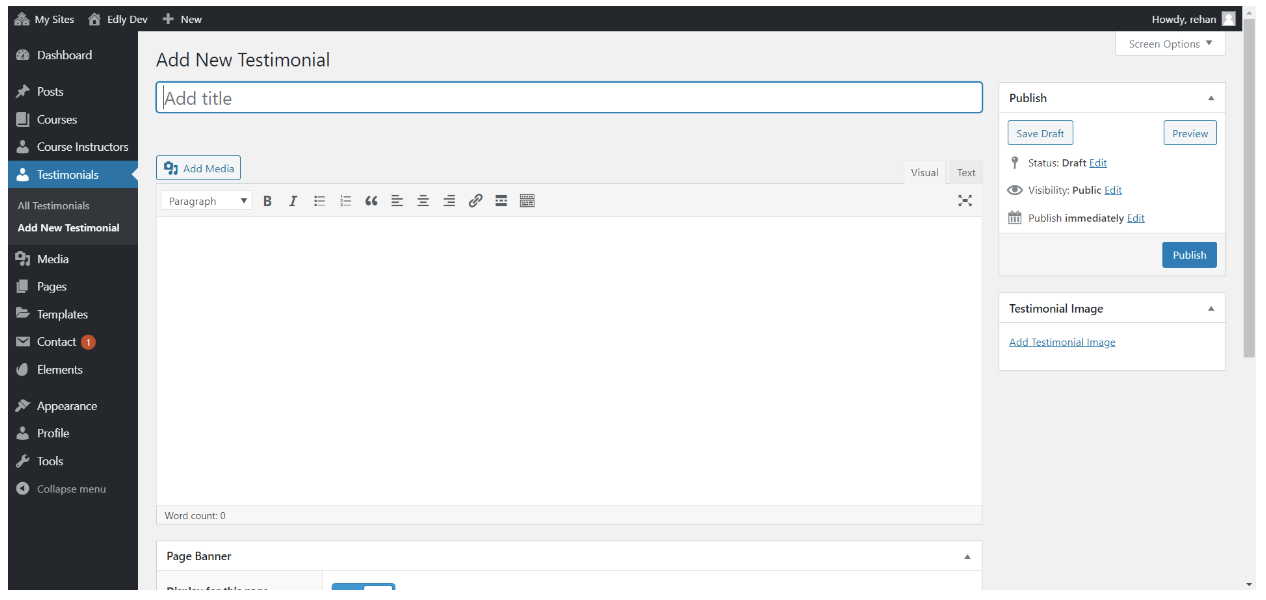 Once done, you can either save the testimonial as a draft to edit it later or publish it on the website using the Publish button on the right side of the screen. 
Alternatively, you can make use of the three widgets for testimonials available on Elementor. For that, visit the Marketing Site after logging in on WordPress and look up the testimonial widget as shown below. Add relevant content to the selected widget and click Update at the bottom of the left menu to save changes.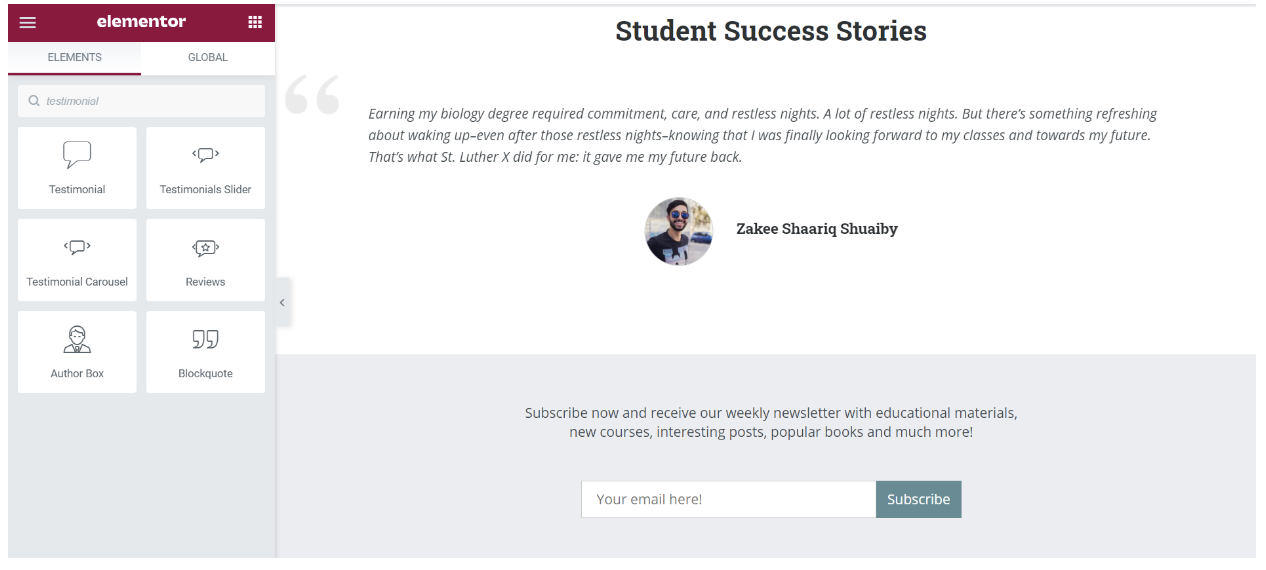 That's it. You now have a new testimonial published on your marketing site.
In case you already have a few testimonials on your website and want to edit them, bulk actions like editing or deleting are offered by WordPress. To conduct a bulk action, select all the testimonials you want to make changes to and head over to the Bulk Action drop-down. Select your desired action from the options and click Apply.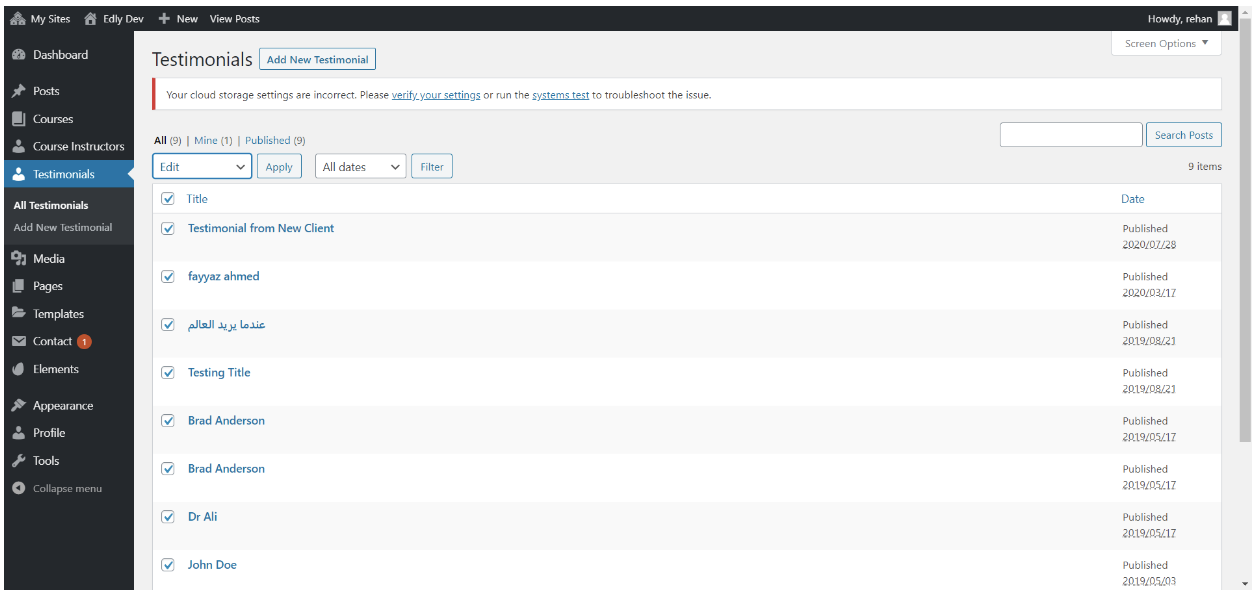 You will see the following window open up in case you want to Edit in bulk. Confirm the changes you want to make and click on Update to seal the deal.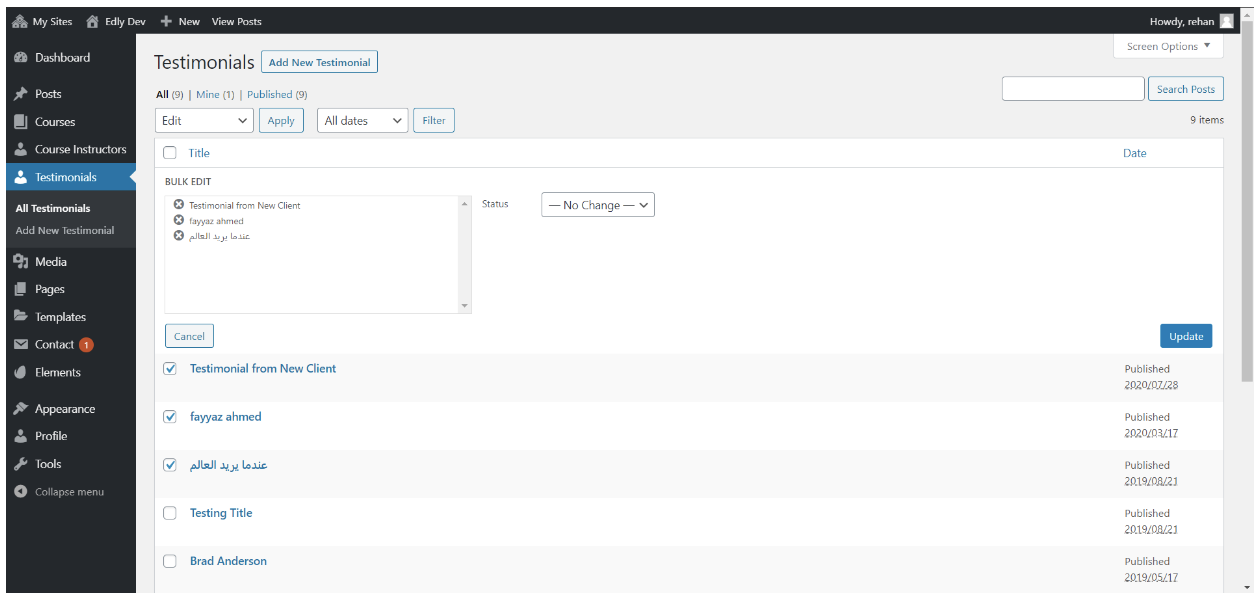 On the website, your testimonials appear at the bottom of the webpage under the What People Say heading. 
Easy, isn't it?
If you still have questions, feel free to reach out to us at hello@edly.io with your queries. We would be happy to assist you. 
Not an Edly client yet? Try our eLearning solution for free here! You won't be disappointed.