If you're investing in an LMS platform, it is important to consider how much room there is to customize it. Chances are, you are an organization that wants its LMS users to identify with the platform and make them feel at home. After all, a brand represents a promise.
But LMS customizations go beyond branding; they can be used to improve learner experience, provide support, build a community, and most importantly, increase user adoption. To put it simply: the best thing about customization is that you can create a learning solution exactly how you envision it.
In this article, we'll take a look at the kind of customizations you can do with your LMS in order to make it your very own. Let's dive in!
Represent Your Brand 
Arguably the most important customization that an organization can do is to reflect its brand identity on the platform. This can include keeping your logo, color palette, and tone consistent across the board, including places such as your website and social media.
Having a clear view of your logo on the LMS can help add authenticity to your content and reassure users that they are in the right place. Custom color palettes also help represent your organization in a subtler way and offer an air of cohesion and seamlessness. It is also helpful in reinforcing in the users' minds that they are leveraging your platform's content and helps build their trust in your brand.
Finally, a consistent tone is important in ensuring that learners are not left confused and can identify with the language of your organization. In many cases, learners tend to gravitate towards a tone that leaves an impression or appears helpful. If you managed to attract a learner to your platform via your tone, it goes without saying that they expect the content to be communicated similarly.
A bonus, sometimes forgotten way to reflect your brand is the URL for your platform. Some LMSs can be hosted on your URL, domain, or subdomain, whereas others might be on the URL of the LMS provider.
Personalize Learning Pathways
Treating your learners as a monolith is a recipe for failure. Everyone treats learning differently and no one approach can be considered to be perfect for all learners and their needs. The solution is to build learning modules in a way that can be mixed and matched to create personal learning paths. Personalization in eLearning is a great way to get learners to take charge of their own learning. 
Many LMS platforms come with the technology needed to create diverse learning paths. The idea is to have a few basic core modules that can be augmented with additional features or courses. For example, users can change their assessment types, instruction medium, or even their course outlines to reflect their own interests.
Investing in an LMS that has room for personalization is guaranteed to enhance the learner experience, and by extension, their trust in your content.
Gamify and Engage
The best LMS for you may incorporate customizations that enable gamification. The incorporation of gamified elements like badges, leaderboards, and virtual competitions encourage engagement and inculcate a sense of motivation among your learners. 
Customization of such elements can mean creating your own custom badges, incorporating levels or points as they achieve particular learning objectives, or designing team-based competitions.
However you may incorporate it, gamification is a great way to level up your online learning or training into an immersive experience.
Create A Community
Most of us are used to learning in groups. While it is impossible to perfectly replicate traditional classroom learning online, social learning is a close second. Many training programs rely on the expertise of others. Not to mention, group projects and assignments are crucial learning components for many courses out there. Being able to incorporate these elements in your LMS can prevent your learners from feeling isolated.
LMS customizations can help instructors create discussion threads on certain topics, organize group activities, and encourage collaborative learning, all in line with their particular course objectives. 
Some LMSs can even allow you to divide assignments and discussion forums based on groups or cohorts. This can mean users in a certain program can see course content or discussion threads that are relevant to them. For example, maybe your course groups are based on geographic region, area of expertise, or some other demographic detail. 
Customize Certifications
No LMS is complete without its certifications. Many users on your platform are deeply invested in their learning and look forward to receiving their hard-earned certificates after successfully completing your course. Offering them a generic certificate is not only underwhelming, but it can also be damaging their future relationship with your organization. 
Making custom certificates is not just about aesthetics, it is also a source of legitimacy for your organization. And doing so is not very complicated. In fact, most LMS platforms come equipped with the option to create custom certificates with great ease.
In Edly's platform, for example, there are multiple tracks that can allow a user to achieve a certificate upon completion. For example, maybe the only users eligible to receive a certificate of completion are the ones who paid for the course (this may be referred to as a "verified track") while other users can attend the course for free and complete the material but would not receive a certificate upon completion (this is sometimes called an "audit track.) 
With the option to enable or disable certificates based on whether the user has met certain criteria, you can have your LMS offer micro-degree programs or continuing professional education credits.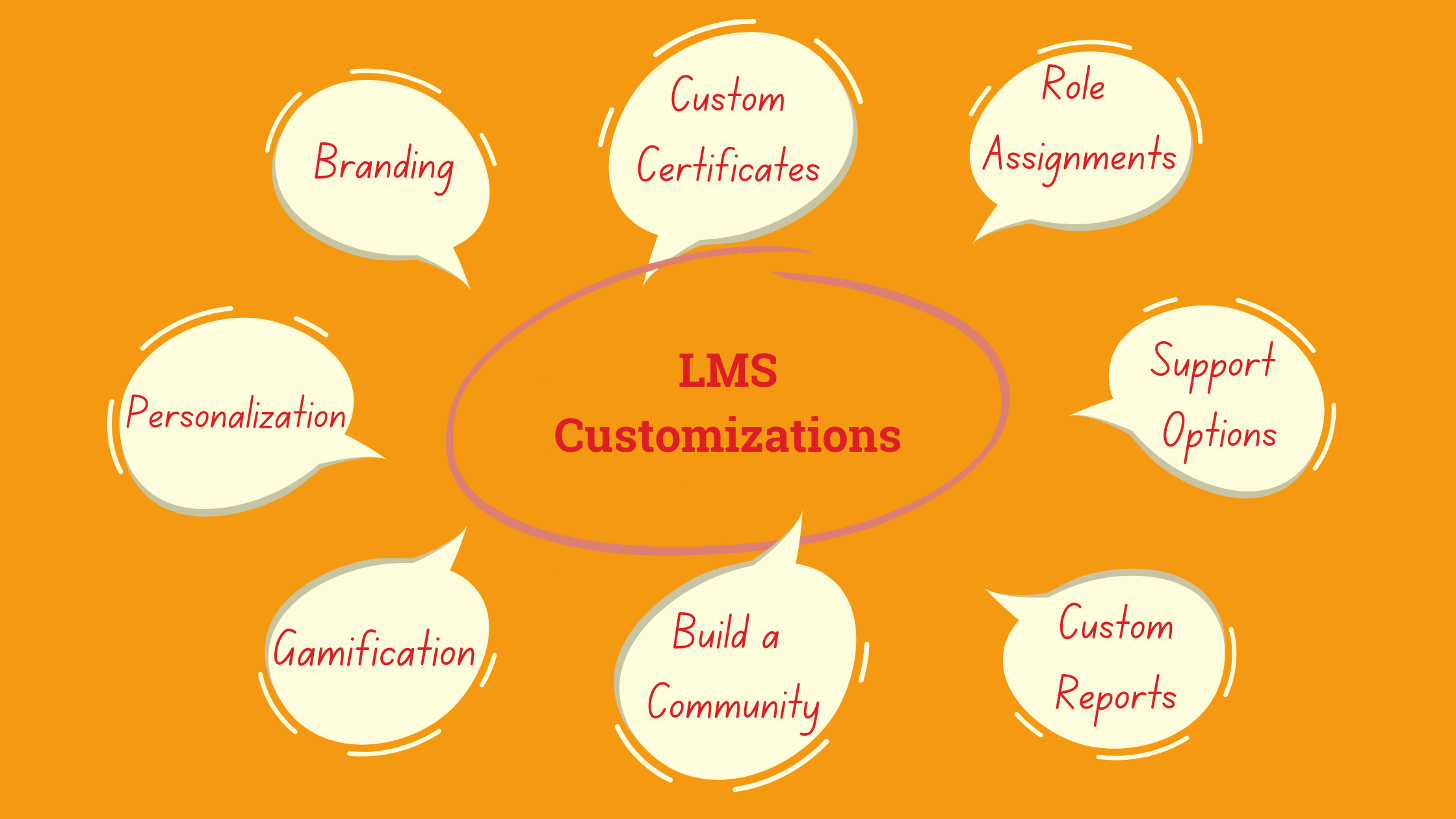 Tailor Role Assignments
Internal structure and hierarchy vary from organization to organization. Among students, instructors and administrators, many subdivisions may exist, and with that come varying degrees of access to course content. This includes certain subject matter experts who should be able to create content for their assigned courses, without having to navigate through irrelevant features.
Your organizational structure can be very different from the default roles an LMS platform comes with. Using custom role assignments instead, you can ensure greater security, better organization, and less clutter on your dashboard. 
You can even take it a step further and add prerequisite and post-requisite content to your course to tailor access to course material based on the expertise and progress demonstrated by the users in your courses. 
Add Custom Support 
Ed-tech gives us the unique opportunity to incorporate greater accessibility into eLearning. Based on your learner demographic, you may need to include custom options such as language support, or support for differently-abled people. With the help of the latest immersive technology, this has become much easier than before. 
Translations can be done efficiently, visual aids can supplement audio content, transcripts can be paired with videos, and the content pacing can be tweaked to make it possible for all kinds of learners to take advantage of your platform.
Choose Your Reporting Options
Reporting data does not have to be as complicated as it looks. Many LMSs out there can compile data that may be irrelevant to you or may miss out on key metrics you want to look out for. Either way, custom reporting can help you find that balance, and in many cases, AI-generated reports can already classify and organize your data in a way that is easy to comprehend. 
Most LMSs offer quality out-of-the-box reports that satisfy the typical reporting and analytics requirements needed to evaluate the quality of your eLearning courses. Other LMSs may offer custom analytics and reporting dashboards and/or push raw data into an external reporting tool, like Tableau, PowerBI, Google Data Studio, or whatever platform you prefer for your reporting needs. 
Explore Edly's Custom Solutions
Maybe the customizations above aren't exactly what you're looking for. That's where Edly has one more trick up its sleeve. Edly's Open edX custom solutions allow our customers to tailor their LMS to get their desired features incorporated into the platform without compromising on quality. Our custom solutions have helped several organizations project their brand image, along with custom theming, UI/UX enhancement, mobile app development, custom eLearning experiences, and much more. 
If you're an organization looking into potential LMS customization options, we are happy to help! Whether you need third-party integrations or the development of custom XBlocks and eLearning experiences, nothing is off the table. Feel free to get in touch with us and request a free demo!